What's My Scene
This is a What's My Scene post by Veronica Campbell, volunteer at 100 Story Building.
---
Image source: 100 Story Building
Do you remember the moment you first fell in love with stories? Perhaps you were in your school library, surrounded by silence as you desperately tried to hold in your laughter. The librarian might have shot you a look that could only mean 'SHHHHHH!' as you let out a gleeful snort. Maybe you were sinking into a beanbag chair in your bedroom, so absorbed by the story in your hands that you didn't hear your dad calling you for dinner until he physically banged on your door. Or were you sprawled on the grass in your backyard, lying in the setting sun with a book draped over your face, oblivious to the pinches on your skin as tiny bugs tried to tell you it was time to go inside?
If you love reading or telling stories, you'll probably relate to that feeling—the buzz of adrenaline that overcomes you when a good story takes over. At 100 Story Building in Melbourne's inner west, we're lucky enough to be able to create (and recreate!) that feeling for young people every day. We aim to provide a safe, supportive and fun environment for young people to explore their creative sides, build their literacy skills and develop a sense of belonging. It's a pretty warm and fuzzy place to be.
Since 2013, 100 Story Building has occupied a beautiful space in Footscray's Nicholson Street mall, and while we have a bountiful collection of books and a constant stream of inspiring visitors, there's something in particular that really gets people talking—and that's our trapdoor to the 99 floors below. Who knows what sorts of creatures are lurking on the levels underneath us? (Certainly not me, because I've never been allowed to go down there.) We definitely don't have a secret room behind a bookshelf, though. No way. Nobody even said anything about a secret room, what are you talking about?
100 Story Building runs on teamwork, and our network of enthusiastic volunteers is growing all the time. All sorts of people volunteer for us: writers, illustrators, editors, designers, uni students, teachers, photocopier wizards, cleaning genies—you name it. You don't need to be a writing expert to be a volunteer; you just have to be committed to helping young people find their voice.
Think of our volunteers as hard-working, investigative, dependable creatures—helpful monkeys, if you will. (At least, that's how one young person describes us.) And we certainly get to flex our creative muscles, too. Volunteers have assisted young people with anything from designing a Rube Goldberg machine to overcoming writer's block. School workshops often involve group discussions that volunteers contribute to: recently, a heated debate over the potential existence of mer-dogs erupted—well, mermaids need pets too, don't they? Volunteers are a big part of 100 Story Building's holiday workshops, too—we've gotten to be living comic book characters, secret agents, superheroes and villains, and we've even gotten to create entire universes! The sky's the limit, really. Wait, that's not really true, because we've been a part of countless outer space missions and interplanetary adventures. Maybe there is no limit!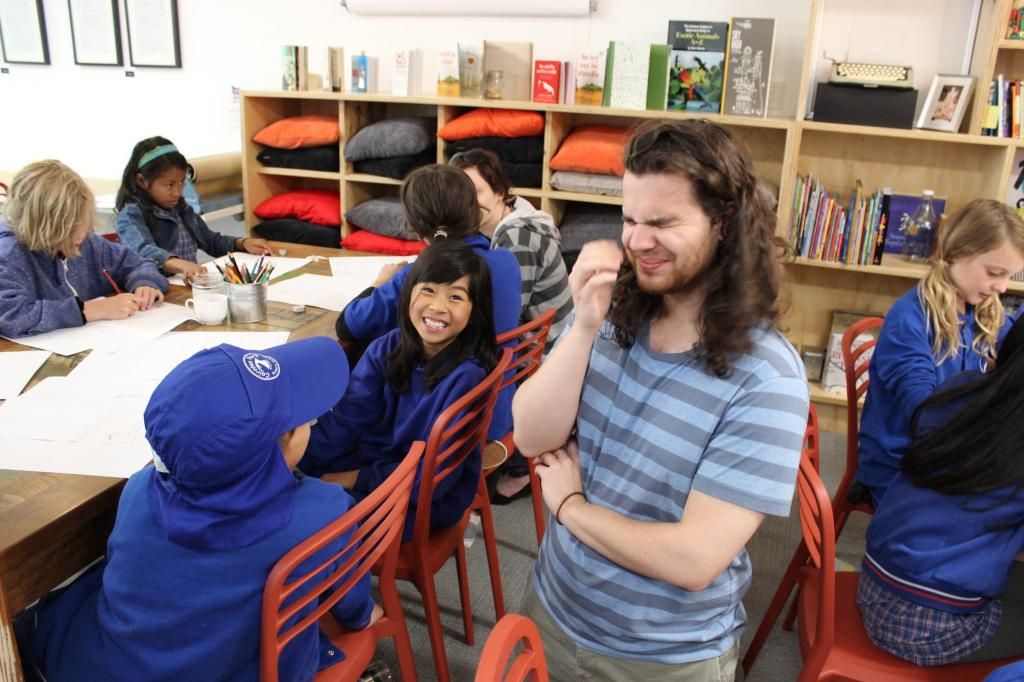 Image source: 100 Story Building
While volunteers are always willing to jump in and help, sometimes our young visitors are so eager and motivated that we actually don't have much to do—which is a great feeling! Level 87 Book Club, which currently runs after school on Thursdays, is driven by secondary school students who gather to discuss and review the latest books they've been devouring. These sessions are a fun way for students to come together and share their opinions with fellow reading nuts. According to 14-year-old Jillianne Arcibal, who's been a writer since she was in grade two, 'A particularly good book has the power to make a reader oblivious to the world around them, taking them to an amazing, imaginative world of fiction.'
As well as providing escapism and adventure, books can be there for you when nobody else is. 'Books, at particular times in my life, have been my only friends,' 15-year-old Yohanna notes. This is why Level 87 Book Club is so great—it brings together kids that might otherwise feel isolated or left out and gives them an opportunity to share their love of books with like-minded people.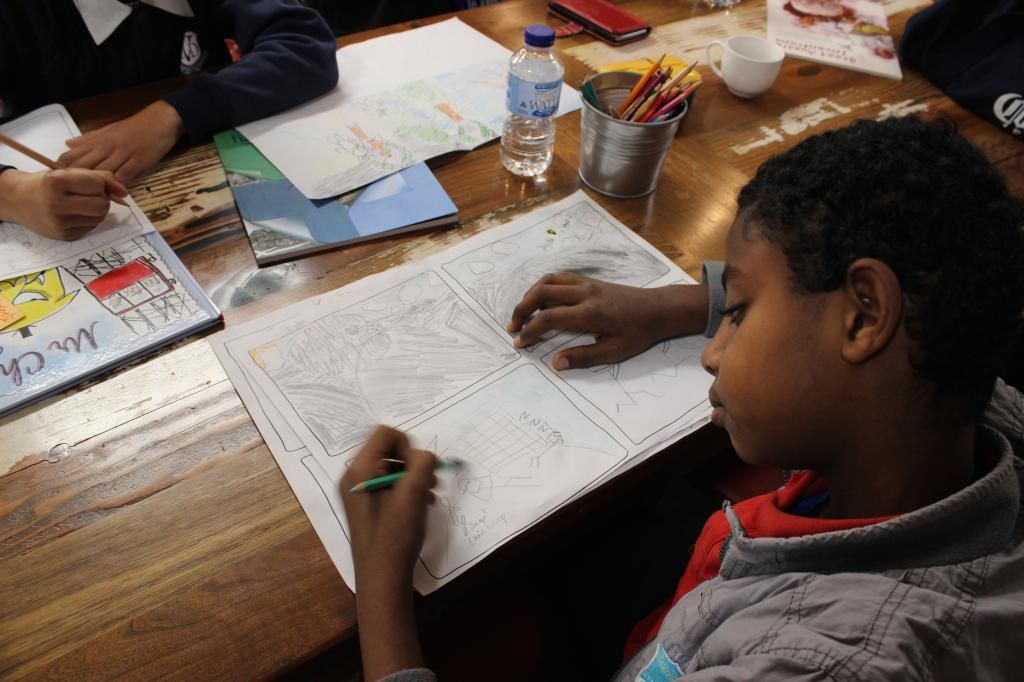 Image source: 100 Story Building
Basically, if you're fond of stories, you'll probably be pretty fond of 100 Story Building. But if you reckon becoming a volunteer is going to get you a look under the trapdoor, think again. Volunteers and visitors alike have begged and pleaded to take a peek at some of the worlds below, with some even devising clever schemes to sneak a peek: volunteer Seb would steal Thor's hammer to smash his way down, and 14-year-old Corey thought about setting off the smoke alarms to evacuate the building and sneak down while everybody else is outside. Volunteer Alli even offered a gruesome trade: a pinkie finger in exchange for one trip down the trapdoor! But, alas, it's just not safe down there. The jungle is growing more unruly every day, there are strange noises floating up from below, and we simply can't afford to lose any more people to the dragon on level 72. (I've already said too much…)
Don't worry, though. Being a volunteer at 100 Story Building offers so much in return that you'll soon forget about your desire to explore the levels below. (Well, almost.) You'll leave the building feeling buoyant, remembering the laughs you shared and the stories you helped create. The old adage is true: helping others really is its own reward. Alli comments that, while it can be a bit tricky to find a good balance between encouraging kids to do stuff without annoying them, it's a very worthwhile experience.
Whether you're young or, ahem, not-so-young, we'd love for you to pop in for a visit and learn more about what we do. Just watch out for the runaway llama.
---
Veronica Campbell is 26 years old, and she loves reading and writing stories for kids, mainly because she secretly doesn't want to grow up. She enjoys drinking coffee and sleeping, but not usually in that order. Veronica has been volunteering at 100 Story Building for about five months, and it's the most fun she's had in ages.
---
You can help support 100 Story Building by purchasing books, a subscription or a writing workshop - your supports helps them keep their programs free for children and young people.
samvanz
Sam van Zweden was Writers Bloc's Online Editor from 2013 - 2015. A Melbourne-based writer and blogger, her work has appeared in The Big Issue, Voiceworks, Tincture Journal, Page seventeen, and others. She's passionate about creative nonfiction and cross stitch. She tweets @samvanzweden.