Mini-series
In May we're looking at beautiful books. This is a post from kids'-book-lover Carter Higgins.
---
I can still smell my elementary school library. That room held all the answers and hope and stories a little girl knew to wish for. It also held some secrets, and thankfully books aren't in the business of spilling their guts. See, I knew where Mrs. Marks kept The Story About Ping and I'd hide it in all the wrong places so that I could enjoy it time and time again without some other reader getting in my way. I had a trip to take, a world in which to rest.
Last fall, when I stepped foot into my new library, The Story About Ping was one of the first books that hopped off the shelf. Thirty years later, it still caught my eye and my heart, and so I snagged it a prime spot. In my office. Away from my little readers. Just like I had years and years before in a different time. But there it was again: my trip, my pictures, my world. It felt a little bit like going home, and I needed to sit with it for a while.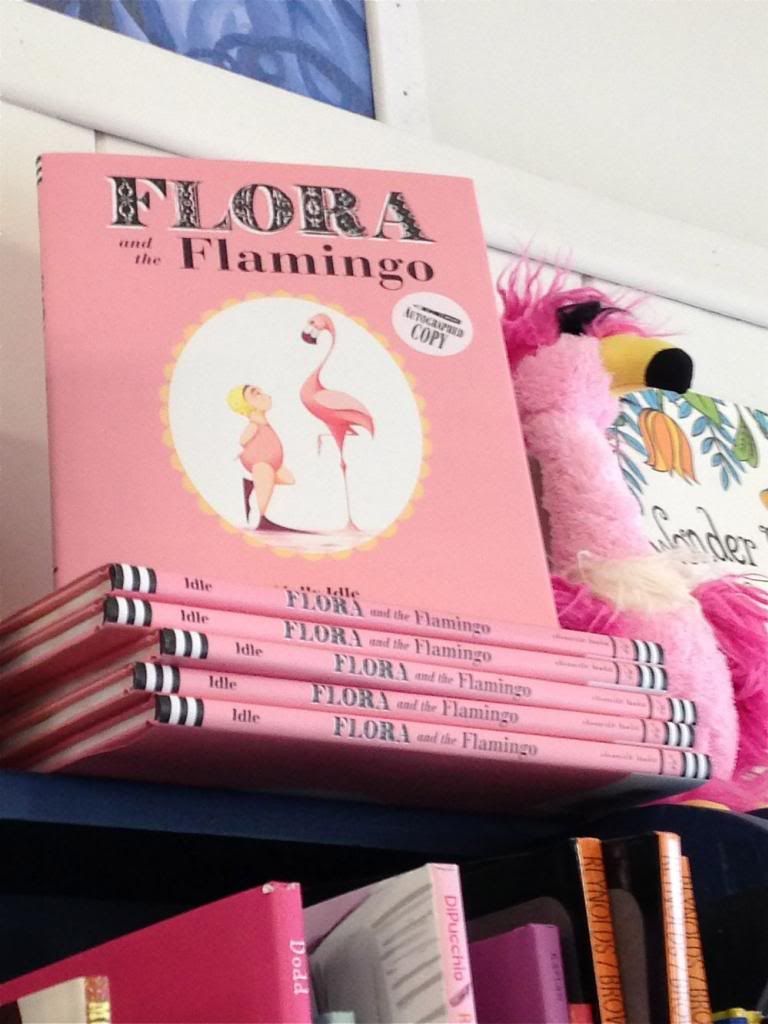 Picture books hold beautiful memories for lots of readers, but they are also beautiful things. Have you ever noticed? I mean really looked and inspected and honored them? Let's go beyond the thousandth read at bedtime and cheesy commercial fare and think about the art form. There's the musicality of a wordless dance in Flora and the Flamingo, the textured typography of Niño Wrestles the World (not to mention the skivvies!), and an alphabet revealed in dinosaurs layered with letters in Alphasaurs: and Other Prehistoric Types. The pictures in a picture book give a visual cadence to the rise and fall of story.
That's the mighty power of this form: the words pause while the pictures play, and the pictures restrain when the rhythm reigns. It's a conversation, a dance, and a sophisticated storytelling energy that's all wrapped up in thirty-two pages. That's a remarkable feat for the picture book creator, and a remarkable reward for the rest of us who look at and love them.
Perhaps they are best in the arms of babes, but many are gorgeous enough to hang out with million-dollar canvases on museum walls. Is there another art form that offers its riches to the littlest and the wisest and everyone in between? And here's the thing about that. The littlest among us are certainly souls worthy of the very best stories we can offer, with the very best pictures, condensed into the very best form for play and discovery. Those stories are smudged and loved and needed, and salve for a curiosity that is the child's natural habitat. Because adults? We've lost our way a little bit. We get bogged down by grownup things like leaking dishwashers and paying the bills and not believing in the monsters under the bed.
Speaking of monsters, you might remember Max and those wild things with as much homesickness as I remember Ping. He's an imp made out of mischief and it's a book that both captures and celebrates his fury, confusion, and altogether kid-ness.
I'd bet you have a copy of Where the Wild Things Are somewhere nearby even if you aren't a kidlit connoisseur. Grab it. Smell it. Touch the pages of that adventure and notice the space in Max's world. In his bedroom, there's white around the edge of the page. He's boxed in and trapped and small in the center. But then his journey begins, and the transformation and trepidation of the peculiar creatures live in spreads where the picture bleeds a bit more toward the edge of the page. Once the crew is wild rumpus-ing, not a smidgen of white space remains. We're the strange creatures now, fully invested in a colorful world far away that's comfort, freedom, and fear all at once.
A picture book took us to that place through both its physical form and the way it jabs at a heart that needs to know it's not alone.
A third grader came to hang out in my office the other day. His eye caught my stolen copy of The Story About Ping and his eyes lit up.
"We have that at my house," he said.
"I love it," he said.
"You and I have books in common," he said.
I high-fived him. I smiled because of Mrs. Marks and the legacy of picture books. And then I put A Story About Ping back in its rightful place on the shelf so somebody new can connect with it, with us.
But he's right, isn't he? Striking compositions, case cover surprises, illustrations that should hang on a wall in a fancy frame—all of those are physical representations of the beauty of story, connectedness, and the electricity of imagination sparking the same magic into more than one mind.
Picture books bind us like Ping's little bridge, connecting a wise-eyed boat and the shore of the Yangtze River.
---
(The photos in this post are from Once Upon a Time in Montrose, California. When you can, buy from independent bookstores. They are happy to help you find your very own The Story About Ping and all the portable art museums you can manage.)
Carter Higgins has traveled a storyteller's career path, from librarian to motion graphics designer and back to librarian, with a dash of picture book writer in between. All of those interests combine in her blog, Design of the Picture Book, where she celebrates picture books through the lens of graphic design principles. You can find her on Twitter at @CarterHiggins. She lives in Burbank, California and is the librarian at The John Thomas Dye School in Los Angeles.
samvanz
Sam van Zweden was Writers Bloc's Online Editor from 2013 - 2015. A Melbourne-based writer and blogger, her work has appeared in The Big Issue, Voiceworks, Tincture Journal, Page seventeen, and others. She's passionate about creative nonfiction and cross stitch. She tweets @samvanzweden.