Mini-series
This post is part of our mini-series on beautiful books, and it comes from the brilliant WH Chong.
---
1. A Penguin is not a rose by any other name; each story it tells is not the same.
When is a cover not a cover? When it's a brand: When the Popular Penguins strutted on to the crowded shelves in 2008, an orange tide swept the bookshops. It was the invention of Peter Blake, Sales Director of Penguin Australia, who said:
"If you're standing looking at those books you know subconsciously or by implication that all of these books are going to be OK … you think, 'It's part of the collection, I trust the brand and it's surrounded by all these other classics.'"
It's breathtakingly brilliant; it bleeds the idea of Classics into contemporary writing: If you like A Passage to India, why not try Bryce Courtenay's The Power of One? Each is unmistakable and undifferentiated in its vintage Penguin livery — heritage values leveraged to 11.
2. Some books have pictures, some pictures have books
What do you do if you don't have history, fame and scale on your side? For Text Classics, a "classics" list entirely of Australian titles (and a few Kiwis) originated in 2012, I made a handscript logotype the biggest thing on the cover. I chose an unignorable house colour of chrome yellow — for wattle and gold, if not green. And then I tailored each image to the book. As a design decision it was a triumph of ambition over sense: in the two years since its launch Text has published 75 titles in the series; that was a bit of tailoring on my hands.
A Text Classic can't rely on the reputation of its brand or its authors — a small publishing house, and authors and books out of print, lost to our collective memory. (Imagine if the Americans had misplaced Faulkner or Dickinson or Melville!)
One resurrection was Elizabeth Harrower and her neglected 1966 novel, The Watch Tower. This gobsmacking masterpiece — overwhelming in its psychological power and perception — lacked the accrued literary celebrity of a book by Virginia Woolf or Janet Frame. I read it (as a designer should with all fiction titles) and saw: An omniscient eye in the sky over a glittering harbour. It doesn't happen often but in this case the author, who was 84 when the book was rereleased, pronounced it 'Perfect.'
To achieve simpatico with the book is the aim of an honest jacket. It should give prospective readers enough cues to make their own judgements. (Obvious but, alas, not de rigueur.)
Another lost work of genius — David Malouf claims that 'among Australian novels it is unique and very nearly perfect' — is Kenneth Mackenzie's The Young Desire It, first published in 1937. This novel too is overwhelming, but in a wholly different mode — its sensuality, what Malouf called a 'hymn to youth … to sexual freedom' has a psychedelic intensity.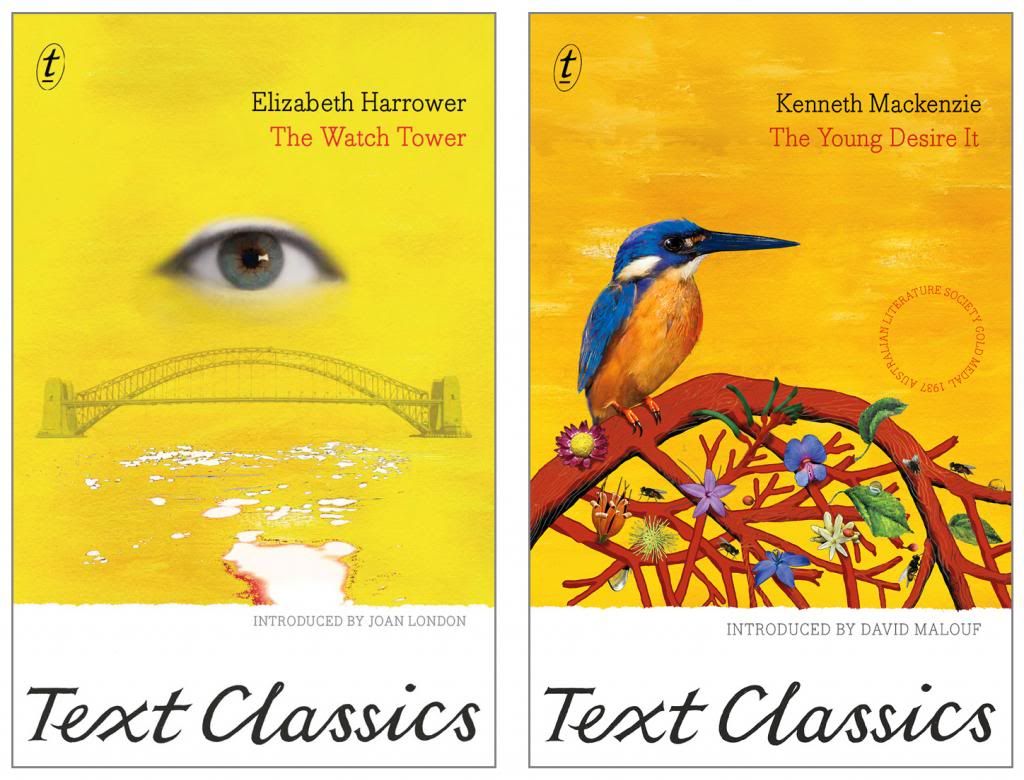 I did not get the cover right the first time — there is no single "right" answer, but many wrong ones — following Munch up the garden path of frustrated lust. The publisher said, It's not releasing the energy for me. But he wondered about an image I'd made some time ago and hadn't used, and *that* released the energy for me. I hacked it into a hot season's jeweled efflorescence, crowned by its guardian spirit, the Kingfisher.
3. A bespoke jacket is haute couture for literature
Most books have jackets made just for them, but that's not to say they share the same tradecraft. There is a good deal more basse couture than haute.
We are all familiar with the visual conventions of genre — indeed publishers depend it. The signifiers for crime and romance, for chick/chook lit and bloke/thriller lit are as clear as shadows and embraces, cocktails and guns. The trick of "literary" fiction is that it is suprageneric, or perhaps more exactly, omnigeneric.
A literary work — ie, one that is judged suitable for a literary prize like the Miles or the Booker — may be romance (Proulx's The Shipping News), crime (Temple's Truth), scifi (Shteyngart's Super Sad True Love Story), chick lit (any Jane Austen). And it is in this multigenre arena that we find fiction's haute couture.
On these Parnassian heights I would like to think that the cover can be art responding to art. It hardly ever is of course, because publishers want to sell a foreign language Nobelist like Herta Müller as much as they want to sell Christopher Tsiolkas.
But check out the recent Academy of British Cover Design awards — proof of imaginative and technical excellence. Still, if you look carefully you can discern the tropes: heads and skulls; hand scrawls and distressed type; image puns and retro graphics — a truly original response is rare and very hard to achieve. Originality is not a quality publishers prize, and quite often resist; it is born of the designer's ego.

Look at the designs in the "Classics/Reissue" category: They're so haute right now! The remarkable winner is the redacted Penguin, which I am guessing Orwell's 1984. Only in a reissue could you get away with obliterating the author and title. For obvious reasons, there is more leeway for expression and play; the commercial pressure on a classic reissue is non-existent compared, say, to the high stakes of an expensively acquired and promoted contemporary author.

4. Art answers art
Last year I read a tremendously affecting book that depends on its unconventional ("difficult") formal qualities, Eimear McBride's A Girl is A Half-formed Thing, which took nine years to find a publisher and has a sure destiny as a volume on the shelf of cult classics.
Its first publisher, the brave Galley Beggar Press in the UK, dressed it in their house style, their branding — white type reversed out of plain black. My design for the Text edition is possibly as austere but here at least, I dare say that art has answered art. I had been making a series of calligraphic ink drawings and as I read the book the title called to and took on the shape of one of those drawings. Then I just needed to paint in the type. The author approved, saying that it "certainly offers a fair representation of what the reader can expect to find within."
But always judge a book by its cover. Trust me, I'm a cover designer.
---
W.H. Chong was inducted into the Australian Book Designers Hall of Fame in 2013. He will be on a panel discussing cover design at WIlliamstown Literary Festival on Sunday June 1. Chong is on the organising committee of the next Book Design Awards to be held in Melbourne on August 22, 2014.
samvanz
Sam van Zweden was Writers Bloc's Online Editor from 2013 - 2015. A Melbourne-based writer and blogger, her work has appeared in The Big Issue, Voiceworks, Tincture Journal, Page seventeen, and others. She's passionate about creative nonfiction and cross stitch. She tweets @samvanzweden.