Mini-series
Each Monday in March, we've heard from writers on how any why writing can be risky. In today's post, Oliver Mol explains why he doesn't believe his writing is risky at all.
---
I was asked to write an essay on risks but I am sitting at my friend's house at his desk in Houston and I have no idea what to write about. I feel uncomfortable writing about risks. I feel uncomfortable associating myself and the themes of my work - being emotional, being vulnerable, being honest or trying to be honest, rejecting 'typical' masculinity or something - with something that is 'risky'. And this is because comparatively - to, say, everyone who is not a cis white straight male - it isn't. It isn't risky at all.
It is not risky for me to write about accidentally throwing a stick of weed down on the blue examining tray at Vientiane's international airport in Laos, just as it's not risky for me to write about getting frost bite on seven toes while partying at night in the snow, just as it's not risky for me to write about crying or feeling lonely or depressed or scared, just as it's not risky for me to write about Australia, this country that we live in, just as it's not risky for me to write about the United States of America, the country I grew up in, and this is because I am not subjected to the systemic oppression and discrimination that affects the majority of people who call Earth home.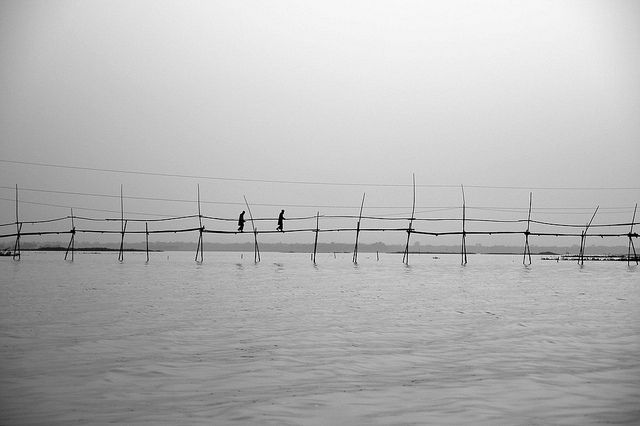 Image source: Flickr / storyteller
Taking a risk is being a woman and getting up each morning despite the fact that it is 2015 and women are still paid significantly less than their male counterparts in nearly every 'major' workplace in Australia/around the world.
Taking a risk is being a heterosexual woman and entering into a relationship with a male despite the fact that domestic violence is, '…the leading cause of death and injury in women under 45, with more than one woman murdered by her current or former partner every week.'[1]
Taking a risk is being a lesbian and existing despite the fact that non-heterosexual women are '…more than three times as likely to have generalised anxiety disorder than heterosexual women.'[2]
Taking a risk is being a gay man and making a move on someone you thought was receptive to your advances, but then being killed by that man and that man being charged for manslaughter instead of murder since the unwanted homosexual advances apparently provoked a violent reaction.[3]
Taking a risk is being transgender and knowing that in a 2012 survey, 'A staggering 41% of respondents reported attempting suicide compared to 1.6% of the general population, with rates rising for those who lost a job due to bias (55%), were harassed/bullied in school (51%), had low household income, or were the victim of physical assult (61%) or sexual assault (64%).'[4]
Taking a risk is being an immigrant with the knowledge that up until 1975 we still had a 'White Australia Policy', and that in 2005 the world watched the Cronulla Riots[5] where thousands of bogans chanted and sent text messages like, 'We're Full Fuck Off', before rushing a man of 'Middle Eastern appearance' on a beach.
Taking a risk is being Aboriginal and understanding that one in five Australians between the ages of 25 and 44 would move seats if you sat down next to them, that one in three Australians thought you were lazy and had been given an unfair advantage by the government, that up until the 1970s it was policy for the government to remove Indigenous children from their families – genocide - that Aboriginal people are six times more likely to commit suicide than non-Aboriginal people, a rate that is even higher in The Kimberly region, which has one of the highest suicide rates in the world.[6][7]
Taking a risk has nothing to do with me sitting down and thinking my thoughts and writing my words. What I do is easy compared to the risks these people and even many other people that I have unintentionally omitted go through, inherently, every day. That I am able to make any money at all from what I do comes down to skill and talent and hard work, yes, but it comes down to even more than that. It comes down to privilege and luck. It comes down to being born into a family where, comparatively, money wasn't/isn't a problem. It comes down to being born healthy, without any physical disabilities, without any major mental or psychological issues.
The biggest risk I/other writers face is not being aware of what is going on around me/us, and inadvertently reinforcing oppressive and discriminative stereotypes that, without meaning to, reinforce white/patriarchal power structures, privileging those who are already privileged.
The biggest risk I/other cis, white, straight, male writers face is sitting quiet and doing nothing at all.
---
samvanz
Sam van Zweden was Writers Bloc's Online Editor from 2013 - 2015. A Melbourne-based writer and blogger, her work has appeared in The Big Issue, Voiceworks, Tincture Journal, Page seventeen, and others. She's passionate about creative nonfiction and cross stitch. She tweets @samvanzweden.