Events
Writers Bloc has hit the road (/tracks) again!
We're currently at the Bendigo Writers Festival, where we're fortunate to have been given a home for the weekend. We're welcoming all writers to come along and live blog the festival with us, or work on their own WIPs.
We're going to continue to update this blog with photographs, recaps and a bunch of fun things from the festival, and we're opening up the blog to a bunch of people that have come along for the ride! We're located at Dudley House (60 View Street), 11.30-3.45 on Saturday, and 11.00-2.30 on Sunday.
Seen a great @bgowritersfest event and want to share some thoughts? Drop in and write a paragraph for our blog! #BWF2015

— Writers Bloc (@writers_bloc) August 8, 2015
saturday
Bright and early, we jumped on a train from Melbourne and travelled into the gorgeous Central Victorian mist. Just under two hours later, we were in beautiful, old Bendigo. After a quick wander around the farmers' market and a poke around the main drag, we set up shop in Dudley House.
GOOD MORNING BENDIGO WE ARE IN YOU.

— Writers Bloc (@writers_bloc) August 7, 2015
Feeling very impressed by how many foods are available in pie form here. You're a town after our own heart. #BWF2015

— Writers Bloc (@writers_bloc) August 7, 2015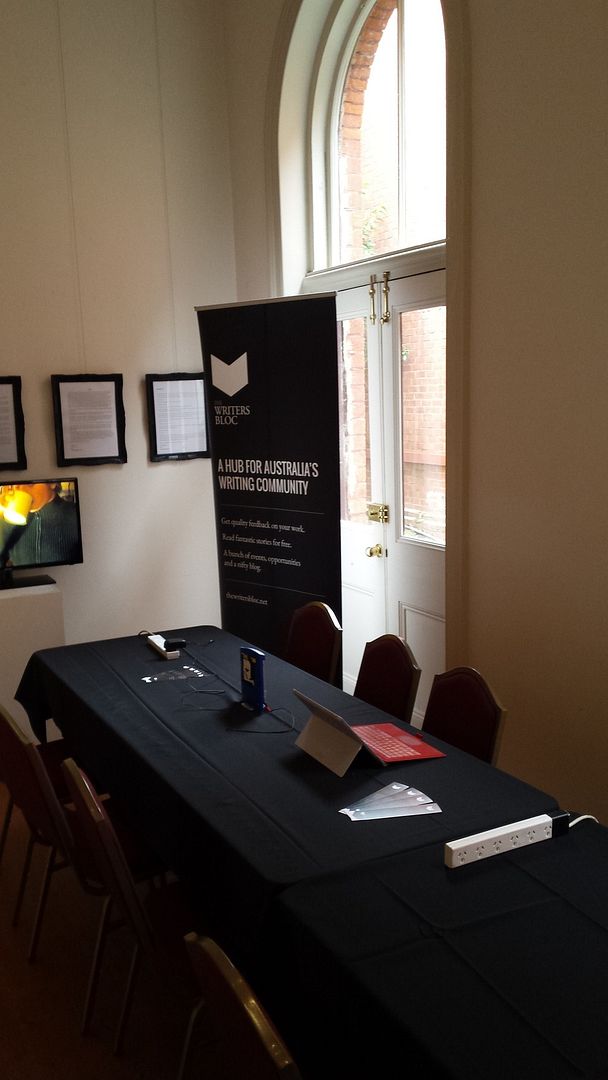 Together Apart - Capital Theatre, 9.30am
Graeme Simsion commands the stage at a few points during the 'Together Apart' session, walking about the stage and pretending to be a stand up comedian. He could totally take on that role, really, and at points I could feel he could be a performer off the page. He commands the room with his affable manner and consistent observations on how to be funny: "It is really hard". Annie Buist provided some nice counterpoint with her experiences as a psychologist. Her stories about getting into dark places while writing Meadea's Curse was intensely intriguing. Deputy arts editor for The Age, Bhakthi Puvanenthiran asked probing questions about living together and the process of working together on an upcoming collaborative project. But they also went into detail about writing in separate spaces – both writers have their own offices in a sprawling house within the countryside and only really interrupt each other a few times over ten hours. An intense experience if I've ever heard of one. -- Philippe
What Life Teaches - Capital Theatre, 10.45am
One thing that became instantly clear during John Marsden's talk with La Trobe University's VC, John Dewar, is that Marsden has a profound respect for the experience of children and teenagers. Revealing personal stories from his many years working in education, raising children, and remembering his own childhood, Marsden told of the importance of capturing the realities and complexities of youth - not just idealising the good parts. There were a lot of questions about his school, Candlebark, which made me both wish I had kids to send there, and helped to bring home the point that the experiences of children count. To Marsden, young people are just as complex, just as emotionally diverse as adults, and recalling the intensity of those early feelings, those powerful and heartbreaking early connections and loves, can help to produce work that is honest, that touches people, and continues to move people for generations. He shared how moved he was when he recently encountered a mother who had read his books as a teenager and had now passed them on to her own teenage daughter. His books were helping this family connect, and it meant the world to him. That's the key point I took away from this session. Writing is all about connection, and to connect with others we need to connect honestly with our own inner children first. -- Melia.
Modern Day Maiden Aunt - Old Fire Station, 9pm
Being single seems to be a way of life for some who want to be creative. Sure, you seem to talk to yourself about things you could share with a significant other, but the fact that you're independent with life in general makes the day-to-day more awesome, and perhaps more amenable to the creative things you want to do. Geraldine Quinn deals with this in her show, Modern Day Maiden Aunt, with such a reflective tone that I started to feel a bit different about how single-dom is tackled, particularly when you have siblings who seem eager to pop out babies. Geraldine makes poignant thoughts about how she is totally cool with it, but juxtaposes this with battling the life challenges of conforming to the expectations of others. Her energy is so shiny on stage, and her voice just booms when she breaks into song about the coolness of her situation or despair. Quinn's show echoed into the night as I walked to my motel - I thought about my own search for love. And yet, the other side of my brain gave these thoughts a right hook, as I woke up this morning and took as long as I wanted in making my own breakfast in the kitchen. -- Philippe
sunday
Words and Images – Capital Theatre, 12.30pm
How does one cope with the experience of handing over a book to those who would turn your personal narrative into a feature film? The answer, at least according to Raimond Gaita and Robyn Davidson, whose cherished books, Romulus, My Father (Gaita), and Tracks (Davidson) have made it onto the big screen, is to learn to let go - but with a cautious reluctance, and a large dose of good faith. In conversation with Anne Manne, the authors discussed the author's role in the conversion from book to screen. They revealed how they'd hung on to their stories, waiting for the right scripts and the right director, but what was particularly moving was the ways in which they'd described the actors that had been cast to play them. Both authors were struck by the performances of their young leads and felt that the actors had been able to intuit their emotional landscape in unexpected ways. Friendships were formed, and though the authors expressed some concerns and regrets about some aspects of the way their stories had been interpreted, they agreed that it had been an interesting experience, and that the important thing to remember is that once the film is being made it is really out of the author's hands. The author's role is to provide the source material and wait to enjoy - or cringe over - the finished product once it has been made. -- Melia
In Praise of Short - Capital Theatre, 3pm

(Reproduced from Luke's blog,
Bucket of Work
, with permission)
This panel praised short story writing, though in essence the guests - Zoe Dattner, Cate Kennedy, David Musgrave, David Astle and Carmel Bird - truly praised concise and deliberate writing of any length. While it could be (though wasn't) argued that in a novel a writer is forgiven for occasional loose prose, yet there is no place to hide or waste in a short story. In the short story, words are often used at their most selective. This is a skill short story writers learn, and it also applies to their choice of setting and events. The whole construct can be challenged due to the exposure. This is writing that would benefit a novel. Words and sentences should always be considered, and not wasted. -- Luke.