The Book That
This is a The Book That... post from Kylie Maslen.
---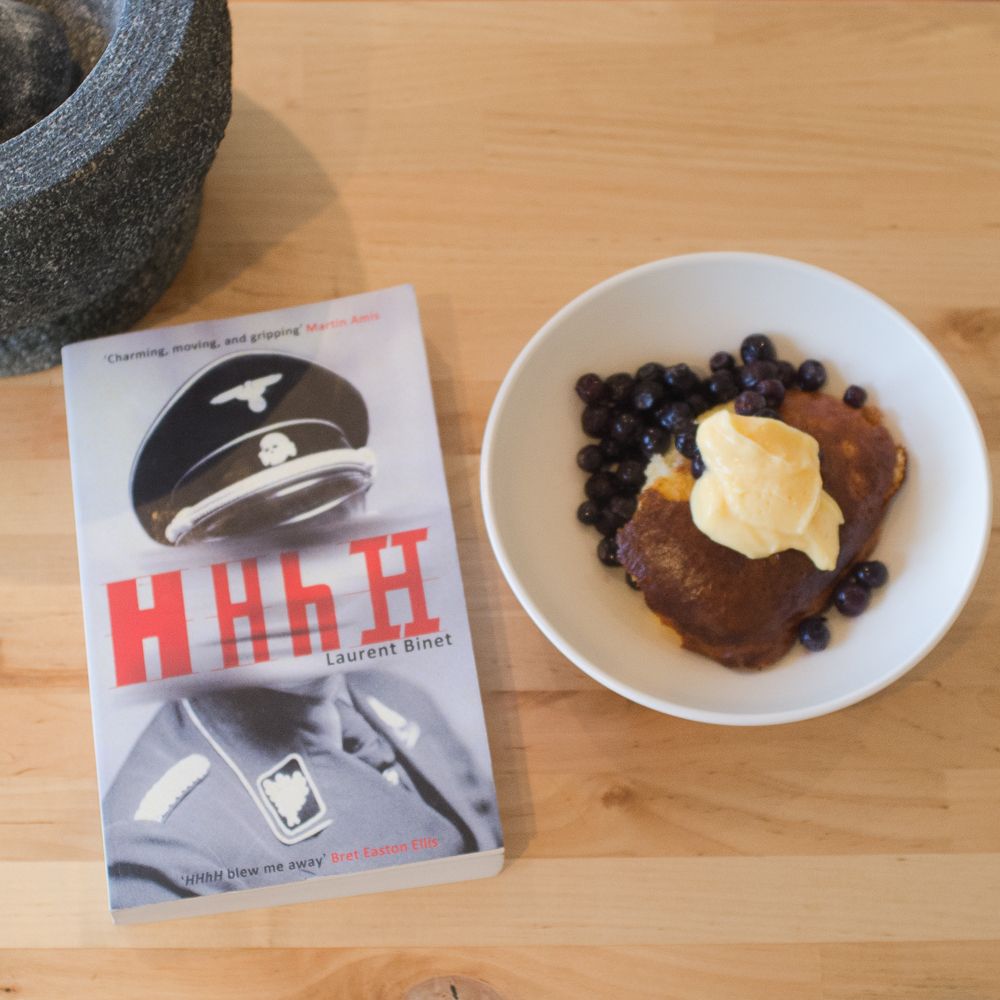 Image source: Kylie Maslen, from book-plate.com
After reading the first twenty or so pages of Laurent Binet's HHhH, I slammed the book down on the couch and swore. It was unlike anything I'd ever read before, but also unlike anything I'd thought possible. I loved it, I hated it, I couldn't wait to read more of it. It became the book that changed the way I think about writing.
The story of HHhH is based on Operation Anthropoid – an exercise by two Czechoslovakian parachutists to assassinate Reinhard Heydrich in 1942. Chief of the Nazi secret service, Heydrich was a star of the Third Reich and an extraordinarily brutal man who oversaw the murder of millions as one of the main architects of the Holocaust. Despite Heydrich's close alliance with Hitler and ambitious rising through the ranks he still answered to Himmler, but those in the SS would say 'Himmler's brain is called Heydrich' which in German reads, 'Himmlers Hirn heisst Heydrich', or HHhH.
I have never been a fan of historical fiction - the whole genre is really a bit of a mystery to me. The reliance on other people's stories, the stretching of what really happened to make something more engaging and readable, but the responsibility that comes in not betraying the original events: it baffles me. But what Binet does in HHhH is manage to write historical fiction in a very contemporary way, completely laughing in the face of the genre and in the process making a story that has been repeated over and over completely new again. In fact Binet goes as far as to flagrantly make fun of historical fiction: when describing how the two parachutists meet, Binet uses a classic historical fiction style where the characters speak in conversation, as if the novelist is privy to every word that was spoken between them. This is immediately countered by Binet's commentary:
"This scene is not really useful, and on top of that I practically made it up. I don't think I'm going to keep it".
Binet puts himself right into the narrative and in doing so makes his telling of this story different from others who have come before him. He's open with his own opinions and how his backgrounds bring his own emotions to the telling of the operation. He's the son of a historian and provides the reader with a commentary of his research process throughout the novel. He's French and talks about the difficulty of finding translated materials. He's Jewish and is open about how this affects his lack of sympathy for Heinrich. But in none of these cases does Binet distract from the narrative or lecture the reader. It's done in a sympathetic, open and humorous manner.
For example, early on Binet mentions Heinrich's wife, but then diverts the story to explain that very little has been written about her. He tries to rectify this and to bring her side into this novel, but there's very little historical documentation about her. He finds a text that would provide the information he's looking for, but the few times he finds it online it's out of print and subsequently very expensive. He finds a copy in a second hand bookstore one day for a great price, but it turns out the store only takes cash and at the time he only has card on him and to go to the cash machine would be a real palaver, so he walks away. A few pages later we learn that he ended up buying the book online after all. I completely adored this detail and when people ask me why I love this book so much, this is the story I tell. The humour in HHhH is infectious, but my field research conducted on the South Morang line in peak hour shows it is alarming to others. People on the train had no idea how to react to a woman laughing out loud whilst reading a novel with an SS trooper on the cover. This is an unexpected novel, even to those yet to read it themselves.
But in the end, what I took away from HHhH was not as a reader but as a writer. Binet showed me in this novel what can happen when you just write what you want to write, how you want to write it. It doesn't matter that no one else has done it before. It doesn't matter if everyone has done it before. Just write it. In the last twelve months I have finally started to put my writing out to the world properly after writing on and off my whole life. It's something I am still very self-conscious about and feel very wary of, I guess like every writer ever.
When I came to read this novel, I was going through a particular blow to my confidence as a writer. I had accidentally been writing a lot of memoir, plonking myself into other people's stories so I could talk about my feelings. I felt really self-conscious about it, particularly given the backlash there has been to first person writing and the over saturation of memoirs on the bookshelves. I didn't want to write what everyone else was writing, but then I also was struggling to feel confident in any other space. But Binet made me think - screw everyone else. This is how I write. This is what comes naturally, this is what I enjoy, this is what I do. All I need to do is keep doing it and keep working on it and keep getting better at it. There's always a new way to do something, even if it feels like it's been done to death. HHhH is proof that it's not only possible, it can be completely wonderful.
---
Kylie Maslen is a writer and events producer based in Melbourne. She recently appeared at the Emerging Writers' Festival and writes regularly about her two favourite things - what she's been reading and what she's been eating - at book-plate.com.
samvanz
Sam van Zweden was Writers Bloc's Online Editor from 2013 - 2015. A Melbourne-based writer and blogger, her work has appeared in The Big Issue, Voiceworks, Tincture Journal, Page seventeen, and others. She's passionate about creative nonfiction and cross stitch. She tweets @samvanzweden.