The Book That
This is a The Book That... post from Dave Madden.
---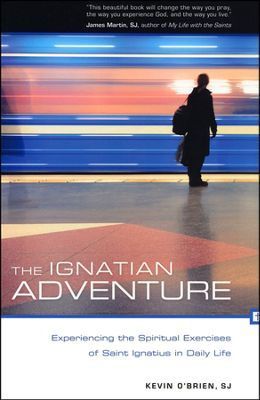 More than anything I want my life to progress and be for others, and lately I've been running across some irreconcilable debts in the ledger. The Ignatian Adventure is a book that was handed to me, free of charge, from the man I've come in recent months to call my spiritual director. Spiritual adviser? I'll never get free from academia's old terms. And until recently I thought this was a trap I'd laid for myself and stepped happily into: after 24 years of being schooled, I'd worked hard enough to get a job in schooling others, and so what I spent my time on was Being Right. I had to transfer the right things from my brain into the brains of my students. I had to identify the wrong things they said or produced in writing and then explain why they were wrong. It's been taxing and, in the end, unfruitful work. But I was good at it. I knew my literary history. I knew "my craft." I knew not only how to deploy the present tense in talking about past events but also why not to, and up at the board with a dry-erase marker I knew how to get this across to the students who called themselves visual learners.
What do I mean by unfruitful? I'd practiced the teaching of writing for years and one day took a look at my own writing and saw that it wasn't any better than it was when I started.
What good was craft, then, when it'd dried up my work into something dispensable, a decorative gourd hung on nobody's door? Relatedly, I saw that atheism had made me thoughtful but heartless. To get better I was going to have to learn how to be better.
In the 1520s the soldier who would become Saint Ignatius of Loyola got injured in battle and in his convalescence converted to Catholicism. He underwent an ascetic hermitage and years later wrote about his methods. In 2013 I was an atheist-with-doubts who got a job at a Jesuit Catholic university. Jesuit novitiates undergo Ignatius' "Spiritual Exercises" over the course of 30 silent days. My school offered this experience to faculty and staff over the course of 30 mindful weeks. Not for conversion, or priesthood, but for direction. I needed direction. I liked the idea of exercises, of homework. I asked to be involved and at the start of 2014's fall term my spiritual director and I began meeting weekly.
The job of The Ignatian Adventure—which my SD, a gay Irish priest full of wisdom and love, assured me never had to be followed to the letter—is to move me through the arc of the exercises as spelled out by Ignatius. The First Week, "Experiencing the Boundless Mercy of God," took four weeks. Each day, the book's author, Kevin O'Brien, SJ, gives me a prompt for daily meditation:
Read Isaiah 43:1-7. Pray slowly over the verses. What words or images move you? Consider: Who is God for me? How does God see me?
God for me is an omniscient veteran writer whose spirit lives inside me. He wears a white or heather-grey sweatshirt, and he sits in the same back booth of this dark, warm bar I made in my imagination. His face is a cloud of smoke I can't focus on. He loves me more than anyone, and he helps me know what to do.
This took weeks. Weeks of prayer. Weeks of sitting in the same pew of St. Ignatius Church here on my campus, trying to figure out what I was doing. Weeks of reading the KJV's craggy verse. Weeks of being angry and petulant, of feeling like God was this parent who kept smothering me, and like Jesus was a sanctimonious prick. I'm about halfway through the exercises. God I understand. God's the guy I talk to when I need help with my life or with my writing. He always has an answer. He showed me which book I wanted to write about for this piece. He gave me back a sentence I'd thought of and forgotten. He pointed out I want to be a father more than I let on.
I recognized early the weirdness of this. I am, in prayer, just talking to myself. I'm making up shit for God to say back to me. Here's where the O'Brien book helps. First of all, if we're created in God's image, O'Brien writes, "that image is indelible." "[W]e are by nature related to God." So there's a little part of God inside me, inside you. That's who, I've learned, I'm talking to. Some people call it a conscience. These days I'm liking mine to be personified and full of power.
Second of all, prayer "is more about feeling than thinking," says O'Brien. "In contemplation, we rely on our imaginations...." It's easy for a nonfiction writer to let the wells of the imagination run dry. It's even easier for a teacher. I learned early in grad school that if I'm going to be able to live happily in this life, I'm going to have to learn to feel. Every act of empathy is an act of the imagination. Is why novels are such useful tools. In imagining myself inside Bible scenes, I'm exercising the parts of my mind—and, I'm afraid, my spirit—professionalism has made flabby.
Every day I do it. Every day I read from a book that encourages me to use my imagination to talk to God. Now, among other things, I know where to give credit. Where to pay forward. Or it's this: I'm learning again.
---
Dave Madden is the author of The Authentic Animal: Inside the Odd and Obsessive World of Taxidermy. His shorter work has appeared in The Rumpus, DIAGRAM, Denver Quarterly, and elsewhere. Last year, he was a Bernard De Voto Fellow at the Bread Loaf Writers' Conference, and he currently teaches in the MFA program at the University of San Francisco.

samvanz
Sam van Zweden was Writers Bloc's Online Editor from 2013 - 2015. A Melbourne-based writer and blogger, her work has appeared in The Big Issue, Voiceworks, Tincture Journal, Page seventeen, and others. She's passionate about creative nonfiction and cross stitch. She tweets @samvanzweden.