The Book That
This is a 'The Book That...' post from Jason Nahrung.
---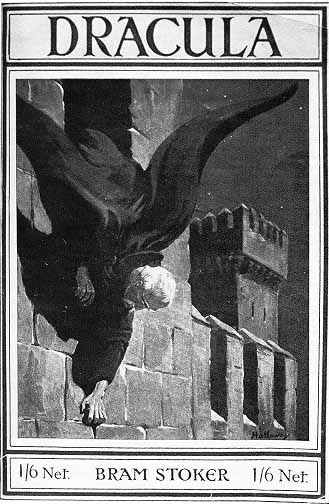 There has been oodles written about Dracula, the 1897 novel by Bram Stoker. And rightly so. It taps so many thematic veins that it still resonates today. Dracula, such a well-known monster thanks in large part to his enduring popularity on the big screen, is still the template by which all other western vampires are judged.
That endurance means the story is familiar to many. Jonathan Harker goes to Transylvania to complete a real estate deal with Count Dracula, only to find himself a prisoner of the mysterious, solitary noble. The creepy moments add up until the count's supernatural aspect is revealed, at which time Dracula heads off to England with his heart set on conquest, while Harker must escape and follow.
In the UK, three men court Lucy, a good friend of Harker's beloved Mina. The count gets to her first, and then targets Mina. Enter Dr Abraham van Helsing, vampire expert, who leads the hunt all the way back to Transylvania for a slightly anti-climactic finale.
Along the way, a legend is born.
I first discovered Stoker's novel when playing Dracula in a high school musical. It turned out to be a life-changing read.
Always interested in ancient history, myth and lore, for me this novel crystallised it all.
Here's a key scene, first encountered while a storm scratched branches against my bedroom window:
'I saw the man slowly emerge from the window and begin to crawl down the castle wall over that dreadful abyss, face down, with his cloak spreading out around him like great wings. At first I could not believe my eyes. I thought it was some trick of the moonlight, some weird effect of shadow; but I kept looking, and it could be no delusion. I saw the fingers and toes grasp the corners of the stones, worn clear of the mortar by the stress of years, and by thus using every projection and inequality move downwards with considerable speed, just as a lizard moves along a wall.'
And then, Harker is seduced amid sheets and motes by three female vampires, the moment interrupted by Dracula and a squirming bag of baby to sate their bloodlust.
No gore, here, as the brides are diverted with their infant snack. The horror is left to the imagination, later compounded when the desperate mother appears outside the walls, only to be torn apart by wolves. Ah, that sweet music!
There are other beautifully drawn moments: the sea captain lashed, dead, to the wheel of his vessel as it runs ashore at oh-so-beautiful Whitby; Mina drinking blood from the count's chest; the gang murder of vampirised, demonised Lucy.
Atmospheric stuff, even if Stoker does have a lapse and lets his villain walk round in the daytime.
Decades later, such scenes still haven't lost their power, perhaps in part because they are so intimately told. Stoker uses first-person narratives, chiefly diary entries and letters, and also newspaper reports and a ship's log, to invest his story with both emotion and a strong sense of the real world.
The Irish writer made heavy use of travel accounts for his European scenes and drew on folklore, previously published works about vampires and vampirism, and his own travels – though he never made it to Transylvania.
In doing so, he laid out the rules that many have followed, and joyfully broken, since: running water, garlic and holy items, sunlight, stakes through the heart. Bad breath and hairy palms and protruding teeth. Mirrors. Damnation.
One of the first things to do when writing about vampires is to decide which tropes to take and which to leave, according to which best serve the story. Has there been another supernatural monster who has evolved so frequently and so successfully? There is, however, one fact that the most complex of metaphors has to deal with: the vampire will kill you. It is a predator, a parasite, a possible contagion. At the end of the day, it needs what we got.
Dracula was nasty. He was a villain's villain, a writer's villain: clever, outnumbered, bold, with a touch of cruelty to remind us he was a monster. He had a plan and when it was thwarted, he retreated, and never felt compelled to explain himself to his victims. There was something chilling in his singular sense of purpose and his preparedness to wreak whatever havoc to further it, spiced with perhaps a touch of spitefulness.
Dracula was a case in point of the villain getting the best lines, on the page and on the screen.
The novel presents a fascinating period of social tension, its themes running deep enough that they continue to have relevance for modern audiences, even though some elements have been watered down or evolved with social norms. Politics, religion, science, feminism: the vampire metaphor works hard.
Whatever its faults and anachronisms – that Christian good/evil binary is one of the first things to go when I sit down to write a vampire tale – Dracula casts a huge shadow. The slow, suspenseful unveiling of the count's true nature; the gorgeous, infectious Gothic mood; the understated erotica; the desperate thrust and counter-thrust of the purportedly righteous against the outnumbered, wily Unholy; all continue to shape my aesthetic long after I first opened the covers on a storm-tossed night.
---
Jason Nahrung grew up on a Queensland cattle property and now lives in Ballarat with his wife, the writer Kirstyn McDermott. He works as an editor and journalist to support his travel addiction. His fiction is invariably darkly themed, perhaps reflecting his passion for classic B-grade horror films and '80s goth rock. His most recent long fiction titles are the Gothic tale Salvage (Twelfth Planet Press) and outback vampire novel Blood and Dust (Xoum). He lurks online at www.jasonnahrung.com.
---
The next The Book That... post is from Bethanie Blanchard, on Thursday week. If you'd like to write about a book that's important to you, contact our Online Editor Sam van Zweden with your pitch; editor@thewritersbloc.net
samvanz
Sam van Zweden was Writers Bloc's Online Editor from 2013 - 2015. A Melbourne-based writer and blogger, her work has appeared in The Big Issue, Voiceworks, Tincture Journal, Page seventeen, and others. She's passionate about creative nonfiction and cross stitch. She tweets @samvanzweden.