Editor's Desk
This is a post from the desk of Online Editor Sam van Zweden.
---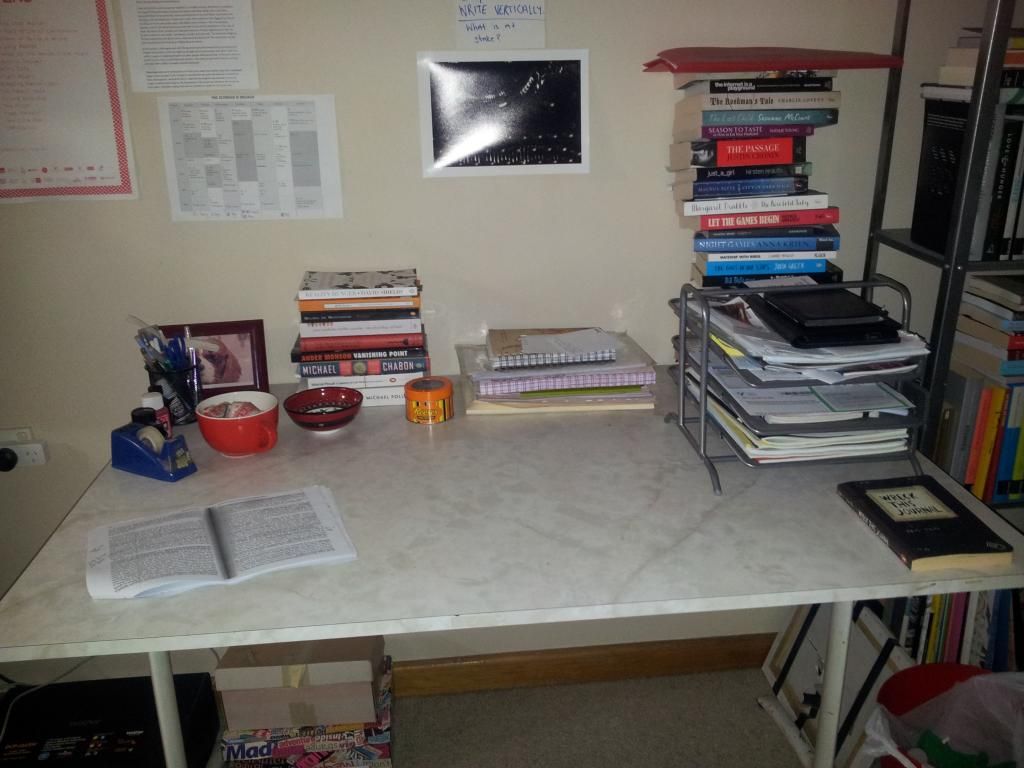 A house inspection tricked my desk into tidiness.
May means the cold wind blows in and the days get dark early - it's okay to stay inside and read on days off, and pyjamas are both sensible and necessary. If you don't work well at night, too bad, because it seems like there's so much of it now. At this point in the year, I start to feel the need for a holiday, and it comes in the form of literary festivals. They're one of the only things I'm willing to venture outside for with some enthusiasm.
At the end of this month, Sydney Writers' Festival kicks off (our picks here), followed soon after by the Emerging Writers Festival in Melbourne and Wordstorm in the Northern Territory. Just when you've recovered from them, Byron Bay's up at the start of August and Melbourne Writers' Festival's on again at the end of the month, at the same time as the QLD Poetry Festival. The anti-social writer is largely a myth.
Spending all that time around successful writers is inspirational, so in order to loosen the gears before you crawl out of the hole and start seeing people again, we're aiming to inspire you through the Writers Bloc blog this month with posts about beautiful books. Where to get 'em, how to make 'em, and lots of book porn.
I especially appreciate my own book collection in the colder months. I curl up with one of my many quilts, ugg boots (yes) and polar fleece in abundance, get right up close to the heater, to the point where I worry that my pants might melt... And I read. Rain heavy on the roof, the world outside my cosy home could have disappeared. Brushing up on award-winners, working through the to-be-read pile, or revisiting an old favourite (Little Women or A Heartbreaking Work of Staggering Genius top my list of comfort-reads) - May is good for making the most of our voluminous book collections. The most beautiful thing about my own collection is the sheer volume.
May's also wonderful for getting stuck into writing our own books - the rain won't let us get too far outside the front door anyway. Whether you're nutting out the verbal tics of your protagonist, figuring out how to get a villain in the right room at the right time, or making sense of tense in your memoir, the weather's amenable to being locked in an office. Aside from braving the weather for writers' events later this month, you don't really need to leave the house too much - Writers Bloc is also here for you to bounce your ideas around, so share your writing or talk it through on the forums. I wish you a happy, healthy, productive month.
If getting stuck into new projects sounds good, have a look at our Social Media Manager role. Applications close on Friday.
SvZ
samvanz
Sam van Zweden was Writers Bloc's Online Editor from 2013 - 2015. A Melbourne-based writer and blogger, her work has appeared in The Big Issue, Voiceworks, Tincture Journal, Page seventeen, and others. She's passionate about creative nonfiction and cross stitch. She tweets @samvanzweden.