Editor's Desk
Some notes for the start of April, from our Online Editor's desk.
---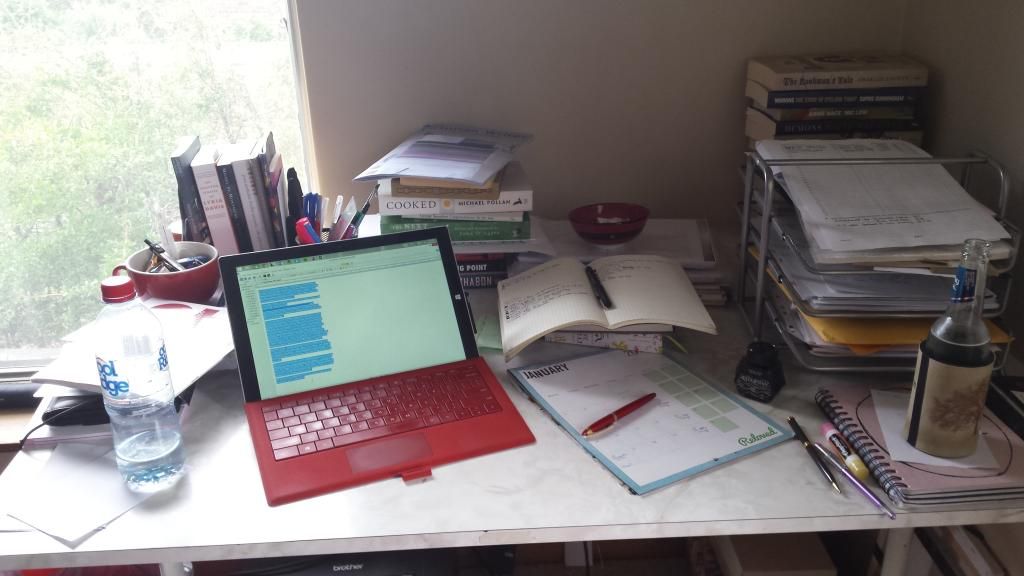 We're in April already, and I can't believe it. Easter's behind us and the leaves are turning. Everyone I know is hitting a wall after the long stretch of work after Christmas - it's time for another holiday. A quarter of the year is beneath us already, and April is ripe with new beginnings. Panicking because the first quarter is gone, April is a time for setting goals and correcting your course. April is possibility.
This month (April, got it?) on the blog, we're shining a spotlight on the speculative fiction community. Each Monday, and through a number of our columns, we'll hear from writers who dabble in the fantastical and unreal. We'll look at the dynamics of the community, and offer a helpful guide for those just getting started reading sci-fi. How can you mix genres? We'll have tips on that. What about research, how does that play into things that don't exist in our world? It's still important, and we look forward to looking at why. While, of course, we're all part of a community of writers, we're also part of smaller, more immediate communities. The people around us with shared skill sets and interests are our best resource. So in April, I hope we can help connect some speculative fiction writers with new people, help them think about a problem in new ways, and inject some inspiration into the daily desk-time. And if you're not a speculative fiction writer, I hope we can open that community up to you, encourage you to read more widely, or borrow some genre conventions in your own writing.
Speaking of community, we've got some great events coming up, and we'd love to see you there:
A bit of a change of pace to wrap up this Ed's Desk - the Writers Bloc family is sad to be bidding a fond farewell to our social media manager Patricia Tobin, who's finishing up her WB duties next week, and is headed back to Singapore. Pat's contribution to Writers Bloc over almost a year has been absolutely invaluable, and her dedication to the role will be hard to match. We're so sad to say goodbye to Pat as our social media queen, but she'll still be around for future collaborations and long-distance pen-palling. We wish her the best of luck, and can't wait to hear about the amazing things she goes on to do!
samvanz
Sam van Zweden was Writers Bloc's Online Editor from 2013 - 2015. A Melbourne-based writer and blogger, her work has appeared in The Big Issue, Voiceworks, Tincture Journal, Page seventeen, and others. She's passionate about creative nonfiction and cross stitch. She tweets @samvanzweden.