Editor's Desk
This is a post from the Editor's Desk.
---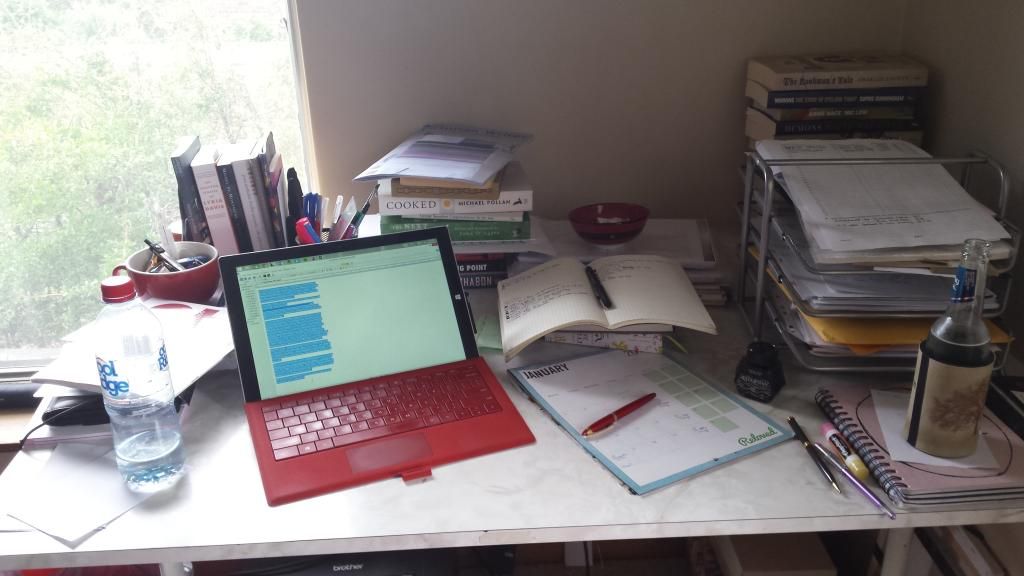 The Ed's desk.
I'm currently working on a series of vignettes around the idea of devotion, and I've been wondering what the difference is between obsession and devotion. It all seems to hinge on control - while devotion requires dedicated practice and observation, obsession has an element of wildness about it.
In a society where we value control, a lack of it doesn't have to be a bad thing - think fangirling, subcultures, protests and Guinness World Records. The beyond-normal amount of enthusiasm displayed in obsession can result in some truly amazing things.
My own obsessions are these: systems of organisation, ramen, food writing, stationery. These things make me follow ideas or activities that often seem to have little merit outside of the fact that they exist. And maybe I'm throwing the word 'obsession' around too easily here. If I were truly obsessed, there'd only be room for one of these things in my life. That one thing would overshadow all else, and its pull would exclude enthusiasm for other things in my life. 'Love' isn't quite the word I'm after though; it doesn't seem to account for the illogical pull and whimsy of my feelings toward my 'obsessions'. 'Preoccupation' might fit.
Semantics aside, I deeply appreciate what my obsessions do for my life, and this comes through often in my writing. I can research my obsessions endlessly, without feeling like I know enough. They provide a direction and a rationale. They start things and they cap them off.
This month on Writers Bloc we're celebrating obsessions. We'll be sharing work from writers obsessed with gardens, wrestling, and ships. We've got The Book That… posts about religious obsession, and writers whose other jobs help them indulge their non-writing obsessions like whiskey and circus arts.
We do this in the belief that following what you love can only enrich your work. Celebrate it.
samvanz
Sam van Zweden was Writers Bloc's Online Editor from 2013 - 2015. A Melbourne-based writer and blogger, her work has appeared in The Big Issue, Voiceworks, Tincture Journal, Page seventeen, and others. She's passionate about creative nonfiction and cross stitch. She tweets @samvanzweden.