Editor's Desk
This is a post from the desk of our online editor, Sam van Zweden.
---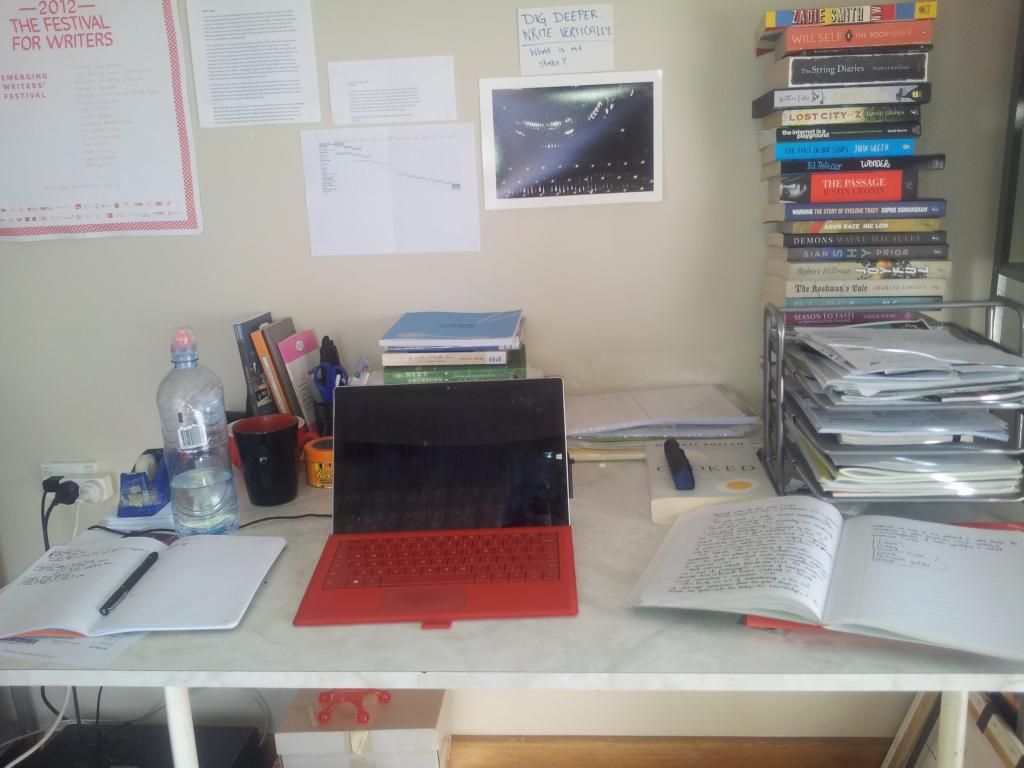 It's easy, as a writer, to see the page as the end-point. Put down the words, hone them, then see them presented on a paper or digital page, right? By seeing the page as the end-point, we forget everything that happens before, during, and after the process of getting the words down. We also close ourselves off from the huge number of storytelling alternatives available to us.
We live in the world first and foremost, and without it we'd have no fodder for all the internal processing that goes on before we put anything down, from a poem to an essay. Even the processing itself requires time away from the page.
Our interactions with people feed the story-machine, and things like workshopping and living some more help refine what we've written. My time at the Melbourne Writers' Festival during the last fortnight has helped to reinforce how important human interactions are to keep the engine running, even if it's just to compare notes on a tough week or tell someone new about what I'm working on. Workshops and feedback from peers help to strengthen whatever I'm working on, and seeing the new and exciting ways that stories can be told now help to broaden my horizons, or at least challenge the way I think about my work.
This month's theme for Writers Bloc is "Off the Page". We'll be hearing from writers who work on projects that appear off the page - if:book tells us about their "Memory Makes Us" project, which uses memories gleaned from the public as its source material. Harry Saddler shows us how his SMS stories work, Melbourne Spoken Word gives us the low-down on the Melbourne performance poetry scene, and we hear from the National Young Writers' Festival about what's so important about face-time at festivals. These are just a handful of the posts to the "Off the Page" theme that will be appearing on the blog in September.
We're also stoked to introduce our upcoming guide to podcasting (which, yep, happens off the page!), which will kick off from mid-September. This series of posts, from the brilliant mind of our reviews editor and radio buff Emma Koehn, will walk you through, step-by-step, to create your own podcasts.
The strength of all these projects is their emphasis on human interaction: whether it's in the way that a story changes when it's received via SMS, or the power of a word spoken rather than read silently, people are an important part of what happens off the page.
Speaking of people, one of our favourite people at Writers Bloc is Farz Edraki. This month we say farewell to this brilliant off-the-pager. For almost a year now, Farz has been producing fabulous podcasts for us, talking to writers all over Australia about where they work. Farz will be sharing one last podcast with us in a few weeks, wrapping up the "Writers' Work Spaces" series. We're sad to see her go – thanks so much for all your fantastic work, Farz! The whole Writers Bloc team are really excited to see what you do next and will be keeping a keen eye on your adventures with rip publishing and the great wide world.
I hope that you'll try to connect with those around you in September. Go to an event, meet with someone to get feedback on your work (or head to our workshops for some!), perform your work, or try telling a story on an alternative platform. Whatever you choose to do to connect, do it fully. Best of luck.
-- SvZ
samvanz
Sam van Zweden was Writers Bloc's Online Editor from 2013 - 2015. A Melbourne-based writer and blogger, her work has appeared in The Big Issue, Voiceworks, Tincture Journal, Page seventeen, and others. She's passionate about creative nonfiction and cross stitch. She tweets @samvanzweden.