Literary Cities
This is a Literary Cities post from Oliver Mol.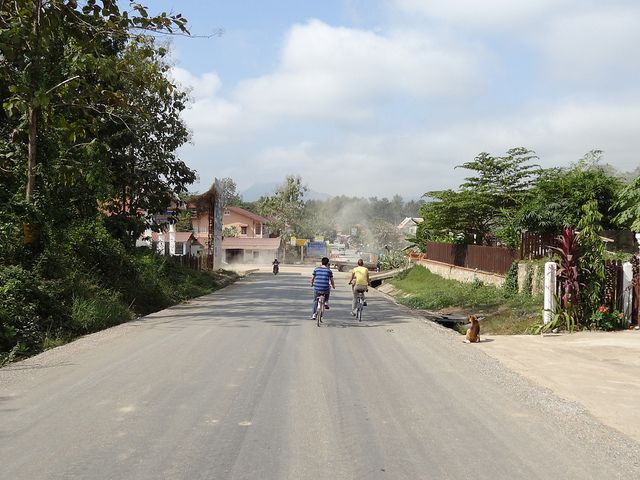 Luang Prabang - Photo courtesty of Flickr
---
When I got to Luang Prabang I checked into a hostel. Many people were in the hostel. Many people were smoking cigarettes and drinking Beer Laos. Someone said, "Have a Beer Laos it's fucking sick" and I told them I couldn't cause my stomach was giving me trouble. I told the guy I'd see him later sort of hoping that I wouldn't and then I threw up in the bathroom and went to bed.
The next day at breakfast I met a maybe 70 year old Australian man who smoked more or less all the time. He spoke very slowly. Sometimes he sort of laughed. Mostly, he made face movements like a person who picked their words carefully. Because time was running out. Like a person who could see "the end" but didn't mind getting there. But maybe did. I don't know.
I sat next to him and we ate an omelette. He said, "You look like shit, ha ha" and I smiled. He asked what I was doing in Luang Prabang and I said I didn't really know. We ate more omelette. We spoke about things. He asked if I'd heard about Big Brother Mouse. I shook my head. He said, "It's really wonderful. It's an organisation that improves literacy in Laos. It's especially aimed at children. It started in 2006. Lots of kids weren't reading. We asked the kids what they thought of reading and they laughed and said it was boring. So Big Brother Mouse started. What we do is publish books that people want to read. We make reading fun. We publish young authors and old authors and distribute the books to people who wouldn't otherwise have access to books. You can volunteer there. It's free. You just read to kids who want to be read to. They'll talk to you for hours. They want to learn. They want to learn so much." He exhaled on his cigarette and went: wheeze wheeze. He said, "Yup." I exhaled on my cigarette and went: phew phew. Like breathing it out. I told him how my grandma smoked for maybe 60 years and never got cancer but died of emphysema. He said, "That's what will probably get me, ha ha." He said, "It probably already has, ha."
I spent the day not doing much. Just being a backpacker. Still feeling ill. Still feeling pretty much dumb and surrounded by backpackers who I also thought were dumb.
That night I felt a little better. The volunteering was from 5-7 but it was already 6.30 and I felt like I'd missed it. I made an excuse to myself that talking would make me feel sick even though I was just lazy. Lazy and dumb. Yeah. Or something.
At 7 I met a Canadian guy who reminded me a lot of Jack Vening in Brisbane. He asked what I was doing and I told him nothing and he asked if I wanted to play basketball with some of the Laos kids he'd met through Big Brother Mouse. I said, "Yeah" with enthusiasm and put on my shorts.
At the courts we played 5 on 5 full court for two hours. The people from Laos were mostly better than us. Were for sure fitter than us. We smiled at each other because basketball was fun. During the break I sat down with this eighteen year old who told me he was working every day and studying economics at university. I asked him about Big Brother Mouse. He said, "My little brother, he loves it. His English is improving." He asked if I'd volunteered there and I told him that I had. I looked him in the eye and lied like a person who was trying to do the right thing. Like a jerk. Like some dumb privileged jerk.
I left the next morning cause I wanted to do some trekking up North. I felt bad about lying and not volunteering because it seemed very good and also something directly related to my interests. But maybe that's where I go wrong. Because I always think about my own interests. My own thing. Yeah.
If you go to Vientiane or Luang Prabang in Laos please try and visit Big Brother Mouse. Most things are far more important than you are and this is one of them.
http://www.bigbrothermouse.com/whatwedo.html
---
Oliver Mol is a Sydney-based writer. He is twenty-five. He grew up between America and Australia. He has lived in Houston, Brisbane, Sydney and Melbourne. He was the co-winner of the 2013 Scribe Nonfiction Prize for Young Writers and was the recipient of a 2012 Hot Desk Fellowship. He has read creative non-fiction at the Museum of Contemporary Art. He has interned at The Lifted Brow, was a fiction editor at Voiceworks and is part of the Stilts Collective. His debut novel, Lion Attack! will be out through Scribe Publishing in early 2015. He is excited about life.
samvanz
Sam van Zweden was Writers Bloc's Online Editor from 2013 - 2015. A Melbourne-based writer and blogger, her work has appeared in The Big Issue, Voiceworks, Tincture Journal, Page seventeen, and others. She's passionate about creative nonfiction and cross stitch. She tweets @samvanzweden.