Literary Cities
This is a Literary Cities post from Raelke Grimmer.
--
She stole my heart. I was caught completely off-guard, and fell too hard too fast. At first glance, she seemed to be like all the other European cities I'd seen, rich in ancient architecture and an air of superiority, like nothing we find in Australia, no matter how hard we try. I was naïve. Slowly, Prague revealed to me her secrets, and slowly, she reeled me in. Suddenly, I was trapped in a love so intense that the thought of our looming break-up caused nothing but anxiety.
Our love affair began on a drizzly grey summer afternoon with a visit to the Kafka museum, the only site listed on my must-do list. I was happy to let the other eleven days bring what they may. Franz Kafka was born and raised in Prague. He grew up speaking both German and Czech, although his schooling was in German and therefore he turned to that language to mould his literary creations. My partner and I wound our way through the museum, although museum is a clumsy word for such an exhibition. We experienced a self-guided tour through Kafka's life and unstable mind, rather than passively observing events of the past. Each phase of Kafka's life could be experienced through sound, through touch, through sight. German, Czech and English placards provided extra information should we choose to indulge in more details. One theme which emerged again and again was how Kafka felt trapped in his city of birth. Part of his soul belonged to Prague and her labyrinth of winding alleyways, and no matter what he did or where he went, he couldn't escape the pull of his city calling him back.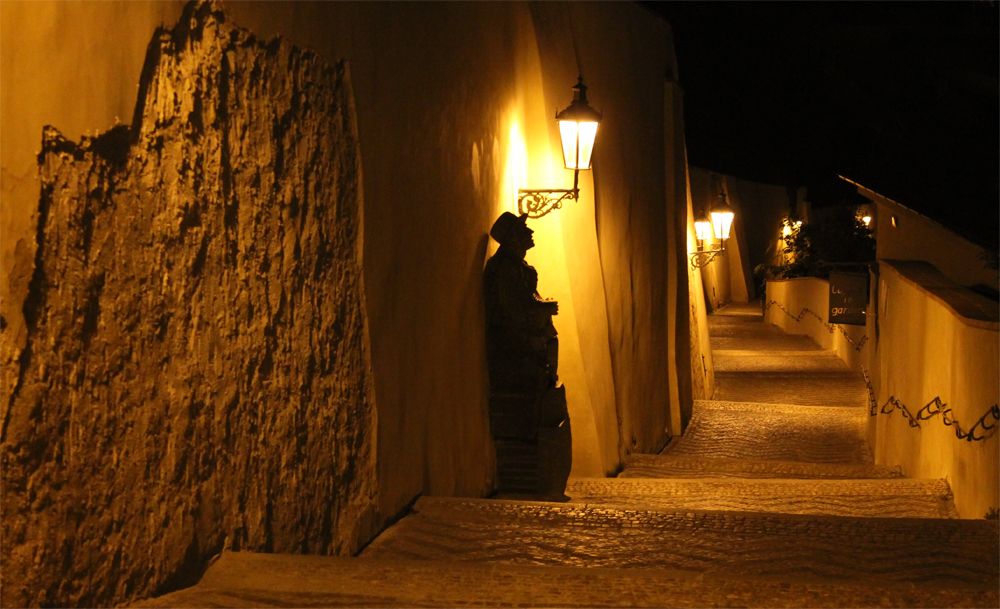 Image source: Adam Troyn
I spent the next eleven days exploring the city by tram, by metro, by foot, by boat. Little by little, I felt pieces of my heart succumb to the hands of Praha. I left a piece of my heart at Prague Castle the night I saw Glen Hansard perform there beneath a full moon, a piece at the Kafka Bookshop in Old Town Square. A few pieces fell into the Vltava River, the body of water which splits the city in two. Another piece nestled itself into the brickwork of Charles Bridge, the vein joining the split city together again. Another morsel was claimed by Wenceslas Square, where a peaceful revolution freed the Czechoslovakians from communism, and saw the extreme sacrifice of a select few to fight for that freedom. A visit to the Strahov Monastery Library was the moment I knew I'd fallen. The beauty of that library hits you so hard that even someone who hates books would struggle not to be impressed. I had to be dragged away in a trance.
There was so much to absorb. So much to write about, but writers' block struck hard during my two weeks in Prague. I couldn't find words to express what I was feeling as the city of one hundred spires pulled me in deeper and deeper. I thought of Kafka, a prisoner in his own city, trying to create his next masterpiece. No wonder he sunk into madness.
Our final morning arrived and I relished one last ride on a Prague tram, a final trip on the metro. As I boarded the bus that would wrench me from her, I wanted nothing more than to stay. The bus pulled out of the station and I pressed my eyes to the window to drink in a final taste. We hit the motorway and left my heart shattered.
I dreamt of her. She infiltrated my every waking thought, occupied my every idle moment. On the plane back home to Australia, facing the reality of being more than a two-hour bus ride away from her, I obsessed over how I could get back to her. And when? How soon could I submit myself to her again and allow myself to be dragged into her depths?
Fourteen months on and the pain in my heart has numbed to a dull throb, still there, a constant reminder that I need to get back. Shards of my heart remain in Prague; I will not be whole again until I return and bathe myself in the beauty and darkness of her cobblestone streets and weave my way through her narrow alleyways, imagining I have found myself living in the Middle Ages. I could not write whilst there, yet words I write when away from her feel shallow. But I am only a tourist, one of thousands who cram daily into Old Town Square and Charles Bridge, soaking up the history of one of Europe's oldest cities. What torture it must be for those like Kafka, born and raised under the city's spell.
--
Raelke Grimmer is a writer and linguist from Adelaide. She is the current Emerging Writer-in-Residence at the SA Writers' Centre, and the author of young adult science fiction novel Sleepwalking (BigWorldNetwork.com, 2013) and picture book What in the World?(2010). She is the founder and Editor-in-Chief of Tongues , a multilingual and multicultural online magazine.
@RaelkeGrimmer
samvanz
Sam van Zweden was Writers Bloc's Online Editor from 2013 - 2015. A Melbourne-based writer and blogger, her work has appeared in The Big Issue, Voiceworks, Tincture Journal, Page seventeen, and others. She's passionate about creative nonfiction and cross stitch. She tweets @samvanzweden.