Literary Cities
This is a Literary Cities post from expat novellist Antonia Hayes.
---
I arrived in San Francisco on an overcast February afternoon. Everything I'd heard about the fog was true. Grey skies and low clouds matched my mood; I was terrified. Terrified of this stranger of a city where I was going to live, of not knowing where I was going in my life, of becoming more dislocated than I already was. I'd spent four years living in Paris, then four years back in Sydney, and now I'd uprooted myself again. Of course moving to San Francisco was exciting, but there are only so many times you can fold a piece of paper in half. When you move a plant from one pot to another, transplant shock is almost always unavoidable.
San Francisco is a city of tech, gadgets and code but it's equally a city of words. It's the great American city of independent bookstores and independent publishing, where people are proud to be poets and put it on their business card, where there's not a single Barnes and Noble within its seven-by-seven miles. San Francisco is grassroots meets Pulitzer, it's McSweeney's and City Lights, refuge of Allen Ginsberg and Jack Keruoac, birthplace of Jack London and Rebecca Solnit. The Bay Area is home to Amy Tan, Daniel Alarcón, Michael Chabon, and NoViolet Bulawayo and hundreds of other writers. I've spied Mallory Ortberg riding the BART, walked past Dave Eggers strolling down Valencia St, heard the footsteps of Lawrence Ferlinghetti creak on the floorboards upstairs.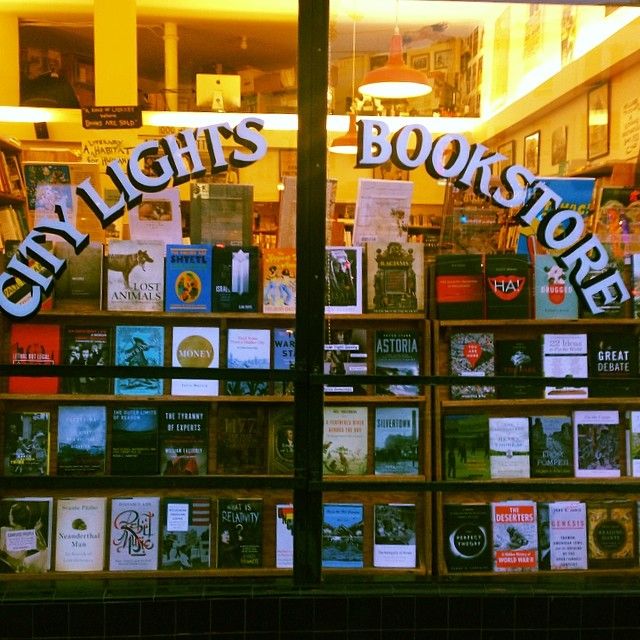 Image source: Antonia Hayes
But I don't feel like I'm part of that literary city. Once upon a time, all of those things would have been really important to me. When I moved back to Australia four years ago, I made an effort to network and connect with other writers because I felt like it was essential to becoming a writer, being a writer. I went to events, worked in the industry, read stuff aloud on stages. But here in San Francisco, I was disconnected and invisible. And I liked it. It was liberating. So far, I haven't actively sought out a community, tried to network, or make myself visible. Right now, I just want to be quiet, sit by myself, and write.
I hate to be that jerk who randomly quotes Joan Didion but it's relevant, I swear. She wrote in the preface to Slouching Towards Bethlehem: "I went to San Francisco because I had not been able to work in some months, had been paralysed by the conviction that writing was an irrelevant act, that the world as I had understood it no longer existed. If I was to work again at all, it would be necessary for me to come to terms with disorder."
One huge reason coming to San Francisco struck me with fear was that returning home from Paris several years earlier completely derailed my writing. Back then, I'd finished the first draft of a manuscript. After the move, I hit a wall. There are so many excuses I could make for myself—working full-time, being a parent, being ill—things easily fall apart. Readjustment is disorder; I'd needed to rearrange myself and my life. Writing lost its urgency, became peripheral and irrelevant, and it took me a long time to figure out how to put words back together again. On the plane here, somewhere over the Pacific, I reread Slouching Towards Bethlehem so I arrived in San Francisco armed with Joan's advice: "If I was to work again at all, it would be necessary for me to come to terms with disorder."
After that first bleak week, the fog lifted and it didn't rain again for another six months. And life's circumstances had given me a wonderful gift: one condition of my visa was that I couldn't work for my first ninety days in the US. Three months with absolutely nothing to do. I had time, isolation had given me space, and invisibility was my engine. So I spent 90 days finishing my novel. Disorder was everywhere; I had no furniture, I had no life, I had no plans or job prospects, but Joan kept reminding me I needed to come to terms with that. So I did. Ninety days passed. I finished my manuscript. I signed with an agent. My novel went to auction in Australia and will be published by Penguin next year, as well as in the US and Germany. Now I'm somehow living my strange dream: I'm a fulltime novelist.
But I'll always look back on my first three months in San Francisco as some of the best of my life, where I sat down wherever I could find a chair and wrote for hours and hours. At Coffee Bar beside programmers churning out bright rainbows of code on their blackened screens, at Borderlands where the coffee is awful but they don't mind if you stay for eight hours and only buy one cup, at Sightglass and Four Barrell where they have no wifi or power outlets so writing felt like a race against my laptop battery's clock, at Sugarlump where everyone else is writing a novel too, at SF Public Library where homeless men sometimes yelled at me across the table but were mostly sweet, at Starbucks because they also have chairs and maybe I'm a cliché. I watched how the tech community worked—agile development, versioning, iterating, reiterating—and realised what I was doing and what they were doing wasn't mutually exclusive. Writing a novel isn't so different from developing an app. I fell in love with my neighbourhood, The Mission, but felt a growing awareness of the discord that gentrification brings. There's so much discord here - microhoods, microclimates, microcommunities - but there's an inexplicable vibrant harmony too. This city is a choir where everyone sings their own note, but those notes sung together give you goosebumps.
Transplant shock is almost always unavoidable, but San Francisco is the rich soil where my roots now grow.
--
Antonia Hayes is a writer from Sydney who lives in San Francisco. Her novel Relativity will be published by Penguin Books Australia in 2015.
samvanz
Sam van Zweden was Writers Bloc's Online Editor from 2013 - 2015. A Melbourne-based writer and blogger, her work has appeared in The Big Issue, Voiceworks, Tincture Journal, Page seventeen, and others. She's passionate about creative nonfiction and cross stitch. She tweets @samvanzweden.