Editor's Desk
This is an Editor's Desk post from Online Editor Sam van Zweden.
--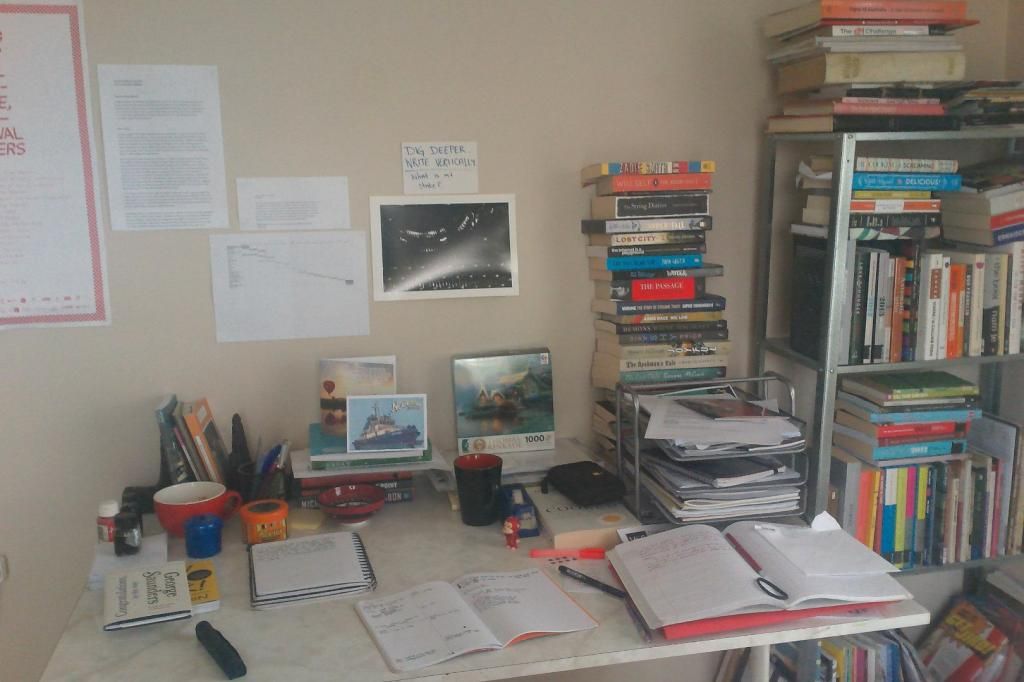 My desk, like me, is feeling a bit overwhelmed by the last two weeks of my Honours degree. Also, see that puzzle box? It's a gift from our founder Geoff, who is supporting me in my dream of doing a puzzle when uni finishes (puzzles being the opposite of having no time). That puzzle is my dangling carrot.
This month on Writers Bloc, the theme is 'Young Writers'.
The overwhelming number of submissions we received this month for our Literary Cities column might indicate that young writers are big dreamers, travellers, and great observers. We're collectors of experience, and lovers of a new challenge. It might also indicate that we have trouble sitting still in our immediate surrounds. Perhaps we prefer to move away from what we know or what we find mundane, believing that life exists in other parts of the world.
As young writers, we're ambitious. We idolise those who've "made it" and do our best to join them across that imaginary line of achievement. We spend so much time looking up and looking forward (which are both very important in building a career, but…), we forget to look around. Looking up and looking forward can be isolating. There will always be someone who has achieved more, and the gap between your own fledgling career and their 'made-it' superstardom can seem overwhelming. While aspirations are important, they can also be paralysing.
Looking around, however, we'll notice that there are other writers out there at the same stage in their career, who might be having the same struggles that we are. Or maybe they're figured out how to overcome a problem and have advice to offer. Looking around, we realise that our peers are the biggest support we have.
I've just spent the weekend in Newcastle at the National Young Writers Festival. Writers Bloc was well-represented - our founder Geoff Orton ran the Younger Young Writers Program, where he spent the weekend inspiring high-school aged writers, and I appeared on four panels across the weekend. NYWF differs from other festivals in that it feels like even ground. I met new people, and had an opportunity to pick the brains of other writers at various stages in their career. The festival feels uniquely open-armed. Looking around me over the weekend I realised that I am equipped already with all the advice I might need – all I need to do it seek it out and ask.
It was suggested by one panellist at NYWF that being a writer also means being able to articulately speak about your work. As a first-time panellist this year, I'd argue emphatically that being able to write and being able to speak about that writing articulately are very different skills. To talk about our work in meaningful ways, we're expected to develop a skill set that works hand-in-hand with looking around – we need to learn to look in. Looking inside ourselves in isolation makes us solitary, solipsistic, not entirely useful people for significant dialogue. But looking inside in partnership with looking around makes us self-aware. It makes us someone who can both learn from and teach things to our peers. While chasing bigger things is important, we're also surrounded by fantastic resources already.
The idea that our peers are our competition kills community and creativity – we're allies, not opposition. My peers are my best support network. Sharing my ideas, opportunities and struggle breaks me free from what can often be a lonely activity. As soon as we see each other as "competition", we're doomed. Share. Let your writing speak for itself. Give others the opportunity to do the same.
October's blog posts on Writers Bloc run to a 'Young Writers' theme, where we'll hear from writers under the age of 31. I hope that the content shows the diversity of young writers, as well as celebrating the importance of looking around and looking in. The incredibly inspiring stuff I've been surrounded by in Newcastle this weekend just been has shown me that we're good at it, and have loads to offer.
To those young writers who are facing exams, I wish all the best. To those facing final assignments and thesis deadlines (both myself and social media queen Pat Tobin fall in this boat), remember how big you thought year 12 was? This might end up being the same, so just breathe, yeah?
-SvZ
samvanz
Sam van Zweden was Writers Bloc's Online Editor from 2013 - 2015. A Melbourne-based writer and blogger, her work has appeared in The Big Issue, Voiceworks, Tincture Journal, Page seventeen, and others. She's passionate about creative nonfiction and cross stitch. She tweets @samvanzweden.