Mini-series
Each Monday in September, we're hearing from writers and projects who write 'off the page'. Today's post comes from Benjamin Solah, the founder of Melbourne Spoken Word. This amazing website and organisation advocate for spoken word in Melbourne, helping to promote shows and opportunities, and provide a space for spoken word artists to come together. Today they walk us through the basics of the Melbourne spoken word scene.
---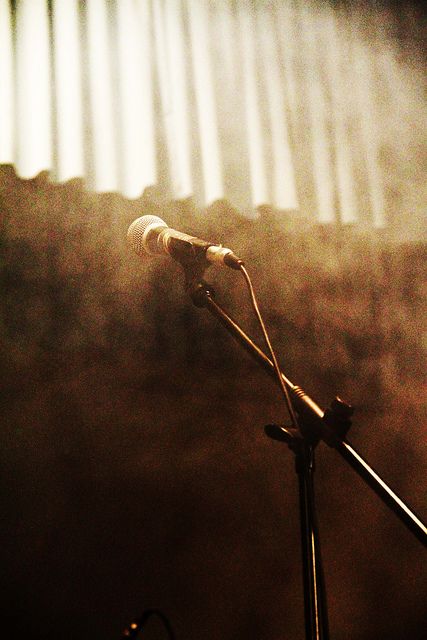 Image source: Flickr / Tom81115
If you looked on the construction site boardings and abandoned buildings adorned with gig posters, the 'what's on' sections of mainstream papers, or even the street press, you might not know it, but all around Melbourne, almost every night of the week, there are poets performing in pubs, bars, cafes, galleries, theatres and makeshift spaces, performers and words both vulnerable and entertaining, unlike anything you'll see anywhere else.
Without major arts funding or big name festival backers, many of these gigs are run by poets volunteering themselves, keeping the poetry flame alive, spreading the very special secret, mostly by word of mouth, that poets linger underneath Melbourne's skin and we're slowly rising to the surface.
For many years now - decades in fact - poetry readings, spoken word performances and more recently poetry slams have been happening all around Melbourne. Spoken word as a literary medium is a bit off the beaten track, but it has some hidden talents that are well worth seeking out.
For instance, every second Monday evening, Michael Reynolds hosts Passionate Tongues at the Brunswick Hotel on Sydney Road, where you can go see a great variety of poets, plus an open mic section that goes well into the night. Many first time readers test their verse on a supportive crowd, dip their feet in and soon venture out elsewhere to the many staple venues, like poetry at The Dan O'Connell in Carlton every Saturday arvo, West Word out in Footscray every second Sunday afternoon or House of Bricks in Collingwood each month.
Most gigs include a feature performance by a particular poet and it's a good chance to get a taste of Melbourne's best and emerging talents, alongside an open section where anyone can put their name down and read or perform a poem. Open mic is the equalising stage on which new poets can show their potential and develop their writing before being picked as features.
For those who like their poetry intense, there's also Slamalamadingdong, every month on a Thursday evening at the Bella Union bar in Trades Hall. This slam event hosts some of the most energetic features and a slam, which is a kind of not-too-serious poetry competition, which will often give you goose bumps, leave in you in tears and send you into fits of laughter all in one evening.
There are many more gigs, in different pockets around the city on different nights of the week, which you'll usually find out about by going to one or the other, where someone will tell you about another one and the poetry chain continues on, which is what inspired me to start Melbourne Spoken Word two years ago.
For those looking to find poetry and spoken word for the first time, our site is a resource to find out about all of the events going on in Melbourne on any given week. You can find a gig near you, on a night you're free, find an event that is free, or one you can read at on the open mic. We host our own open mic events where you can try poetry out for the first time and special events featuring Melbourne's wide variety of styles and poetic experiments.
Getting involved is as easy as finding an event and turning up, poets are happy to welcome newcomers with open arms and support the community as it continues to grow. This wonderful literary form should not be kept secret any longer. Let us spread the word and one day scream verse from the roof tops, but for now, come join us in whatever Melbourne spaces we can find.
---
Benjamin Solah is a writer, poet and spoken word artist from Melbourne. He is the founder of Melbourne Spoken Word.
samvanz
Sam van Zweden was Writers Bloc's Online Editor from 2013 - 2015. A Melbourne-based writer and blogger, her work has appeared in The Big Issue, Voiceworks, Tincture Journal, Page seventeen, and others. She's passionate about creative nonfiction and cross stitch. She tweets @samvanzweden.