Mini-series
Each Monday in September, we're hearing from writers and projects who write 'off the page'. Today's post comes from Simon Groth at if:book Australia, whose collaborative and interactive writing project Memory Makes Us has been touring writers' festivals, and will be wrapping up in Perth at the start of November.
---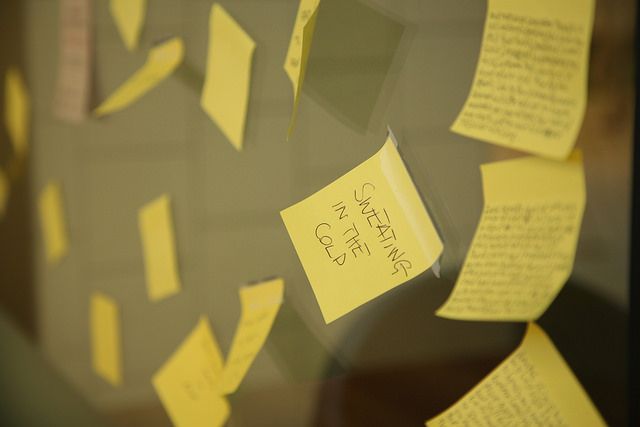 Image source: if:book Australia
The experience of Memory Makes Us is always personal.
It wasn't that great a memory, just something that occurred to me when I thought about 'The Body'. My mind was drawn back to the 1980s and to Coolangatta, to the laughable excuse for sunscreen we used at the time, and to our remarkable lack of concern when, inevitably, our skin would begin peeling. Now, in 2014, here I was in the atrium at Federation Square, staring up at a giant screen which suddenly displayed my words to the hundreds of people milling through the Melbourne Writers Festival site. Without my knowledge, Paddy O'Reilly had at some point in the day taken my words and dropped them into the work she was writing before a live audience. I looked up, recognised my words, then watched on in horror as Paddy highlighted the entire passage and hit delete.
Well, not the entire passage. Just one word remained: sunscreen. Paddy wrote a few more words around mine, taking it in a new direction, but I was comforted by that one word's presence. That word right there, that one was mine, even if I was the only person who knew it.
Live and online
Memory Makes Us is a series of live writing events taking place throughout Australia this year. Presented by if:book Australia in partnership with local festivals, Memory Makes Us has already challenged writers in Darwin and Melbourne to create a new work live before an audience with Brisbane and Perth still to come. The project seeks contributions from anyone both online and in person during each event, an interaction between artist and audience while the work is in progress.
It works like this: a writer selects a theme for their prospective work, we ask for memories around that theme. For yesterday's Brisbane event, Sean Williams wrote to the theme 'Elsewhere', Josephine Moon 'Soul Food', and Warsan Shire 'Parents'.
In the lead up to the event, anyone can submit their memories as text, images or video to the project web site. The authors scan these submissions and frequently cut and paste these texts directly into their work. During the event, audience members can record a memory in one of two ways: either by scribbling on a post-it note or bashing out a few sentences on one of the manual typewriters provided at the venue. To leave a memory with an author, you simply walk it around to their table and leave it in his or her workspace.
On the day of the event, the authors sit before their computers in a public space and they write. Their work is fed to a large screen and to the project web site, every keystroke visible to the world.
As the number of collected memories grow through the day, they are attached to the author's table, eventually reaching the floor and 'flowing' out towards the audience.
Image source: if:book Australia
Writing as performance
The origin of Memory Makes Us was in an earlier if:book project, The 24-Hour Book, which took a blogging platform and repurposed it to make a book with a ridiculous deadline. Many interesting observations came out of that project, but one in particular intrigued me: the authors interactions live with the audience via the blog comments. Sometimes it was to discuss the story in progress, a kind of critical analysis in motion:
—What will happen next?
—I don't know. You tell me.
Sometimes it was more, well, straightforward:
—The next person to bring me a Coke Zero gets their name in this story.
It got me thinking about how a live interaction between author and audience could create a new kind of work, a new kind of collaboration in which the author remains the final arbiter, but remains open to inspiration and influence from readers while the writing is in progress.
This is writing as a performance, but one distinct from other performative aspects of literature: this isn't a reading of a prepared work, nor is it freestyle poetry. It's improvisation not with speech but with text and the tools of contemporary writing: keyboard and cut-and-paste. For the writers and audiences alike, it is at once familiar and strange.
Know what to ask for
What we want from the audience in Memory Makes Us is inspiration, a ridiculously vague and daunting expectation to place on general readers. What we ask for is a memory.
It's seems pretty obvious given the title, but memory is what holds all these disparate ideas together. Choosing the right theme, something specific to help focus the contributions, but broad enough to apply to anyone is the only magic trick in the process. A good theme brings out the most potent, charming, and honest memories:
—I have a cat, but I'd rather have a dog. I'm here with a friend, but I'd rather be here with somebody else. (from Desire)
Not all submitted memories can possibly make a recognisable contribution to the authors' work. For this reason, the project's web site includes a repository of all the memories collected, both online and in person, searchable by theme. Memory Makes Us is not solely the product of its featured authors, but includes the raw text and images provided by its audience. Digitally born and developed in both online and physical worlds, Memory Makes Us exists in its most complete form on the web.
Dancing with the ephemeral
Memory Makes Us will eventually disappear. Following its final event, the letters and words of authors and audience will begin to vanish from the site, one bit at a time, until nothing remains. The deliberately short lifespan of Memory Makes Us is the project's final statement on what writing is and what it means for authors and readers alike.
We write to remember and to be remembered, but the reality of writing has always been more fragile than we usually acknowledge. In the physical world it might get pulped or fade away. In the digital world it might be abandoned, unindexed, or outmoded.
What remains of Memory Makes Us after the final event won't be an archive, a repository, or even a book. It will be a collection of memories, imperfect, fleeting, and personal.
Submit your Memories now at memorymakesus.org.au and watch the writers at work at our final event on the 1st of November in Perth.
---
if:book Australia explores new forms of digital literature and investigates the changing connections between writers and readers. Such explorations at the intersection of technology and publishing take the form of writing, teaching, and experimenting.
Since its inception in 2010, if:book has published tens of thousands of words from some of the nation's best writers and thinkers on book futures, delivered workshops from Perth to Canberra to Alice Springs, created real-world story adventures, and took a complete book from concept to print in twenty-four hours.
Simon Groth is a writer and editor of fiction and non. His books include Concentrate and Off The Record: 25 Years of Music Street Press. His first two novels were shortlisted in the Queensland Premier's Literary Awards and his short fiction has been published in Australia and the United States. As manager of if:book Australia, Simon writes and speaks regularly on the future of the book and took the role of lead writer for the 24-Hour Book.
samvanz
Sam van Zweden was Writers Bloc's Online Editor from 2013 - 2015. A Melbourne-based writer and blogger, her work has appeared in The Big Issue, Voiceworks, Tincture Journal, Page seventeen, and others. She's passionate about creative nonfiction and cross stitch. She tweets @samvanzweden.