Review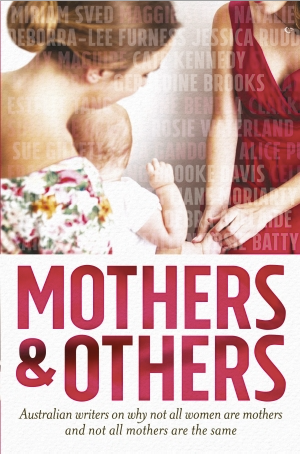 Mother's Day is this Sunday. Surprise! If you've been slammed and are in the mood for some book buying, or if you like to leave things to the eleventh hour just for the adrenaline, we got you covered. Here are five bookish buys for whatever your mother/parental figure/best friend is into:
Ed. Natalie Kon-yu, Maya Linden, Christie Nieman, Maggie Scott and Miriam Sved
Pan MacMillan, $32.99
Motherhood, eh? How completely and utterly terrifying. The editors of Mothers and Others have curated essays from Australian writers on various experiences of motherhood, including IVF, step-parents and the decision to live child-free. It's a lovely read themed just for the holiday, and you can win a copy. Women writers in anthology form for the win! Scroll down to enter our fancy competition.
Emily Bitto
Affirm, $24.99
Winner of the 2015 Stella Prize, Bitto's debut novel is about art, unsupervised kids and 1930s Melbourne. Protagonist Lily befriends the daughter of renowned local artist who is in the process of setting up a Modernist school on the family's piece of land. Lily's involvement in the politics and family fractures of this lifestyle stays with her for life – but The Strays is also about the friendship of two young women at the start of their teen years. We've given The Strays a lotta love at WB. A good buy for mothers interested in art and Melb history.
So You've Been Publicly Shamed
John Ronson
Pan MacMillan, $29.99
If you've had a long argument about online safety and privacy with your parent, this is one for you. Ronson meets a bunch of people who have been intensely, publically shamed, many via the internet. A well-researched look into how we see shame and reputation, it's funny to boot. It has the added gift of making everyone who touches it wish that they wrote it.
Michael Cooney
Penguin, $32.99
Cooney was Gillard's speech-writer and staffer and now presents lots of feels about her PMship and the way her brand was constructed (and trashed) during this time. If politics forms a part of your screaming/loving relationship, this will let mum continue to dissect the last few years with some new insights.
We Are All Completely Beside Ourselves Karen Joy Fowler
Profile Books, $22.99
ATT: twists and turns here. If you have not yet been spoiled, Fowler's novel is a college drama/thriller about 20-something Rosemary and her family's secrets. A moreish read that makes a great gift because it's something you can totally 'borrow' for your own reading pleasure afterwards…
--
GIVEAWAY!
Because we are super into giving, we're giving you the chance to win a copy of Mothers and Others! Simply tweet at us @writers_bloc with the best book that your mum/other parent introduced you to. We'll be picking our favourite answer, so get on it!
NOTE: Unfortunately due to Australia Post, the winner will not receive the book in time for Mother's Day. Please note that the book will be sent to Australian postal addresses only.
E Koehn
A blurb about you