Writers' Other Jobs
This is a Writers' Other Jobs post from Madeleine Crofts.
--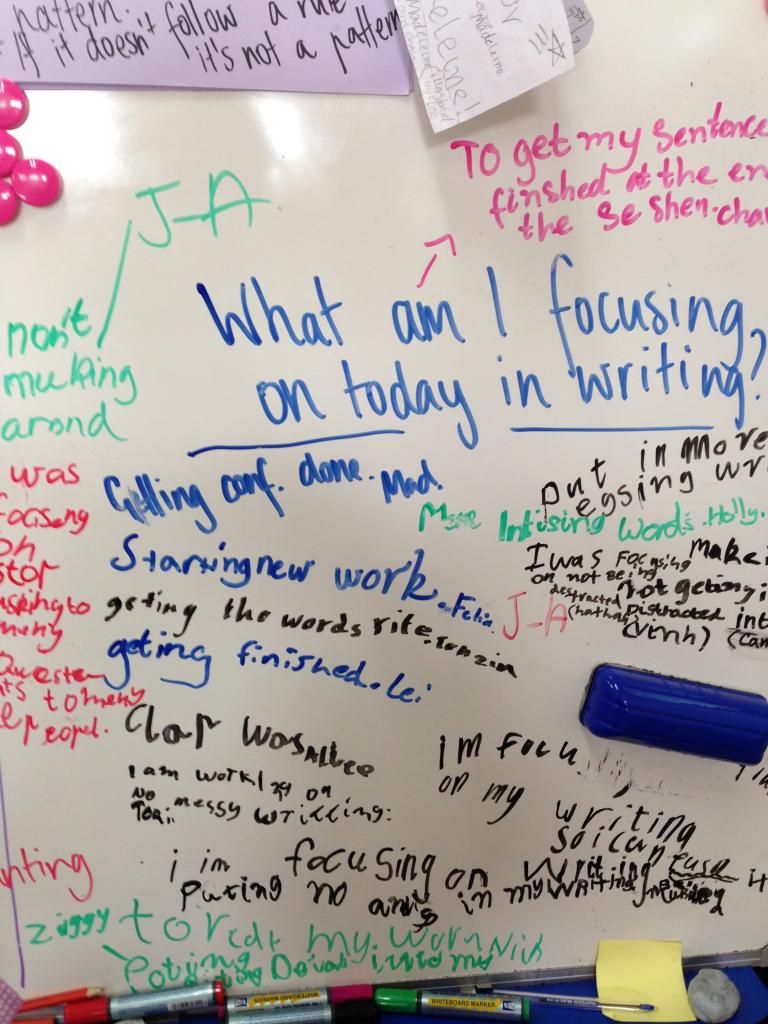 Image source: Madeleine Crofts
I have a vivid memory of telling my mother, a primary school teacher, that I too wanted to be a teacher when I grew up. I was about seven years old, and pronounced my future intentions with gleeful conviction. My mother rounded on me, "No you don't. You want to be something that makes a lot more money."
I am now working in Melbourne's inner west as a full time teacher of 21 grade two students. And my mother is actually pleased with my choice to follow her into the profession, although I do think she would prefer if I made more money.
But I had a strong feeling that I'd be a better teacher if I waited to study teaching until after I had done something else first. Which turned out to be an arts degree, majoring in Creative Writing and French. During this degree I worked as an Arts Officer in the Student Union, which involved publishing the creative writing anthology Above Water, was part of the Voiceworks' editorial committee for two years, ran creative writing workshops at the City Library and wrote fiction and creative non-fiction. I now co-host a literary podcast called JOMAD I Heard You Like Books.
This all brings me to the first thing I have learned about writing from being a teacher: I can barely write while teaching.
These first years of teaching have been the most exhausting and draining thing I have ever done. With four or so teaching placements under my belt and a couple of years working in a school before that, suddenly I was thrust into a classroom with twenty seven-year-old children and told I was in charge. In charge! Me!
Things have gotten slightly easier in the past year and a half that I have been teaching.
In one day of teaching I have to think about what I'm going to teach across many different disciplines, the content knowledge of those disciplines as well as the best ways to teach. I have to think about the twenty children in my classroom and their myriad needs. During my day I have to worry about so many things, from who needs to be sent to the office for medicine at lunchtime, to how to best teach a phonoIogically dyslexic child.

Image source: Madeleine Crofts
When I get home from a day of teaching, either there is more work to do, or else all I can think about doing is having a cup of tea and a lie down. The mental and emotional energy that teaching is taking from me right now means that I do very little writing indeed. If I ever want to write more, I need to find a way to do this job which allows me a little more space. I'm not sure that's possible – but we'll see.
Teaching is the best thing I have ever done. I get to develop relationships with a bunch of fascinating young people. And amongst other things, I get to teach and learn about writing. I get to re-learn things I thought I already knew about writing, but which I'm discovering I can keep learning over and over.
When planning my first writing lessons and units, it struck me just how close many of these lessons are to those I experienced in my undergraduate degree. I have taught lessons about showing emotion rather than telling, on narrative structure, on choosing powerful verbs, on developing strong, credible characters, on the writing process, and more. When talking to my students about being writers, I often reflect on how they will be learning and relearning these same lessons over and over in their future writing lives. As writers, we are always striving for the same things, just more and more so as we evolve and improve.
Teaching these grade twos to write has underlined to me the importance of being a reader for writers. One of the first things we talked about this year is that a writer must be a reader too. Young writers need to begin to understand that their writing is a communication with the world and they need to start imagining their reader as they write. It also means that writers need to read before and while they write. We talk of getting to know a genre before we start writing in it, and then of stealing and borrowing ideas and words and phrases from expert writers. My writing, and theirs, is always buoyed, informed, shaped and inspired by reading. I love watching this happen in my classroom. While writing a realistic picture story-book this year, one of my grade twos was stumped for an idea for the problem in the book. I sent her to the classroom library to find a favourite book to "steal" from. She brought back 'Queenie the Bantam' by Bob Graham, and we talked about how the problem was that Dad needed to rescue the chicken from the lake. She translated this into her story, of a girl rescuing her brother when he falls over while attending the Australia Day parade.
Young writers need to be taught that good writing takes time. It is not uncommon for a young writer to rush through a first draft and declare it "FINISHED!" and then lie back in their chair, fully satisfied with themselves and their work. I have worked all year with my Grade Twos on the need for and the process of drafting and revising. At first they look at you with a mixture of confusion and amusement. Don't I understand that they are finished? Gradually, through lots of modelling and encouragement, they begin to feel proud at the number of drafts they have written and the improvements involved in each. I have re-remembered, re-learned from them that good writing takes time and effort.
My students remind me every day of how frustrating and tough writing can be. But they also remind me of how joyful and exciting it can be too. In my classroom we collect interesting words on the wall, words like sacrifice, astounded, gloopy, scorching. At the end of writing sessions we share what we are proud of in our writing, how we've overcome problems and ask for advice from each other. Next term we will publish our picture story-books and we are planning a book launch for them. Already these kids are feeling the thrill of putting work out into the world, work they have toiled over, work that someone else will actually read. Their excitement reminds me how exciting writing can be.
--
Madeleine Crofts is a primary school teacher, some-time writer, co-host of JOMAD I Heard You Like Books and a general loudmouth. She tweets at @croftsmadeleine.
samvanz
Sam van Zweden was Writers Bloc's Online Editor from 2013 - 2015. A Melbourne-based writer and blogger, her work has appeared in The Big Issue, Voiceworks, Tincture Journal, Page seventeen, and others. She's passionate about creative nonfiction and cross stitch. She tweets @samvanzweden.