Mini-series
Each Monday in September, we've heard from writers whose work finds ways to move off the page. if:book's 'Memory Makes Us' project uses collaborated stories as its material. Melbourne Spoken Word showed us how we can get involved in spoken word in Melbourne. Last week, Emily Stewart invited us to rethink how we interact with poems.
To wrap up our "Off the Page" series, we're joined today by Jessica Alice, co-director of the National Young Writers Festival.
--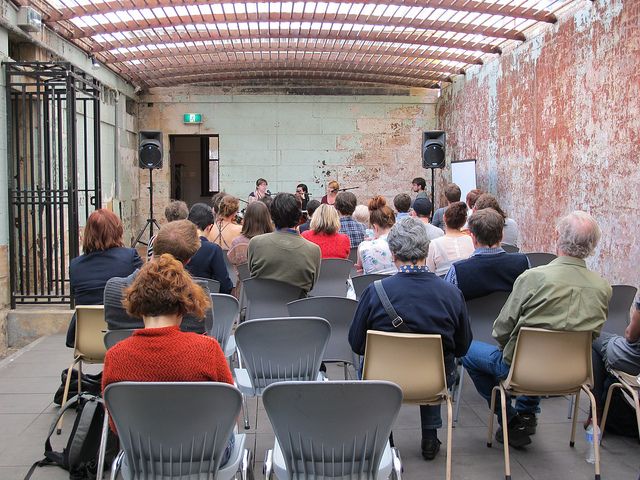 Image source: Flickr / Somaya Langley
Shut up and write. Get off Twitter. Open Word, blinking cursor be damned, just write you miserable amateur when are you going to finish the novel??? The advice to young and new and old writers is to just write. Just do it! Writing, yes sir, is incredibly important, and to be A Writer you need to that wordy thing. You need to do the wordy thing so much that you have a collection of words that other people want to read. Maybe you'd like other people who do wordy things too to read your things, and then maybe you'd all sit around together with a beer and talk about being wordy-thing doers. Sounds so quaint, sounds like dreamy writer Avalon.
That wordy thing is solitary. No one can be there with your brain while you are making writing; it is entirely up to your synapses to spew word-diamonds in a graceful and ingenious fashion. Afterwards we can cradle in each other's arms, we can post frustrated and relieved statuses. In between the Word doc and the fifty other tabs you've got open you can hashtag #amwriting all you want, but in the moment of writing we are alone.
But no woman is an island, you are not sand and tropical palms, your palms are calloused from gripping pens and dashing across a backlit keyboard. Close your laptop, let it blink and snooze while you seek out human contact. Seek other humans who have laboured as you have.
At the beginning of this year I very happily took on the role of a director of the National Young Writers Festival (NYWF), one of the spirited and unorthodox subfestivals of This is Not Art (TiNA), held annually in Newcastle, New South Wales.
There is no shortage of writers' festivals in Australia. One ends and another begins. NYWF however is a little different; it is neither career-focused nor does it idolise the published novel as the ultimate arbiter of success. While this year's program has a number of workshops and industry panels, and a fine bunch of novelists, the overarching focus of NYWF is our experiences as a community of word-nerds and literary babes. NYWF believes in being together as writers, and that partying is both philosophy and practice.
The festival is for many an annual pilgrimage, a weekend where the dually industrial and folksy Newcastle becomes flush with writers from all over the country, from big cities, rural and regional areas alike. It is our online writing networks made flesh. You'll say, 'I know you from Twitter!' too many times. You'll meet up with old mates, make new mates, and you'll probably whop out some gentle networking.
NYWF isn't going to tell you how many hours you need to write a day. Our artists probably aren't going to talk about their craft so much as the ideas fuelling and spawning from their craft. We want you to stop writing for a moment. Stop worrying about how much you have or haven't written. Stop worrying about when you'll finish the novel. (What's so great about the novel, anyway? Why does landing a book deal legitimise writers who have otherwise succeeded in other forms?) Maybe you're not a novel writer. Or maybe you are. Either way, get out of your own head for a second. And stop worrying about your career.
This year two major things affected my freelance writing/editing/producing career. I began directing this writers' festival and I took up a full time position in digital marketing. My time for writing has been sucked so far outta my life over the past six months that I use my five minute walk to work (listen, it's a blessing and a curse) composing in my head and/or in my phone. Full time writer or beleaguered moonlighter – incidentally, Pay the Writers has uncovered something of a divide between 'hobbyists' and the career writers, which is an entirely other subject in its own right – regardless of the hours you manage to put in, you're doing it. You're labouring, and NYWF gets that. And you're probably labouring over your success relative to that of your peers.
I joke that I have one year left to write the novel that wins the Man Booker Prize by the time I'm 27 (thanks, Eleanor Catton, you bloody genius). These comparisons are borne as much out of respect as they are anxiety. NYWF is a time when I focus less on the career aspect of writing and instead find immense encouragement in the glow of such a bloody excellent community: enjoying other writer's words, ideas, DIY ball costumes and sparkling personalities.
Maybe you are an island, but we are an archipelago. Ride the Galapagos tortoises of friendship in Newcastle from October 2-5.
--
Jessica Alice is the co-director of the National Young Writers Festival and poetry editor for Scum. She has previously edited for Voiceworks, Kill Your Darlings and The Lifted Brow.
NYWF is the country's largest gathering of young and innovative writers working in both new and traditional forms including zines, comics, blogging, screenwriting, poetry, spoken word, hip hop music, journalism, autobiography, comedy, songwriting and prose. The National Young Writers' Festival occurs annually in the city of Newcastle, New South Wales, Australia, over the New South Wales' Labour Day Holiday Weekend. The 2014 festival will take place between October 2 and 5.
--
Writers Bloc are thrilled to have been invited to collaborate with the festival in Newcastle next week - if you're around, don't forget to drop by the Writers' Other Jobs panel, where online editor Sam van Zweden will be talking Other Jobs with Josh Richards, Alan Vaarwerk, Duncan Felton and Robert Coleman.
samvanz
Sam van Zweden was Writers Bloc's Online Editor from 2013 - 2015. A Melbourne-based writer and blogger, her work has appeared in The Big Issue, Voiceworks, Tincture Journal, Page seventeen, and others. She's passionate about creative nonfiction and cross stitch. She tweets @samvanzweden.