Opportunities
For your perusal: jobs, competitions, and places to publish. Find something in this list to help bring you inspiration, fame and fortune. Also, remember to bookmark our new Opportunities page for the most recent jobs and comps around.
WRITING OPPORTUNITIES
We think it's important to invest in literature, and in the future of Australian writers in particular. To that end, each month, we curate, edit, illustrate and publish a selection of original creative writing— and pay the writer professional publishing rates.
Each month, we will choose one short story, poem, or otherwise brilliant piece of writing to be our Bloc Feature. The Writers Bloc team of professional editors, teachers and award-winning creative writers will then work with you to polish the piece and publish it along with specially commissioned cover art. A little like this.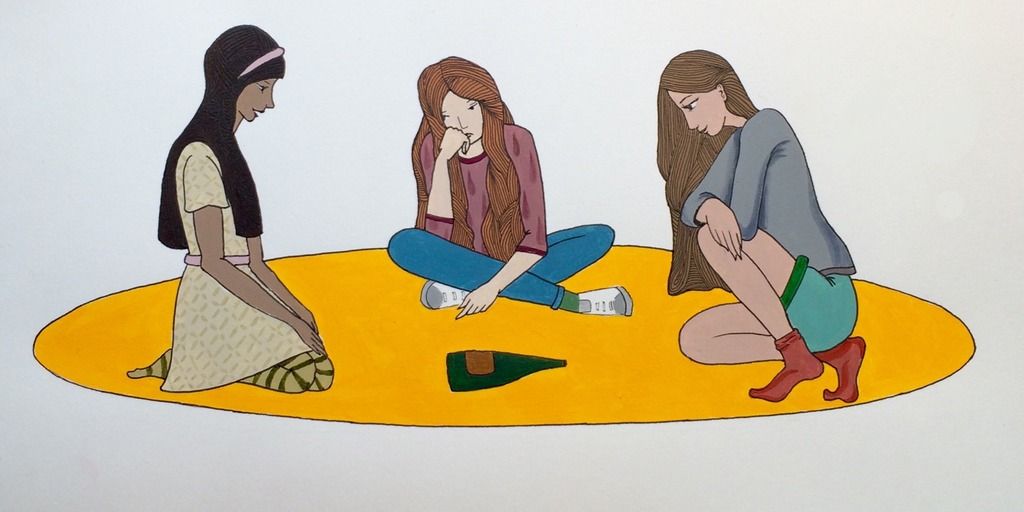 Best of all, we'll pay you for the story, and include you in our end-of year-anthology of creative writing.
If you're interested, all you have to do is upload a completed draft of your story to our Workshop section, and join in our community of creative writers.
Now in its sixth year, the Fellowship commemorates the life, ideas and writing of Hazel Rowley (1951–2011) and awards $15,000 to an emerging or established Australian writer to support research and development of a new biographical work.
The Fellowship encourages writers to immerse themselves in their subjects' lives and culture.
Hazel's own career received a boost when receiving a fellowship enabled her to travel to the USA while researching 'Richard Wright: The Life and Times.'
The fellowship is open to Australian writers of biography but can also extend to include a writer working on an aspect of cultural or social history. It may be used to fund research or travel, to develop a new proposal, or to progress a manuscript for submission to potential publishers.
Judges will be looking for applicants who demonstrate excellence in the quality of their work, courage in their choice of project, and a passionate engagement with the world of ideas and the ways that people live their lives. The subject of the biography needs to be someone who made a demonstrable contribution to society.
CLOSING 17/11/16
The Annual Odyssey House Short Story Competition - 1500 words.
CLOSING 04/11/2016.
This award will assist an early-career author in the development of their unpublished manuscript. The award is open to writers of adult fiction and adult non-fiction.
The winner will receive a $5000 cash prize and a mentorship with KYD's Rebecca Starford (non-fiction) or Hannah Kent (fiction)
Submissions open 1 Feb 2017 and close 5pm AEDT Friday 31 March 2017.
Australian Book Review welcomes entries in the thirteenth Peter Porter Poetry Prize. The Porter Prize, which is worth a total of AU$7,500.
All poets writing in English are eligible, regardless of where they live. The Porter Prize is one of Australia's most lucrative and respected awards for poetry. It honours the life and work of the great Australian poet Peter Porter (1929–2010), an honoured contributor to ABR for many years.
Poems must not exceed 75 lines and must be written in English.
Deadline for entries is 1 December 2016
Established in 2007, with support from the Malcolm Robertson Foundation, the Overland Judith Wright Poetry Prize for New and Emerging Poets seeks outstanding poetry by writers who have published no more than one collection of poems under their own name. It is one of the richest prizes for emerging poets in Australia. In 2016, the major prize is $6000, with a second prize of $2000 and a third prize of $1000. All three winners will be published in the first issue of Overland's print magazine next year. Judges will be announced shortly. Competition closes 11.59 pm, Sunday 20 November 2016.
CLOSING 21/11/16
The Peter Porter Poetry Prize is one of Australia's most prestigious prizes for a new poem. The Prize – now open to all poets writing in English – is named after the great Australian poet Peter Porter (1929–2010). The Prize was first awarded in 2005 (Stephen Edgar) and was renamed in 2011, following Peter Porter's death. Entries must be new single-authored poems of up to 75 lines. The winner receives $5,000 and shortlisted poets receive $500. All the shortlisted poems are published in the magazine. Entries close 1 December 2016.
Jobs and Internships
The Emerging Writers' Festival (EWF) invites applications for the exciting position of General Manager. The General Manager is a key member of the Executive team supporting the organisation to deliver an annual calendar of events for emerging writers.
EWF is one of Australia's most established and well-respected literary festivals. The artistic mission and vision of EWF is now more clearly defined than ever: They develop, nurture and promote Australia's new writing talent, creating platforms for connecting writing communities and their audiences.
CLOSING 03/11/16
Are you a super-organised multi-tasker who wants to drive the rollout off the marketing campaigns for both the Sydney Film Festival and our touring arm, the Travelling Film Festival? From liaising with designers to booking ad schedules, proofing and perfecting, you'll be a central and critical member of the marketing team.
CLOSING 11/11/16
Join your colleagues in supporting Australia's great arts and artists. Register to be a Peer Assessor for the Australia Council.
A peer assessor needs to have sufficient knowledge and experience of the arts sector to make a fair and informed assessment of applications for funding.
The Australia Council is looking for practicing artists, arts workers or industry advisors with knowledge and experience across a wide range of arts practices and roles. We are committed to forming diverse and balanced assessment panels, and work with peers across Australia who are representative of geography, cultural backgrounds, age, gender and ability.
Complete a nomination by 3 November 2016. Council staff will review all nominations to shortlist a new Pool of Peers, for approval by the Board of the Australia Council in March 2017. The terms of the new peer assessors will commence in May 2017 and run for up to three years.
CLOSING 03/11/16
RESIDENCIES AND FESTIAL CALLOUTS
Noted is a festival that truly combines local and interstate artists and places experimentation at the beating heart of its programming. There is room for writers (new and old) to take risks and fail, with the focus on art as a community not a commodity.
Applications to be an artist at Noted Writers Festival 2017 are NOW OPEN! Diverse and unconventional pitches are welcome: workshops, podcast, lectures, webinars – whatever. Enquire within.
Noted heartily encourage applications from people who live in regional or remote areas, First Nations people, people living with disabilities, people who identify as culturally and linguistically diverse and as LGBQTIA.
Vacant Room Shared Residency offers three interdisciplinary artists or groups a shared, space only three-week residency at PACT. A professional mentor will work with and support each artist throughout the three weeks and the residency will culminate in a showing for an invited audience.
Vacant Room offers artists space, support and the creative freedom to test new ideas. Vacant Room is a program for creative development of an idea-driven investigation. It is about the artistic process: creating a space to let an idea germinate and open up new avenues of creative practice through experimentation and critical feedback.
Residency dates: 27 March to 14 April 2017
End of residency showings: 13 & 14 April 2017
EOI Due: Friday 4 November, 5pm
PUBLICATIONS SEEKING SUBMISSIONS
Electric Literature is opening submissions of personal and critical essays starting next Monday, as well as humor that reflects on the world of reading, writing, literature, and storytelling in all its forms. We're particularly interested in pieces that examine the intersection of the literary world and other creative disciplines: film, fine art, music, video games, architecture — you name it.
Some of our favorite recent personal essays include pieces about The Exorcist and a father's descent into alcoholism; reading and writing as a participant in an art installation; an exploration of a writer's shifting identities as she moves between Jamaica and the U.S.
Critical essays may cover a variety of topics: the history of our obsession with a novel's first sentence; the spatial poetics of Nintendo; what women can learn from reading sexist male writers.
Payment for personal and craft essays, as well as humor pieces, is $50 USD. Length is up to you; most essays shuold fall between 1500–5000 words.
CLOSING 05/11/16
Veronica Literary Magazine
Veronica is a brand new online literary magazine, started in 2016 by creative writing students at QUT.
They will be regularly publishing a wide range of content, including fiction, memoir, poetry, and art. Producing something different? Send it their way!
They seekr complex representations of all women and non-binary folk. So, if that's your jam, send them your pieces! They are on the hunt for pieces up to 2,000 words for fiction, memoir, non-fiction, etc.Poetry should be up to 60 lines, or a suite of three shorter, related, poems. They would love to see your art, comics, illustrations, graphics, etc. and guidelines are flexible, so if you're an artist send us an email and we can chat about it!
Send your submissions to: veronicaliteraryjournal@gmail.com with "fiction", "memoir", "poetry", "comic", etc. in the subject line. Submissions are open now!
THey are currently unable to pay contributors, but will provide critiques and feedback to all submissions.
Submissions are ongoing.
The Chronic'les of Babes
'The Chronic'les of Babes' is a place for all female identifying individuals between the ages of 18-30 who have a chronic and/or invisible illness to share their experiences. The focus is the side effects, both positive and negative, that you don't find on the side of a medication bottle.
Email them here: thechroniclesofbabesblog@gmail.com
A new literary peer reviewed journal is taking its online publication to print. Part of Swinburne University's Writing program, Other Terrain is a general literary journal, accepting fiction (max 3000 words), creative non-fiction (max 3000 words), poetry (max 100 lines), academic essays (max 5000 words), reviews (max 1000 words) and graphic submissions. Your submissions will be considered for the print edition, and/or for a future online edition. You can email your submissions to: otherterrain@gmail.com Check out the current online issues (our second online issue is coming soon)
Homer is about masculinities, which does not mean it's by men or even purely for them. Masculinities affect everyone – positively, negatively, differently. However you've encountered them, every angle is needed to create as robust and kaleidoscopic a picture of masculinities as they deserve (and sorely need). It could be social commentary, comedic literature review, an outright hagiography of a wonderful and unusual man or anything else, but before submitting, ask yourself if it lends something to public dialogues around men and masculinities that isn't out there already.
CLOSING 30/11/16
A new literary peer reviewed journal is taking its online publication to print. Part of Swinburne University's Writing program, Backstory is a history/past focused journal, accepting fiction (max 3000 words), creative non-fiction (max 3000 words), poetry (max 100 lines), academic essays (max 5000 words), reviews (max 1000 words) and graphic submissions. Your submissions will be considered for the print edition, and/or for a future online edition. You can email your submissions to: backstoryjournal@gmail.com Check out our current online issues (our second online issue is coming soon)
CLOSING 30/11/16
Scum is interested in publishing feminist-friendly work of any variety, but as a general rule your piece should be under 1000 words (50 lines for poetry) and able to be classified as "fiction", "culture", "memoir", "column", "poetry", and/or "review". They tend not to publish traditional reviews of books and films—to get a feel for the reviews they do publish, check the review tag. Feel free to pitch to them if you're not sure if your piece is a good fit. (Please note that they don't accept pitches for fiction or poetry.)
Submissions to Scum are open the first week (from the 1st to the 7th) of every month. The rest of the month, submissions are closed. They pay $60 per piece of writing.
Uneven Floor, an independent poetry publication based in Perth, Western Australia, is seeking poetry submissions for its online magazine.
Unpaid, editors ask that writers read their website thoroughly to get a feel for their tone before submitting. Ongoing.
The Wrong Quarterly are a London-based journal who publish "inventive" works of nonfiction, life writing and essays up to 5,000 words and fiction up to 6,000 words. Submissions are accepted from both British and international writers. Ongoing.
Right Now is committed to covering human rights issues in Australia through free, accessible, creative and engaging online, print and radio media. Creative writing is a great way to explore human rights in Australia: from poetry to flash fiction to long and short pieces. Ongoing.
---
This post was sponsored by an our Patron Angie Holst – thank you Angie! If you'd like to help support the next generation of Australian writers, check our our Patreon page.
Have you got something the community should know about? A job vacancy, competition or call for submissions? Upload it to our live opportunities board for free!
Writers Bloc Community
The Writers Bloc is a community for writers. We provide free anonymous workshopping, advice, events, opportunities, and a paid publishing platform.