Opportunities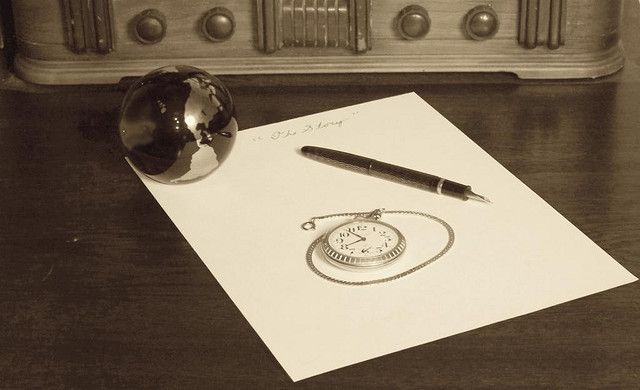 Image source: Flickr / AlexKerhead
Here's a compilation of publication opportunities, writing competitions and more for the month of November:
"Transformation" on The Treacle Well
The Treacle Well are seeking submissions for their third issue. The theme is "Transformation", and the journal is seeking prose and poetry with an "unexpected" take on the theme. Word limit of 2000 words. Also seeking book reviews (500-1000 words) and artwork. Deadline 7th November.
2014 Cassian Elwes Independent Screenwriting Fellowship
This fellowship is awarded to an emerging writer (with a lifetime earnings from writing not exceeding $5,000). The recipient of this fellowship receives an all-expenses-paid trip to Sundance Film Festival 2015, and a mentorship from Elwes himself. Applications close 7th November.
Black&write! Editing Internship
The State Library of Queensland are seeking Indigenous editors who are passionate about contemporary Indigenous fiction for the black&write! Indigenous Editing Internship. This two-year internship awards $20,000 per year, and runs from January 2015 - December 2016. This is open nationally to Indigenous and Torres Strait Islander individuals. Applications close 7th November.
Judith Wright Poetry Prize for New and Emerging Poets
The Judith Wright Poetry Prize for New and Emerging Poets is seeking entries from poets who haven't yet published a solo collection of poems. The prize awards a first prize of $6000, second prize of $2000, and third prize of $1000. Poems can be up to 80 lines. The entry fee is $12/$18. Prize entries close at midnight on 15th November.
Hazel Rowley Literary Fellowship
This $10,000 writing prize is open for applications from Australian writers of biography or cultural and social history compatible with Hazel's interests. Applications close 16th November.
Museum of Words Flash Fiction Competition
This contest is awarding $20,000 to the best flash fiction story up to 100 words. Three runners-up will receive $1,000 each. Entries accepted in English, Spanish, Arabic and Hebrew. Work must be original and previously unpublished. Deadline 23rd November.
100 Love Letters
100 Love Letters is seeking postcards, tiny essays, poetry, letters, flash fictions or drawings, doodles from women to women. 100 Love Letters is a love letter to our readers, whoever they might be—including ourselves. Deadline 30th November.
Ron Pretty Poetry Prize
Five Islands Press have announced their inaugural poetry prize in 2014, the Ron Pretty Poetry Prize. Open to writers everywhere, the prize awards $5000 to a poem of up to 30 lines. There's an entry fee of $20 for the first poem, and $10 for further entries. Deadline 30th November.
Beginnings: Linen Press First Chapter Competition
Linen Press are seeking unpublished first chapters for their "Beginnings" competition. Winning first chapters will be published on the Linen Press website and have the opportunity to have the full manuscript published. Deadline 30th November.
The Jane Lumbey Prize from Hermeneutic Chaos Literary Journal
Hermeneutic Chaos Literary Journal announces its first annual Jane Lumley Prize for Emerging Writers. This year we seek to recognize an exceptional piece of poetry. There is no entry fee for the contest. Deadline 30th November.
Writers Bloc
Writers Bloc is always looking for fresh writing and new voices to contribute to our regular columns. We'd also love to hear your ideas for stand-alone articles about writing, publishing, and the writer's life. Ongoing.
Hell Yeah Writers Bloc
Submissions for art, text, or a combination of both are welcome. Ongoing.
Right Now
Right Now is committed to covering human rights issues in Australia through free, accessible, creative and engaging online, print and radio media. Creative writing is a great way to explore human rights in Australia: from poetry to flash fiction to long and short pieces. Ongoing.
[untitled] Seeking Fiction
[untitled] is the Busybird Publishing anthology, published annually. They are now seeking submissions of fiction. Work can be maximum 8,000 words (they prefer 3-5k), and submissions are only open to writers who haven't been published in [untitled] before. Submissions via Submittable. No advertised closing date.
Open Pitches
This Tumblr site features calls from editors seeking specific pieces of writing. Ongoing.
Melbourne Spoken Word
This spoken word community website are seeking events coverage, interviews and reviews. Ongoing.
For regular updates on opportunities, or to post one, be sure to check out our Opportunities forum.
havesomepatty
A blurb about you