Writers' Other Jobs
This is a Writers' Other Jobs post from live-captioner Alan Vaarwerk.
---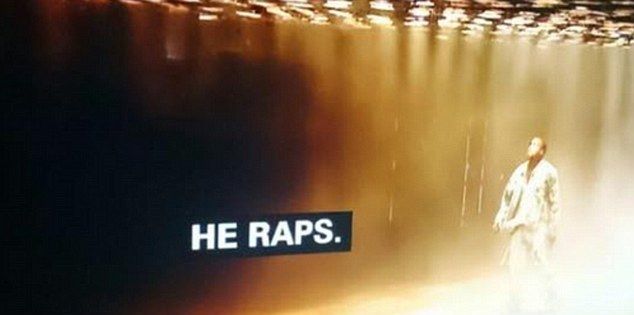 Image source; BBC
I knew early on that I would never be prolific enough as a writer to forgo an 'other job'. Like a lot of people in the creative industries, I have a couple of jobs – I work in editorial for a Melbourne bookseller, and do some freelance proofreading and editing on the side – but the one that takes up most of my time, earns most of my money and makes for the most interesting conversations at parties is my job as a Live TV Captioner. I got the job at the end of my first year in Melbourne – a year spent living alone, barely getting by on the occasional freelancing gig, having all the time in the world to write but being too miserable to do so – but suddenly, here I was, working in The Media, watching TV for a living.
If you've watched TV with captions on, you'll know that what goes to air varies pretty widely in terms of quality. Captioning for live TV – that is, primarily, news and sport – is a bit trickier than for pre-recorded programs. My office captions the news bulletins in all the major capitals – so 6pm is crunch time. In the best-case scenario, we get autocue scripts to edit around half an hour before they go to air; but for really live stuff, I use voice recognition software to 'respeak' what the presenter or commentator says, generating text onscreen with a few seconds' delay.
This is usually the part in conversations at parties where people ask why the voice recognition software couldn't just record the presenters themselves, rather than me having to parrot back what they say – but not only do respeakers add in grammatical marks and vocal shortcuts to distinguish homophones, there's a certain level of skill required in paraphrasing a football commentator's long-winded anecdotes into readable English. It takes 10 weeks of full-time training to get the voice software to an on-air standard, by which point it recognises your voice and yours alone – as well as to train your brain to be able to listen, speak and type simultaneously.
On a good day, live captioning feels like high-speed editing and proofreading – the scripts that come in are often rough and can change at the last minute, and there are names to be checked, house styles to adhere to, all in a race against the clock. There's also a certain satisfaction in positioning a caption just right so as not to obscure a weather map, or seeing an obscure word come out on screen correctly. On a bad day, you can find yourself stuck in the doldrums of Perth traffic jams or frustrated at commercial TV's sanitised and soundbite-heavy versions of political debate – or, less boring but just as grim, going live to air as a crime, natural disaster, or worse unfolds.
I'd like to tell you respeaking gives you a heightened awareness of the natural flow of speech and regional variations, and to an extent that's true – I now know what a stobie pole is, thanks to the cars that keep hitting them in Adelaide – but my biggest takeaway so far is a heightened appreciation of football (which does come in handy at pub trivia and when talking to cab drivers). It's interesting to see what makes news in Perth compared to Sydney (traffic congestion versus house prices, mainly), or to occasionally see a familiar face back in Brisbane. It's also interesting (albeit a little dispiriting) to see what doesn't make the news – revelations around Australia's treatment of asylum seekers a regular and notable absence from the nightly bulletin.
There's a few people I work with for whom captioning is their Writers' Other Job. The hours can be good for a writer – shifts start in the afternoon, or finish around lunchtime if you're on the breakfast shift, and you don't take work home with you. For me, it's a double-edged sword – I'm most switched-on mentally in the evenings, which is great when I'm at work, but finding time to write (alongside my other jobs) becomes a struggle, and the cult of 'busyness' is seductive. Building a career in a connections-dependent industry like publishing, we're encouraged to say yes to everything – to the point where, if you let it, time spent on personal projects can feel like time wasted. While captioning is neither particularly creative or relaxing, there's a refreshing sense of immediacy and ephemerality – the life of an onscreen caption is at most a few seconds, so style guides are built around function and speed rather than elegance. Coming from fiction, it's an important lesson in not sweating the small stuff.
It sometimes feels like working on commercial TV news has a numbing effect – it's hard not to become cynical at TV trickery, and constant exposure to the relentless news cycle can get you down. As a hearing person it's easy to forget how vastly different the media landscape is for Deaf and hard-of-hearing people – the number of cinemas, for instance, that offer captioned screenings, or live events with Auslan interpreters are still vanishingly small. So every now and then, when the occasional email gets passed on from a deaf viewer who appreciates what we do, it puts things into perspective – reminding me that, while I won't do it forever, I could do a lot worse than watching TV for a living.
---
Alan Vaarwerk is a writer and editor whose fiction has appeared in Griffith Review, Stilts, Scum and Readings Monthly and who has spoken at the National Young Writers Festival and Brisbane Writers Festival. He grew up in Grafton NSW, grew up some more in Brisbane, and now lives in Melbourne where he works as a TV captioner and editorial assistant for Readings Monthly.
alanvaarwerk.com / @alanvaarwerk
samvanz
Sam van Zweden was Writers Bloc's Online Editor from 2013 - 2015. A Melbourne-based writer and blogger, her work has appeared in The Big Issue, Voiceworks, Tincture Journal, Page seventeen, and others. She's passionate about creative nonfiction and cross stitch. She tweets @samvanzweden.