Prompt
This is a writing prompt from Annie and the gang at Dubnium, in South Australia.
You're invited to use the snippet of story below as the starter or inspiration for a piece of your own.
Don't forget to head over to the workshop to share your work and receive anonymous feedback, and remember to include "(WP)" in the title so we know that it's a prompt response!
--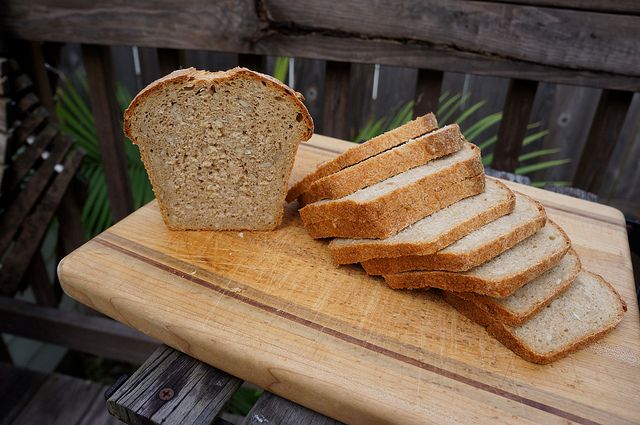 Image source: Flickr / Bart Everson
Dan saunters in, cool as you like, and prods at the store-bought bread.
"Thin...medium...never thick" he mutters, under his breath. "What was that?" I ask.
"Thin and medium, never thick!" he enunciates loudly. "When you order bread at the bakery, you know? And they ask how you want it sliced, 'thin or medium'. I always say thick! Because the concept of medium is redundant without having something greater to compare it to. And I swear they always just cut it medium! I don't even think they have a thick setting, which is just stupid."
Audrey and I share a look. "What!?" he says, exasperated; then, happily, "I'll just have to have porridge. Good for ya, porridge. Stodgy, gloopy, delicious sticky sweet PORRIDGE."
"Well someone's in a good mood this morning", I remark, eyebrows arched, lips curved up in a smile. I just can't help it. His moods are always so contagious.
--
The SA Writers Centre Dubnium Young Editors Project is running once again in 2014. This is the third iteration of the project and its aims are twofold: to edit and publish the work of young South Australian authors and to provide guidance and professional development to the chosen team of young editors.
In 2014, the Dubnium project has moved to a more digital format, publishing an e-book through Tomely. They also released a limited edition special print run (copies available from the SA Writers Centre for $10). You can find them online at their website or on Facebook. To find them in person, come to one of their events or look in your nearest watering hole.
They are currently calling for submissions for an event they are hosting at FEAST Festival, looking for queer-themed work. Send them your best words for the chance to have it performed by real life actors!!
They're keen on SHORT pieces of all kinds: short stories, microfiction, extracts from plays or film scripts, personal essays or creative nonfiction, poetry, songs or genre/medium mix-ups. For a length guideline, think a maximum of 10 minutes aloud.
Email them at dubnium@sawriters.org.au with the subject line "FEAST SUBMISSION" by Oct. 15 (that's TONIGHT!)
samvanz
Sam van Zweden was Writers Bloc's Online Editor from 2013 - 2015. A Melbourne-based writer and blogger, her work has appeared in The Big Issue, Voiceworks, Tincture Journal, Page seventeen, and others. She's passionate about creative nonfiction and cross stitch. She tweets @samvanzweden.