Prompt
This is a writing prompt from author and illustrator Kathleen Jennings.
We love to read your writing - don't forget to head to the workshop to share the fruits of this exercise! If you're not sure how, check out our how-to video on uploading and sharing your work. Writing from the workshop also has the chance to be published and read by a wider audience (and we pay!) as part of our new Bloc Features project.
Happy writing!
--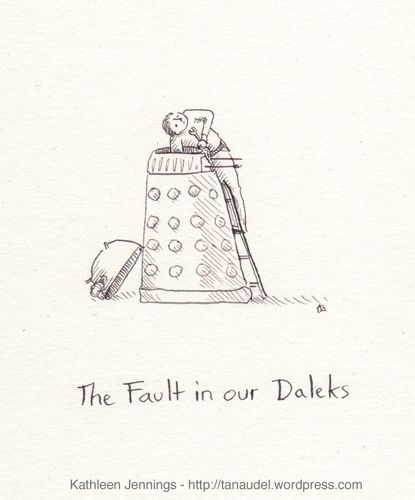 Mismatched tales
The prompt:
· Make a list of ten or so stories (fairytales, novels, historical events, great sporting matches).
· Pick two at random (roll dice or use a number generator).
· Take a key element (or the whole plot) of one story, and fit it into the other (as an important/equal element, not just a cameo or setting).
· See what changes. See what unexpected patterns appear. See what mismatches create new ideas.
What if Cinderella's marvellous shoes become a key plot point of Little Red Riding Hood (one version of the story has a path of needles, a path of pins, and a great deal of scampering around the countryside naked, so good shoes may be as practical as a cape)? What if the Wolf becomes a main character in Jack and the Beanstalk (what if Jack is the wolfish character, loitering on paths, knocking on doors and despoiling strangers' houses)? What if Jack's giant's cloud-kingdom and attendant antagonisms becomes a location for a reworking of the Little House books (I'm remembering the bull's hoof coming down through the turf ceiling in On the Banks of Plum Creek). What if you retell Pride and Prejudice as a Rapunzel story (who is the girl-in-the-tower? Darcy? Or is it too easy to make Lady Catherine a witch?), or make the Wright brothers' flight into a Puss-in-boots tale of wit and consequences?
These rarely turn out as straightforward retellings. Frequently they take on a life of their own, and the original inspirations are easily overlooked. As one example, Charles Dickens' marvellous Our Mutual Friend is a Little Red Riding Hood story, on many levels, but you could never market it as a retelling.
This is also a useful remedy for a limp draft story. Try grafting it onto the emotional arc of a favourite tale, or strengthening a dull character to emulate the role of an ogre or godmother (especially if that isn't the obvious pairing). The teeth of two unmatched stories grinding together can create the sparks of wonderful new ideas.
--
Kathleen Jennings is a writer and illustrator from Brisbane, Australia. Blending the two arts, her short comics have appeared in the Steampunk! and Monstrous Affections anthologies. Some of her musings and a lot of her art can be found at http://tanaudel.wordpress.com
samvanz
Sam van Zweden was Writers Bloc's Online Editor from 2013 - 2015. A Melbourne-based writer and blogger, her work has appeared in The Big Issue, Voiceworks, Tincture Journal, Page seventeen, and others. She's passionate about creative nonfiction and cross stitch. She tweets @samvanzweden.