Prompt
This is a writing prompt from Michaela Murphy.
Don't forget to head over to the workshop to share your work and receive anonymous feedback, and remember to include "(WP)" in the title so we know that it's a prompt response!
---
It was 1988, and I was a recent college grad sitting in my way-too-expensive apartment in Brooklyn, NY rethinking my entire life: why did I insist on a degree in theater? Why am I up all night preparing for all of these auditions and then rushing like a maniac all over town to deliver an out-of-the-park performance when I do not even like the script? Why am I sitting here upset that my phone is not ringing to hire me for a job that I do not care about?
Suddenly, out of my mouth, I said, "Even I could write something better." I heard myself say that and this one time, I listened. That is how I discovered that I was a writer. Mind you, I had been writing for years and telling stories for decades, but I never took myself seriously as a writer. It wasn't until I became frustrated as an actress that I realized what I had to offer as a writer. The irony is that once I started writing for myself, I always had work as an actress.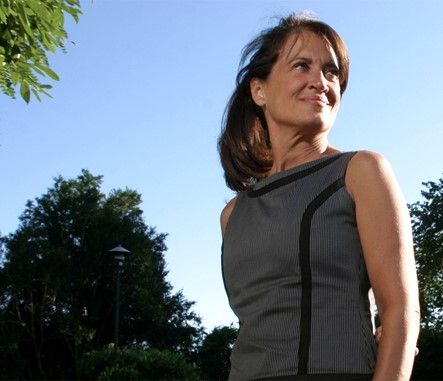 I began by writing stories from my childhood in Providence, Rhode Island. I've found that the sensory details—who was there? What were they wearing? What did the place look like? What was the exact color of Aunt Momo's dress? - transport me back so that I can really remember and discover the story. Some of my best stories have revealed themselves to me while I have been lost in the reverie of the past.
People ask me all the time if I write the story and then stand up and tell it, or if I just kind of "wing-it" on stage. It's a bit of both. When I have a story in mind I write up a quick outline and then I start telling it to people. Not in a big, "I have a new story" way, but I just tell the story: to my husband, best friend, complete stranger on the bus. But, mostly I am listening to myself and paying attention to the person listening. What do they need to know? When do they need to know what details within the narrative? What is not working, why, and how can I make it work? Once I have asked myself these questions, I'll sit down and write up a loose draft and get that up to tell in front of an audience. It might fly. It might suck. Either result is not the point. I once told an epic hour and half long story on stage that just bombed. I walked off stage and the producers and my friends were all subdued as they rallied to make me feel better. To their surprise, I was elated: because I had discovered (by failing) what would make the story work. Of course I knew it sucked, better yet I knew why and what to do about it. That story went on to be produced Off-Broadway several months later and was a huge success. The key for me is to not, at first, to get on stage and get the story right—I am there because it is the only way to make the story better. I need the audience.
Here is a prompt for you to try: Write a ten-minute story about an early childhood memory where you made a big mistake. Pay particular attention to the sensory details, and not so much to how the event made you feel, but what the event felt like. Once you have a draft (approx. 800 words), tell it to someone who knows you. When you are telling your story, pay attention to the person listening, and at the same time, to yourself. Once you become attuned to the interaction of the story between you and your audience you will make yourself available to new insights on how to best tell the story. Then begin again and tell the story incorporating what works and what you have learned will work.
--
Michaela Murphy is a writer,performer, teacher, producer, and director. Her work as a writer, playwright, and storyteller has been featured on NPR, Off-Broadway, The Moth main-stage, TEDX Barnard College for Women, The Clinton White House and in The New Yorker, while her talents as an interactive web specialist produced both measurable results and a 2009 Webby Honorable mention.
For the past twenty years Michaela has served as a brand conduit drawing on her audience expertise to help companies create brand loyalty, forge new markets, and meaningfully convey a brand's message through dynamic and interactive engagement. Since 2004 she has written keynote speeches and coached corporate executives, start-ups, and college students for annual conventions, meetings, presentations and pitches.
Michaela has performed her stories with: The Moth NYC (Mainstage,National Storytelling Tour, Story Slams — three time winner— The Trio Network, 2006 National Tour), Hearsay, Fired!,Speakeasy Stories, Second Stage Theater(Off-Broadway Show,) The Atlantic Theater (with Lewis Black,) Studio 360 with Kurt Anderson, NPR's All Things Considered, The Whitney Museum of American Art, The Center for Architecture, Brooklyn Academy of Music, and Lincoln Center. ---
Don't forget to tell us how you go with this prompt by sharing your work in the workshop. Just enter your story into the text field, hit 'save', and wait for the feedback to roll in!
samvanz
Sam van Zweden was Writers Bloc's Online Editor from 2013 - 2015. A Melbourne-based writer and blogger, her work has appeared in The Big Issue, Voiceworks, Tincture Journal, Page seventeen, and others. She's passionate about creative nonfiction and cross stitch. She tweets @samvanzweden.