Review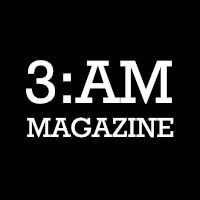 This is a review of 3:AM Magazine by Harriet McInerney
--
3:AM Magazine
Editors: Joanna Walsh, Steven J Fowler, K. Thomas Kahn and Tristan Foster.
Available online at: 3ammagazine.com
--
The number eight is revealed as a bully. A pragmatic philosopher tells us how and why to rethink quantum physics. And two vegans travel across Africa. Some of these tales are fiction, some fact. 3:AM is nothing if not diverse; the UK-based online magazine takes pleasure in publishing the strange, divergent and experimental. It is for the curious, the open-minded and the up-till-3am-reading types.
While the forms and content that find their home in the magazine are wide-ranging there is uniformity in their approach: up beat, questioning and feisty. This is likely reflecting the ethos of 3:AM's four editors who are all up-and-coming names in avant-garde writing scene. The subject matter does err on the side of academic – this is not the site you will find that killer-nun-romance genre-fic you were looking for – yet it is also not a journal of criticism and it remains engaging and down to earth.
A standout is the interview series, which opens up topics from the conceptual to the corporeal. Richard Marshall has explored philosophers who die trying to make their point with Costica Bradata, as well as pragmatic approaches to interpreting quantum physics with Richard Healey. Then there's an interview with Will Self, by Jo Mortimer, which is as revealing as it is odd. Will Self discusses the notion of cities and the people who live in them. It's a cultural studies piece, it's a philosophy piece, it's conversational, casual, and it hits the mark. The interview begins:
3:AM: Why did you shout 'It's just an image!' at me when I was taking a photograph?
WS: Oh, well, for all sorts of reasons. I think we've reached peak image — rather like peak oil — in the sense that the invention of digital photography has meant that it's now possible for people to produce a visual analogue of their experience almost in real time…
It's not the only time in the interview that the Self takes something we don't often scrutinise, such as taking a photo, and considers just what this might mean, and why it is part of our cultural life.
The essays and reviews are equally strong. Particularly interesting is Katya Luca's personal account of traveling across the continent of Africa while maintaining her vegan diet in "Soggy Falafel and Mangoes." While we tend to associate veganism with the privilege of Western dietary options, Luca's piece suggests we may need to rethink this understanding.
3:AM's fiction and poetry section draws from an range of international voices. Overall, the fiction pieces tend to be shorter, averaging 500 words or so .This suits the publication as the flash fiction length work offers an inherent tendency towards experimentation. Of late, 3:AM has featured a series of short 'flash' fiction pieces on the British elections, under the hashtag #ge2015fiction, an extension of the #ge2015 hashtag that was used extensively during the election. This is a journal engaging beyond the text, and offers interesting possibilities for the interaction between a literary journal and the political sphere. Fictions under this heading are clearly commentary, discussing the underpinnings of the patriot, the symbolic images of Britain (the colour blue, the rose), as well as a general sense of apathy at the political.
Outside of the election-based pieces, there is a range of short stories collected on the site. Candy Sue Ellison's piece "Odds and Evens" is that exciting kind of fiction which is deceptive in its child-like simplicity. It reads:
"When I was young, the number 8 was always a villain who tied the poor damsel 4 to the railroad tracks. What a bully. He controlled her every move. Almost like her pimp. He would never let her move on her own."
The mathematics behind the number's personalities becomes clearer throughout, as larger multiples are always one-uping their predecessor. By the end, a complex question seems to be emerging – what is our relationship to those who surround us? Every number has a relationship with another. Even solitary 9, "the most sophisticated of the single digits, a gentleman with almost Transylvanian charm", has a relationship with 18 that intrigues all.
The play with text/image collaborations is best put to use in the poetry featured in the magazine. Alok Dhanwa's beautiful "Theatre" is a multi-sensory experience. The poem is presented as dual text, featuring the Hindi on the right and an English translation, by Saudamini Deo, on the left. Photography (also from Saudamini Deo) separates each stanza, as if a visual inhale of breath, spacing out ideas.
Whatever it is – it fiction, essay, poetry, interview, review – you'll find it here. Across the wide range there is consistency: a sensibility of conversing with, and pushing against, boundaries and conventions. Above all, the writing published here feels responsive to the world at large, no matter what form it takes to deliver its message, as 3:AM's tagline declares, "whatever it is, we're against it."
--
Harriet McInerney is a Sydney-based writer, bookstore worker, editor of the 2015 UTS Writers' Anthology, and producer on 2SER's 'So Hot Right Now'. She has published in places like Mascara, Seizure and Voiceworks.
E Koehn
A blurb about you