Review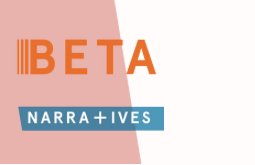 This is a review of Betanarratives by Ally Scale.
--
Editor: Jessica Yu
Writer: Brendan McDougall
Animator and illustrator: Meg Gough-Brooks
Video Director: Angeline Armstrong
DOP/Video editor: Simon Gilberg
Composer: Esmond Angeles
Sound Designer: Dave Williams
Web Designer and Graphic Designer: Mellisa Hankins
Web Designer: Bradley Jackson

--
Please humour me for a moment and imagine the following scene:
You're sitting on a tropical beach. There's eggshell-coloured sand and turquoise water at your feet. A pseudo-psychologist looks at you and asks you to describe the first image that pops into your head when you hear the word 'stories'.
Your answer goes something like this:
"I think of a crusty, old leather-bound novel (probably brown) on a dust-lined bookshelf (also probably brown)."
Your pseudo-psychologist sighs and scribbles bleak notes about you into the husk of a coconut shell.
Look, I'm not judging 'you' here. I'm unashamedly using fictional 'you' to make a wider point, that we unconsciously associate stories with books, rendering them inseparable (or something like that, perhaps I just like the Wes Anderson-esque image of a pseudo-psych sitting on a tropical beach and scribbling despondently into a coconut).
Don't get me wrong. I love books. I love the tactile experience of turning each page, dog-earring each leaf.
But to truly engage with stories – to burrow down into the heart of them – is to discover new ways of delivering them and, importantly, new ways of telling them.
The newly launched digital storytelling collaborative Betanarratives does exactly that.
By weaving prose, illustration, animation, film and sound together Betanarratives reimagines the storytelling experience for an online audience and the effect is a truly moving piece of digital art.
One of the challenges with this kind of digital storytelling is that there are many pieces to work with and within. Each element, from the sound to the illustration, needs to speak to the story, rather than overwhelm it. It is a precarious and easily mishandled balance.
Editor Jessica Yu and her team have done well to curate a beautiful symbiosis with each element, adding colour and texture to the prose and another dimension to the work.
Betanarrative's first story, 'Skin Deep', is a non-fiction piece on tattoo culture and its personal narratives.
It's a fitting topic for a digital platform where the image informs the story and vice-versa. As Brendan McDougall writes in the story's opening:
"Every time a tattooist's needle punctures the skin it creates a wound."
'Skin Deep' takes us through the lives of Australia's first female tattoo artist Bev Robinson (also known by her stage name Cindy Ray) and John Kenny, a man who has tattoos covering most of his skin, including his tongue, eyelids and eyeballs.
The use of html5 parallax scrolling takes the reader on a sensory journey down the screen as each layer of the story is revealed. This device is emerging as an interesting way to create narrative movement in digital storytelling. See Sam Wallman's piece 'Seed Water' in Chart Collective's Longer Light Series: and 'The Beast' by Laura Marling. It's great to see Betanarratives make use of this responsive website design to tell stories.
The injection of documentary-style footage shot by Angeline Armstrong and Simon Gilberg into the 'Skin Deep' narrative is clever and expands on the considered and nuanced writing of Brendan McDougall. This filmic device provides Bev and John with a unique space to speak for themselves.
I can't think of another medium that achieves this sense of character-driven intimacy in the same way. Film relies on the use of the image, radio on voice and books on the written word. That is not a criticism of these mediums, but an observation that digital storytelling works best when it acts as a balanced integrator for these different elements. The intrinsic worth of digital storytelling is not as a replacement medium, but rather an alternative platform for us to explain our world.
And for those who fear that intimacy is lost from print to digital, fear not! The interactive experience you get from scrolling down the screen in 'Skin Deep' is akin to the experience of reading a book. The scrolling is the page turning. It is just you, the reader (or perhaps a more apt adjective here is the 'experiencer'), scrolling down the page, just as you would turn a page in a novel.
But Betanarratives doesn't just offer interactivity; it completely reworks the way a story can be told. The purpose isn't to read 'Skin Deep' like you would a story in the physical form, and nor should it be.
What Betanarratives does is elevate the stories we tell, allowing us to see a different angle and discover another emotive component to the narrative arc.
And much like the ink on Bev and John's skin, 'Skin Deep' seeps in, sparks your attention and leaves a definable mark.
I can't wait to see what they do next.
--
Ally Scale just returned to Melbourne from Perth where she was a Writer in Residence for the Fellowship of Australian Writers Western Australia (FAWWA). You can find her loitering at the Wheeler Centre as an intern for the Melbourne Writers Festival and a volunteer for Writers Victoria. She tweets @AllyScale.
E Koehn
A blurb about you