Review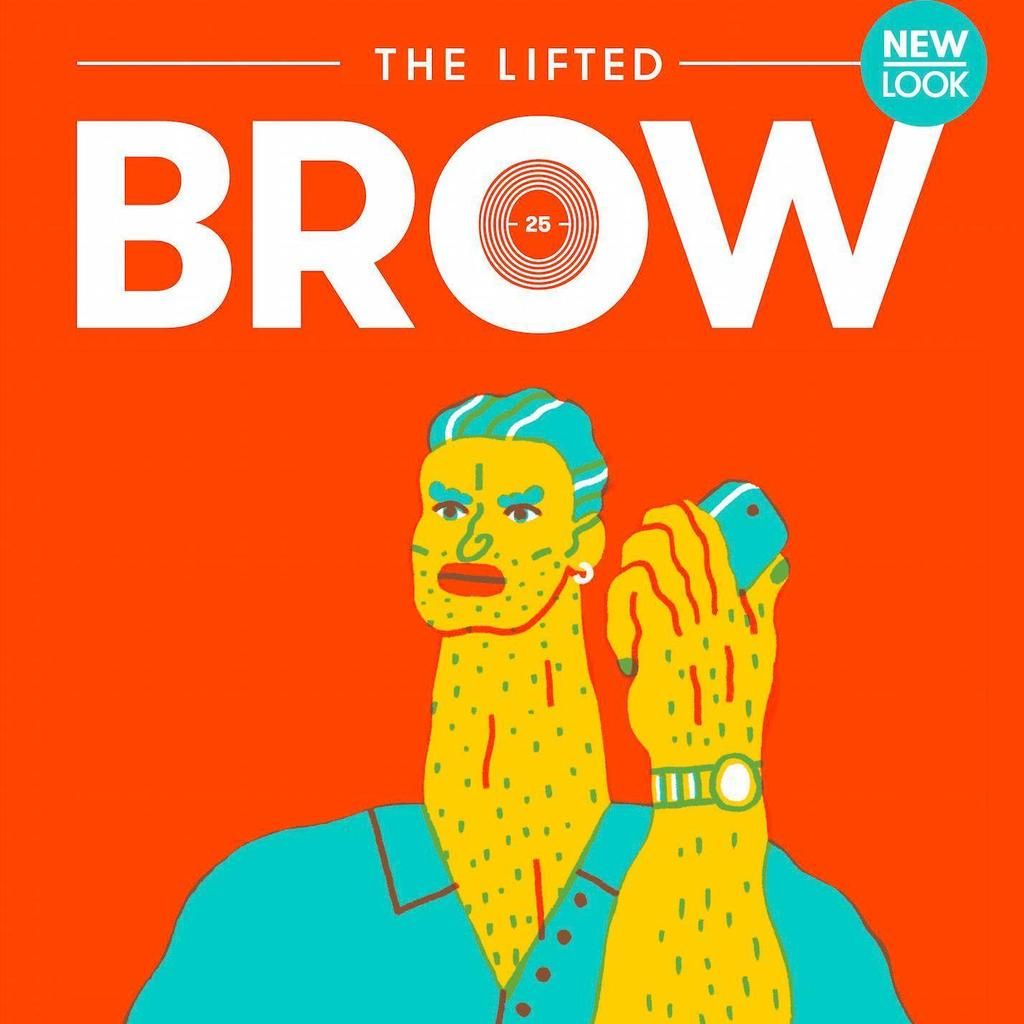 This is a review of The Lifted Brow by Emma Koehn.
--
The Lifted Brow
Issue: 25, March 2015
Editors:
Stephanie Van Schilt, Ellena Savage, Gillian Terzis (with Sam Cooney as Editorial Director)
Page Count:
130
RRP:
$13.95
--
The Lifted Brow prepared us for their facelift with the delicate touch of parents laying out terms of an amicable divorce. They introduced their new editorship, outlined their vision, and invited us to parties. When it was pointed out that the name of their new online offshoot could cause offence, they engaged in conversation and swiftly changed it. These guys are the grown ups we all want to be – the lit mag with the killer comeback and social graces. They are the Cate Blanchett of printed material. (If you dislike Cate, substitute in your sassy female role model of choice.)
Yesterday I saw the 'new look' Brow peeking out from behind the business mags in the Melbourne Central newsagency. My mind went, 'Hmmm, pretty, buy it.' I already owned a copy, so I think that suggests they're doing something right.
*
People who haven't done cultural studies tend to assume that it's exactly like the 'That 90s Show' episode of The Simpsons: the one where Marge's professor tells her 'everything penis shaped is bad'. It can be difficult to write about the intersection of pop culture, political and academic thought without making your readers feel glum. The Brow has always managed to avoid that feeling of doom, and that's what makes it such a good launching pad for new talent. They prioritise work with book-smarts, and this hasn't changed with their shiny new cover. Briohny Doyle looks at where teen dystopian fictions fit into our own adult worlds. Rebecca Harkins-Cross digs through decaying Hollywood in David Cronenberg's 2014 film Maps to The Stars, a project full of Oedipal fantasies and Californians on edge. Both pieces are well considered, good reads for those who've just seen the films mentioned.
The old Lifted Brow, in its newspaper format, prided itself on a diversity of writers and topics, banging the big guns against the little guys. Readers could engage with David Foster Wallace on one page and that guy from their politics class on the other. This approach hasn't changed. Margaret Atwood delivers three poems amongst pages of emerging illustrators and memoirists. Atwood's intimate 'Winter Vacations' is a lovely, calming bridge between sweet slabs of non-fiction:
"How quickly we're skimming through time,
leaving behind us
a trail of muffin crumbs
and wet towels and hotel soaps
like white stones in the forest."
Meaty reads are packed in either side of the poems. Michelle Law's 'The Roaring Twenties' ruminates on a pause during a busy year, and is an excellent public transport read for the emotionally vulnerable. Oscar Schwartz's 'Humans Pretending to be Computers Pretending to Be Human' is the winner of TLB's Experimental Non-Fiction Prize. Schwartz brings Amazon's Mechanical Turk (mTurk) to our attention: a service that links up clients with faceless 'content providers' who can do menial, computerised tasks that need human input. Schwartz's work deserves special mention not just because he won a prize (YAY!), but also because he's able to ask questions about isolation and meaningful work in a world terrified about artificial intelligence stealing our jobs. His interviews with 'Workers', who complete hundreds of jobs for faceless 'Requesters' at a tiny fee, are careful examinations of loneliness, worker solidarity and job satisfaction.
So let's talk about the magic of COLOUR. The old Brow did a good job of keeping artists in mind even though they couldn't always guarantee them bright paints. The reboot has WHITE white paper stock, and has reserved colour pages for comics, feature pages and illustrations. Lachlan Conn's cover art steals your eyeballs and makes you want to pick up a Brow from your newsagency. The comics have a distinct dating/social awkwardness vibe, like K.F and Alabastar's 'First Dates 2014', which parades hopeless guys with bad moustaches in the manner you'd expect.
The Lifted Brow has always been good to its writerly community, but I'm not sure we've ever nailed down why. By just existing, it gives you heaps of page space to show off your wares, sure, but the new kids seem to want to be your friend too. Perhaps that's it: they want a creative community as much as you do. Aren't we lucky ducks to have them in Melbourne, and the world? Pick up a copy and pitch them, for goodness sake!
--
See TLB submissions here.
--
Emma Koehn edits our reviews section.
E Koehn
A blurb about you