Review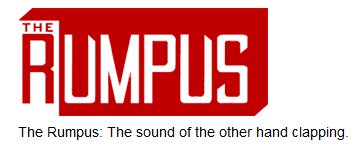 This is a review of The Rumpus by Emma Koehn.
--
Laziness and lit mags can go hand in hand, in that when you're a reader, there's a colossal temptation to be lazy. With constant streams of new start-ups and experimental ideas, the part of the brain that likes routine can put its foot down, making you return to the same few publications over and over. Sometimes, you don't want to have to traipse through the arty back alleys of the internet to find something you like. It's stressful and weird down there, and you'd just like to sit quietly and enjoy something, thanks very much.
We don't talk about this enough, because nothing says 'unfashionable literary person' like someone who would much rather read for comfort than for pushing boundaries. This type of reader isn't necessarily a bad thing, though. You can revisit something and watch it grow into itself, to change and hopefully get better.
This isn't wonderful news for makers of small publications. You have to go into each project knowing that, for a decent period of time, nobody will care. Apologies for the depressing review so far, but building up a community of writers takes time, and you need a variety of voices. You need to publish people who care about things as well as those who don't. You need to find expert wordsmiths and crazy people taking chances. It's nice when your humour is warm instead of cutting.
Manifesto over. The Rumpus comes into this equation because I've been lazily revisiting it, instead of finding new things, for the past few years. As an Australian reader with grand dreams of US storytelling communities, it's a window into writers' workshops and by-lines we think we know all about, but probably don't. By no means does it solve every potential pitfall of writing literary non-fiction for the Internet, but it is funny, so that's a start.
If you've never checked it out, head over to the hidey-hole of memoir, essays, comics, reviews and podcasts. They publish stories you imagine someone chips away at for a long time, about bodily traumas and tragedy, death and grief, of long held family secrets.
There's also a neat organisation of column voices, each well-defined in purpose. 'Ted Wilson Reviews the World' is great because it does what it says on the packet – reviewing all of the things in the Entire World. Last week he reviewed puppy footprints, and it was grand. Well, actually, he only gave them two stars, because:
"Puppy footprints don't always lead to a puppy. Sometimes they lead to a raccoon because they were actually raccoon footprints all along."
'Funny Women' is a collection of amusing ladies writing short satire on everything from call-centres to youth sex habits. 'Make/Work' sees Scott Pinkmountain talk to writers and artists, about both their work process but also their lives and responsibilities in general. It's a good podcast for your productivity because it will make you feel really anxious and that will result in you writing something to remedy that.
What's kept me coming back over the years is The Sunday Rumpus Essay, and miscellaneous non-fiction and memoir work. On that 'diverse voices' thing, these guys know how to try to mix it up. There's academic stuff on terrorist's affection for postmodern poetry, and stories of Gilmore Girls and life/art imitation. In Garnet Kilbur Cohen's essay 'At the Museum', gallery visits become imaginary shopping sprees.
There's a tendency here to focus on stories of the body, in particular women's experiences of reproduction. Kate Jenkins' 'Young Women Always Have Something to Sell' is an example that grabs your throat. It's a reflection on selling one's eggs to hopeful mothers, and what it means to become a sought after commodity of good genes, while being unable to support yourself:
"What would you do if, one day, you approached a table with your usual plastered-on waitress smile and found what was surely your very own offspring staring back at you from a highchair? You should see a psychologist, just to be sure."
I think there's a certain misplaced nostalgia we experience as Australian literary people when we read publications from the US in particular. It's that feeling you get when you mainline This American Life, and feel both plugged into and locked away from the American dream, its triumphs, business models and tragedies. From here, few of us are connected by citizenship or memory to the places we read about, but we've been raised on the tastes of this kind of storytelling so long that it feels like a pseudo homecoming. There's a good chance that this colours everything I feel about Rumpus, so you may want to disregard everything that has been said so far.
Except for the fact that this is a robust publication. It gets strength from those things talked about earlier: a variety of voices and level of sincerity, and taking its own time while other publications start up and collapse around it. Go see for yourself.
--
E Koehn
A blurb about you