What's My Scene
This is a What's My Scene post from The Rizzeria in Sydney.
---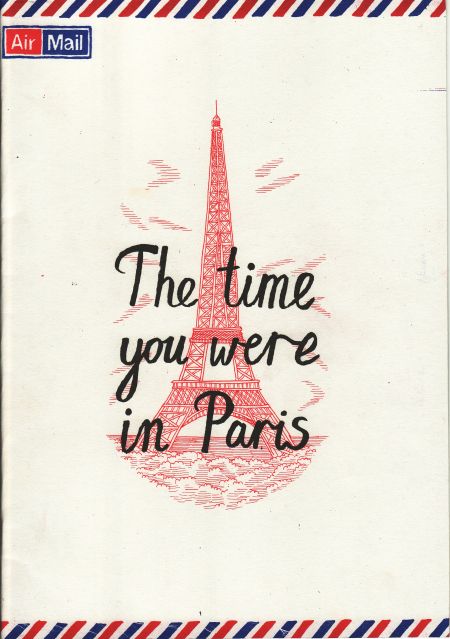 'The Time You Were in Paris' by Leigh Rigozzi and Vanessa Berry
In 2008 a bunch of Sydney artists, zine-makers and designers came together around a machine – the RP3700 Risograph. Inspired by a collective in Amsterdam who had been using the RP3700 to make artworks, zines and posters, they bought one of the printers and have been using it ever since to create their own work and teach others the magic of Risograph.
Printing on our RP3700 is kind of like using a digital screenprinter. People can send a file to it from the computer or use it like a photocopier and, with the help of a magic squirrel inside the machine, it makes a stencil and then uses that to run off copies one colour at a time. Because the machine only prints one colour at a time and you have to feed the paper through again for more colours, the registration can be a little bit out, lending a charming old-school look to the prints.

The friendly Risograph squirrel
One of the awesome things about the machine is that you can take the stencil off and use it to screenprint (by pairing it with a blank silkscreeen) or with a Gocco machine. It's a really cheap way of screenprinting and avoids using chemicals to place your design on the screen (or lightbulbs for Gocco printing).
You can print anything up to A3 in size on paper (uncoated, please!) from 60-300gsm. Our mission is to provide affordable access to our printmaking facilities, so you can drop by our studio and a volunteer will assist you with using the machine. People come in to print limited-edition posters, zines, books, comics, invitations and CD covers. Or they'll come and screenprint on tote bags. We run workshops in stencil (Risograph) printing, screenprinting and other crafts. We also take on printing jobs for people if they're unable to come in.
---
Located at:
Join the Dots studio
102 Victoria Road (side entrance)
Marrickville NSW
2204
samvanz
Sam van Zweden was Writers Bloc's Online Editor from 2013 - 2015. A Melbourne-based writer and blogger, her work has appeared in The Big Issue, Voiceworks, Tincture Journal, Page seventeen, and others. She's passionate about creative nonfiction and cross stitch. She tweets @samvanzweden.