Writers' Other Jobs
This is a Writers' Other Jobs piece from Victoria Nugent.
---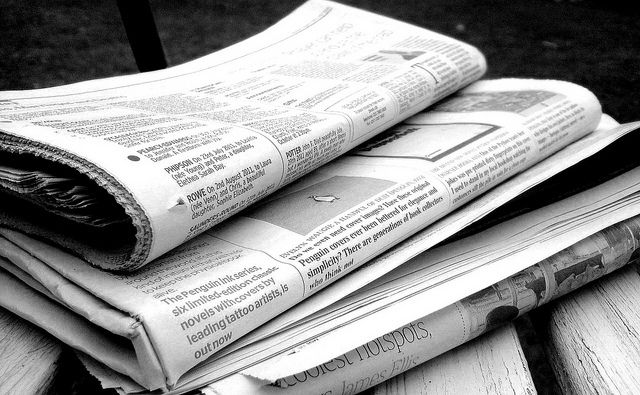 Image source: Flickr / Jon S
I dreamed of being a writer from a very young age. Now I write for a living. Much of that writing tends to be court reporting, community stories and entertainment coverage. You guessed it, I took the tried and true path forged by many would-be writers before me. I became a journalist at a regional newspaper.
My grandfather suggested to me as a child that if I wanted to be a writer, I would also need a better way to make a living. So I decided to become a journalist. Unfortunately, journalists aren't known for having handsome pay cheques.
After four years of study in Brisbane, I moved to western Queensland to break into the industry. I took up the role of journalist/ editor at a one-person newspaper. I was the one person. In addition to writing and laying out pages, I sourced advertising, sent out invoices and even printed the paper on a photocopier in my small office. I'd grown up in western Queensland so living in the bush wasn't daunting. The daunting part came from being responsible for an entire newspaper. The buck always stopped with me, a fact that resounded loudly in my mind each time I forgot to order enough printer toner.
On my first day, I was ushered into a small office at the back of the Visitors' Information Centre. I remember feeling relatively calm as a representative of the newspaper group gave me a few InDesign tips, deadlines and told me where to deliver the copies of the paper I would print myself in the office. Then she left. I stared at the computer screen, a little unsure where to start. Some articles were already written for me, to help ease the transition. "I can do this," I told myself sternly. It was Monday morning. The paper came out on Friday. It would be fine. I'd been told I could have it out slightly later on the Friday than normal because they wanted to avoid me working too much on any public holidays. Australia Day fell on the Thursday. I had three days to put together my first paper."Holy shit," I thought.
I worked hard because if I didn't get something done, there was no one else to pick up the slack. There wasn't the luxury of having a sick day when the paper needed to come out. I'd push myself through and if I needed a sick day, I'd take it when it was quiet.
One Thursday night, I had just dropped a heavy bundle of papers off to a supermarket. A man approached me.
"Excuse me, do you deliver the papers? Who's in charge at the paper?"
"I am."
"I want to talk to you about how you wrote that I was in court."
I cast my mind back and remembered him being charged over possessing a small amount of marijuana.
"Not everyone needs to know that. It's probably damaged my reputation. My boss will know now."
My stomach growled and my feet ached as I tried to wind the conversation up and fruitlessly explain that I was perfectly entitled to name people who appeared before the court.
"You'll be getting a call from my solicitor," he told me adamantly.
I never did.
It wasn't all bad. I had a fantastic social life. I was at every event, camera in hand. If I took photos at the weekend fete, it made filling the paper just that little bit easier come Monday morning. It was in my own best interest to be very socially active. Being a hermit could never have been an option.
After a year in Blackall, I upgraded, moving south to a triweekly newspaper. I suddenly had access to a wider range of stories and inherited new duties. I am now quite good at organising giveaways and putting together online photo galleries. I have learnt a lot about the legalities of court reporting and I have honed my time-management skills. It's a busy job and down time is nearly non-existent.
You hear some horror stories about life as a journalist and a fair few of them are true. I've seen redundancies and legal threats, software crashing moments before deadline and late drop stories that leave us scrambling.
One memory is burnt into my brain. I'd left the pub on a Friday night.
I paused at the corner to send a text message to a friend, leaning up against the side of the hardware store. Footsteps approached. I looked up and my breath caught.
There before me was a guy I'd mentioned in a court report a week before. He'd appeared before the local court charged over a robbery with violence. He came close to me, placing one hand on the wall on either side of my head.
"Oh, it's the journalist," he sneered, towering over me.
God, he was tall.
I side-stepped underneath his arm, out of the way. He and his mates sniggered. One of his friends called out to him and the group moved on. I could hear their jeers as they walked off down the main street.
"Ooh, you're so violent. Watch out for him, he's violent."
I stood there for a while, frozen, before quickly walking back to the group of happily drunk people milling on the sidewalk and blending into conversation.
Despite all the shit days, I still for the most part love what I do. I get to talk to interesting people like a puppeteer who worked on Labyrinth, the author who wrote one of my favourite books as a 10-year-old and the frontman of Mersey Beat band The Searchers.
One day, I was watching a three-year-old dance energetically in her lounge room as her family explained how she was born premature and the challenges they had faced.
"She's always like this," her dad said. "She doesn't stop."
After I took the photo, she came over to me, asking to see the screen of the digital camera and cuddled into me as I showed her the images. She giggled and pointed at each of her family members on the screen. When I left, she had one simple demand. "Hug." So I did. That hug from a friendly child somehow made the day a lot brighter.
I've spoken to a young Aboriginal woman with a heavenly voice who took part in No Shame Day to help inspire others in her community and the local distiller with creative advice to share and gin to taste. I've worked with a women's shelter to share stories of domestic violence in the hope of helping women struggling with similar situations. I've had sources be open and honest with me when they were initially reluctant to share their story. It's a position of privilege. While there will always be people wanting to have a go at me (a normal journalistic pitfall), I still get a rush of satisfaction whenever someone rings me up to thank me for a story. Their kind words and gratitude can spark me right up on a hectic day.
In this media climate, I may not always be a journalist. A tiny part of me holds out hope for the full-time author dream. But for now, my days are interesting. That's more than a lot of people can say.
---
Victoria Nugent is a journalist at the Armidale Express. She tweets @toria_jayne and blogs here.
---
Our next Writers' Other Jobs piece comes from Jaine Eira, who spent time working in a warehouse and was made to question her writerly identity.
samvanz
Sam van Zweden was Writers Bloc's Online Editor from 2013 - 2015. A Melbourne-based writer and blogger, her work has appeared in The Big Issue, Voiceworks, Tincture Journal, Page seventeen, and others. She's passionate about creative nonfiction and cross stitch. She tweets @samvanzweden.