This is a "Someone Who Knows" post from Angela Meyer.
---
I'm a finisher. If I begin something in earnest, I will complete the task. In fact, there are very large projects I've spent a great deal of time on, and finished, that have failed (so far) to find a publisher or audience.
Which is why it was such a delightful surprise when my friend and colleague Donna Ward told me she would publish a book of my flash fiction after only having read a few stories.
Donna had been wanting to start a publishing company for a while, and had a few other project ideas, including the one that became Inkerman & Blunt's first book Australian Love Poems (ed. Mark Tredinnick). The love poems were a runaway success, sparking a ton of media and a distribution deal for Donna (with a lot of hard work on her part). One reason the book was a success is because Donna is a pro – she decided very early on she was going to work with the best, for example designer Sandy Cull. Amanda Curtin came on board as the editor for my book. Besides employing the pros, Donna knew that national distribution was essential for any serious small publisher, and so Inkerman & Blunt secured NewSouth as a distributor.
I had a deadline, and I was about to head overseas with my partner. I was carrying another deadline (as editor of The Great Unknown) plus a pile of books to read for the Edinburgh International Book Festival, where I would be chairing panels. I realised there had to be a shift in the way I prioritised fiction writing. I've written fiction for many years, and it is my absolute favourite kind of work, but I'm not one of those people who writes 1000 words every day, even when I'm working on a manuscript. I seem to need to 'recover' after each writing episode, taking a day or two to gather my thoughts, pull some other ideas into the brew, and then continue. With short fiction, each story was different, too, and so I needed to become more attuned to the potential stories around me: in conversations, different settings, in what I was absorbing. In this respect, it was good to be on the road, to be constantly encountering new situations, settings and people.
But the collection had to have a through-line as well, some thematic consistency. I wasn't too worried about this, because I'd discovered in the past few years (both working on a novel as part of my doctorate, and beginning to write these tiny morsels) that my best writing always came from a particular place within, somewhere on the apex between fear and desire. And I thought I could tell when I was hitting the sweet spot, as far as drafting and self-editing goes. So the stories are definitely emotive, or evocative of emotion, I hope, but they are intellectually, psychologically bound – they are about that frightening notion that there is one place we cannot ever escape: the inside of our own skulls. And so I have characters who are trapped, and bound, both literally and metaphorically. Not all of them remain so. Not all of the stories are Sisyphean. I dare to hope a little, sometimes.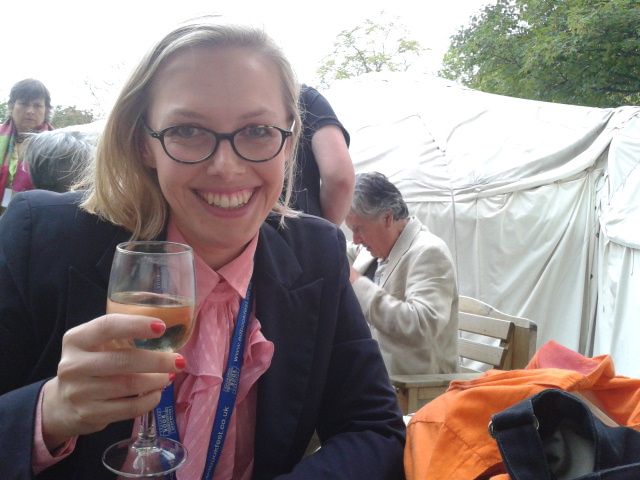 Between sessions at Edinburgh International Book Festival (where some of the stories were written)
I wrote a few of the stories around sessions at the Edinburgh International Book Fest, including a couple which are postmodern or referential. This reflects the fact that, like the narrator of Rabih Alameddine's An Unnecessary Woman who knows Lolita's mother better than she knows her own, I don't like to separate out my 'real world' and 'cultural' experiences too much, because I've spent so much of my life immersed in fictional spaces. Not only in books, but in places like Terry Gilliam's Brazil, or the post-apocalyptic glam world of David Bowie's Diamond Dogs.
I wanted to write more stories than I needed, so that I could choose, and so that the editor could help me choose. It's only a small book, so this wasn't too difficult, and when it came to the crunch I was able to remove the ones that weren't working either on their own or in the context of the collection.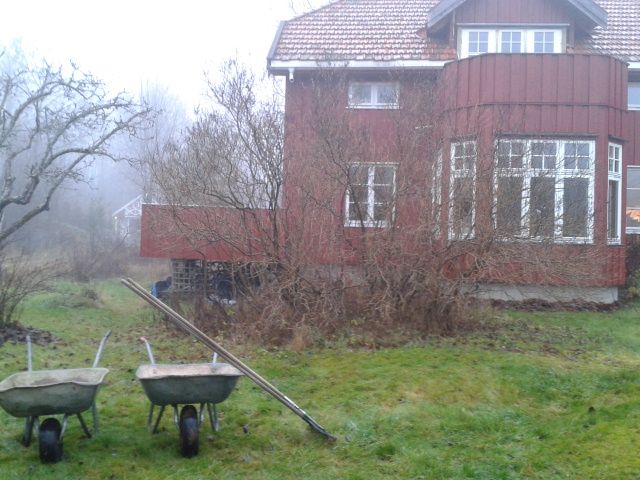 Working in the frost in Nesodden, Norway (where the final edits took place)
The final edits happened while doing a Workaway (work for board and food) in Nesodden, a ferry-ride away from Oslo, in Norway. My partner and I spent the mornings in -1 degrees, helping to get our wonderful hosts' house and garden ready for winter. The afternoons were spent on Captives, studying historical fiction in a MOOC (Mass Online Open Course) from the University of Virginia, walking around the peninsula, and seeing art and films in Oslo. Writing this now reminds me of what a unique experience I had last year, not only signing a book contract, but getting to live with people in different places, travelling the world, drinking whisky and aquavit. I think I'll always look back on it as being one of the best periods of my life, and all worth it, even though we sent ourselves broke.
Companions during part of the editing process
Captives comes out in May. It's my first book of fiction to be published, and despite the years I've spent on longer manuscripts I think this is actually a cool way to begin to be known as a writer of fiction: short stories, especially short short ones, still get to be a little edgy, a little outside the mainstream. I like to think of the book as an art object, not just a book, a collection of narratives and images which may evoke different reactions in different readers. I don't guarantee you'll be able to escape the confines of your own skull, though; in fact you may become more aware of it…
---
Angela Meyer is a Melbourne-based writer, editor and literary journalist. Her publications include The Big Issue, The Lifted Brow, Wet Ink, Seizure and The Australian. Her books are The Great Unknown (as editor, Spineless Wonders) and Captives (Inkerman & Blunt, available for pre-order here). Angela recently completed a Doctor of Creative Arts through the Writing and Society Research Centre at the University of Western Sydney. She has blogged for almost seven years: literaryminded.com.au / @LiteraryMinded on Twitter & Instagram / http://www.facebook.com/literarymindedblog
samvanz
Sam van Zweden was Writers Bloc's Online Editor from 2013 - 2015. A Melbourne-based writer and blogger, her work has appeared in The Big Issue, Voiceworks, Tincture Journal, Page seventeen, and others. She's passionate about creative nonfiction and cross stitch. She tweets @samvanzweden.