Literary Cities
---
The sun has gone down on the Ubud 2015 Writers & Readers Festival in Bali. Luckily, it came back up again the next morning, albeit filtered through the ashy haze of a volcano that had blown on the next island over,
filling the air with smoke that exfoliated the brilliance out of the sunshine and managed to ground all the planes, trapping dozens of foot-dragging writers in Bali.
It seemed a suitable end to the festival. The final program was delivered by outgoing International Program Consultant Summa Durie, under whose guidance the festival has gone from strength to strength, pulling stars like Richard Flanagan, Lional Shriver, Teju Cole and Michael Chabon from across the world.
Your humble correspondent has visited the festival three times now, and it's been better each year. I can't really think of a comparable festival anywhere in the world that gets more bang for its Rupiah. This Festival, with its international focus, stunning venues and innovative approach to programming neatly sidesteps the pitfalls than can plague arts events and provides a thought-provoking but, much more importantly, heaps fun cultural experience.
There is perhaps no other festival where writers and readers from around the world are brought together in the spirit of exploration and gastric distress for a dramatic sub-atomic-collision of ideas that challenges you as much as it inspires.
With a diverse program, usually delivered in at least two languages, plus a unique collision of points of view, it is also the only place where a cloistered Australian like me would hear the Indonesia adage which translates roughly as 'Reading is like eating, writing, pooping.'
From a writers point of view, it's the best kind of reward for the drudgery of the rest of the year, a perfect half-week in hotels, venues and parties that are nicer than anything else that most of us will see in a lifetime. It's also a place with its own pace, its own quirks, and an audience of really lovely and laid back expats and wide-eyed travellers who are genuinely passionate about reading. Ubud has its own mythology (nobody sells books in Ubud, Pieper, so don't fret. Have a beer), and its own caste of wonderful characters who elide the gap between artist and audience.
Witness Tish, a festival regular who sketches the faces of everbody on the panels she attends: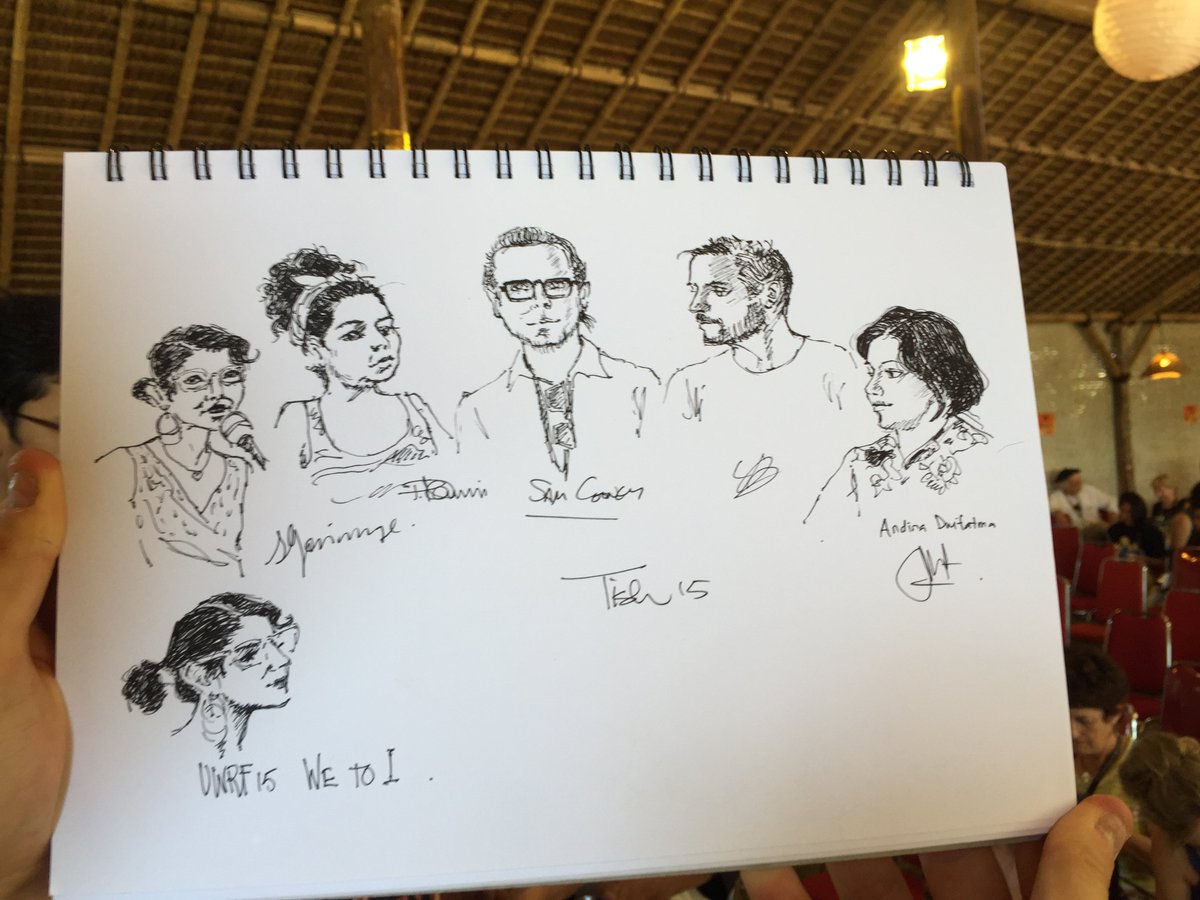 There's way too much crammed into the three days of the festival for one person to see. For your edification, however, I've pictured some of my highlights below:
Photo: Stanny Angga
Short fiction superstar Nam Le (above) discussing his perennially popular book The Boat, which was translated into 14 languages and scooped major awards internationally, with Sam Cooney and Kylie Boltin, the SBS producer who adapted the titlular story into this amazing interactive graphic novel.

Photo: Matt Oldfield
Women of Letters, Ubud. This Melbourne feminist epistolary event has been growing in popularity for five years, and has established a franchise in New York, as well as a travelling roadshow that has traveled to Ubud in the past few years, where it evolves (Pokemon-style) into a Masterclass in Intersectionality. This year's show featured a personal missive from Miles Franklin award-winner Sofie Laguu about the perils of embracing a Luddite existence, Rebecca Harkins-Cross on the terrible gothic heart of coastal Australian adolescence, and Hyeonseo Lee, who made a whole room cry with a letter to her mother that she left behind when she defected from North Korea.
Photo: Anggara Mahendra
Chigozie Obioma, on his truly magical novel The Fishermen. To be quite honest, I could listen to dude read the phonebook, but as it happens, this is one of the best books ever written.
And then there was Ayelet Waldman and Michael Chabon, a literary power couple who have racked up several children, a Pulizter, and an indecent amount of book sales. They did several events where they more or less turned up and rolled out their far-too-charming schtick. Sample dialogue:
Waldman: I have a mood disorder.
Chabon: Oh, is that what that is?
Crowd: Adopt us.
The festival wasn't without tension—amidst all the usual camaraderie, spiritualism, Eat Pray Loving and playful jousting between authors—there was a palpable undercurrent of anger: at racism, at conflict, at the environmental degredation of Bali and nearby Java by untrammelled development. And, most of all, at censorship, after the Indonesian Government cracked down on the festival and ordered the last minute cancellation of several panels that were discussing the 1965 anti-communist purge, a screening of the film The Look of Silence by Joshua Oppenheimer, and the launches of several books that dealt with the massacres.
To symbolise the silencing of these voices, some of the cancelled sessions were deliberately not replaced, and the venues left empty and shrouded in black as a reminder of the censorship.
Photo: Sonny Tumbelaka
The Secret Police of Indonesia sent their own reminder, with several well dressed, perfectly postured undercover officers circulating throughout the festival to make sure that the ban was undertaken, along with a blanket order that no-one was to mention the events of 1965, which had the symbolic effect of prompting PEN to organise a protest, and the practical effect that nobody talked about anything else for the length of the festival.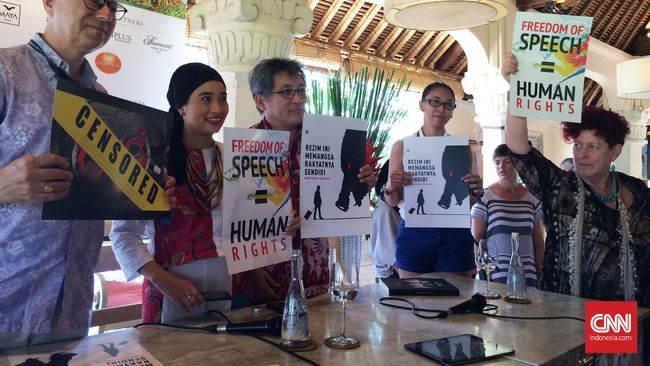 Photo: CNN Indonesia/Rizky Sekar Afrisia
My sympathy lies with the poor panel moderators who had to try to reign in a stable of artists whose knee-jerk reaction to censorship was to take the piss—best exemplified by comedian Nazeem Hussain, who got straight off his plane and opened an evening of comedy with a monologue about it.
So, creeping sense of totalitarian dread aside, the Ubud Writers & Readers Festival is a hell of a thing, and one your humble correspondent heartily endorses as he sits, watching the ash fall from the sky (waiting for his dysentery to subside) and expecting the police to come knocking about all those off-colour 1965 jokes told throughout the last few days.
---
This is a FOMO piece, part of a series where writers reflect on their experience of literary festivals around the world. To read more like this, click here.
Liam Pieper
Liam Pieper is the former Editor of Writers Bloc. His 2014 memoir, The Feel-Good Hit of The Year, was shortlisted for the National Biography Award and a Ned Kelly award. His most recent book is The Toymaker, which was long-listed for best debut fiction by the Indie Book Awards and won the Fellowship of Australian Writers Christina Stead Fiction Award. @liampieper