Guides
The Sydney Writers' Festival is almost upon us! Running from 19-25th May, the breadth of programming in this festival means there's something for everyone. While only one member of the Writers Bloc team is Sydney-based, we've still had a great time perusing the program to bring you our picks.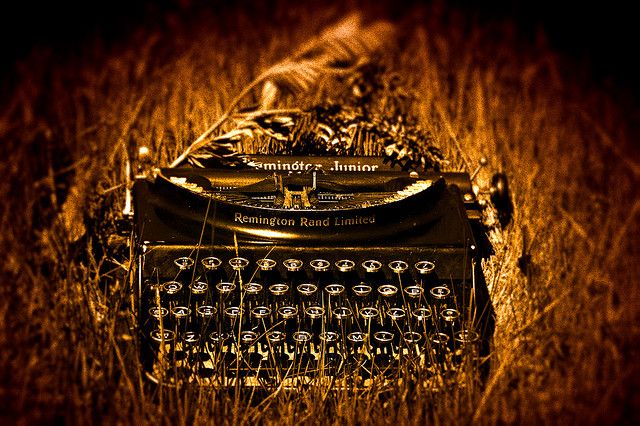 Photo source: Flickr/Neal Sanche
Geoff Orton, Writers Bloc Founder:
Stuff for big kids: Festival Club
It can get a bit blue at the SWF Club, especially with events like Erotic Fan Fiction and the Empty Vessel, but the Friday night has The Lifted Brow doing their Mixtape Memoirs as well as Word Travels presenting Spoken Four later in the night with a bunch of people I've been bursting to see, especially Maxine Beneba Clarke.
7:30 PM - Mixtape Memoir
The Lifted Brow presents Mixtape Memoir: five writers each talk about a single song that impacted them in some way. Featuring live music and accompanying visuals from Australia's best comic artists.
9 PM - The Chaser's Empty Vessel
The Chaser's Empty Vessel returns to lower the tone of Sydney Writers' Festival for another year. Join Chris Taylor and Julian Morrow for more lively, irreverent and freewheeling discussions with some of the biggest and/or longest names at the Festival including Matthew Luhn, Colin McDowell and John Safran.
10:30 PM - Spoken Four
The Festival's best spoken-word artists deliver powerful verse and breathtaking stories. Featuring Jesse Brand, Omar Musa, Maxine Beneba Clarke, Inua Ellams and DJ: Ribongia Hosted by Miles Merrill. Presented with Word Travels.
Farz Edraki, Podcast Editor:
Get Carried Away
A good story catapults you into entirely different, unimagined worlds. My three picks for SWF are for those with wandering minds.
1).Conversations with Richard Fidler with Jim Al-Khalili. THEY ARE GOING TO BE TALKING ABOUT TIME TRAVEL. That is all.
2). Reza Aslan: Zealot. This looks like an interesting take on religion. Sure, it's not as though people haven't written about Jesus before, but the title promises to be controversial at the very least.
3). I love a good yarn, so my final pick is this storytelling workshop with Now Hear This' Melanie Tait. Workshopping how to tell a good story with an experienced and engaging story-teller? Yes, please.
Emma Koehn, Reviews Editor:
The 'How is that Your Job?!' trio
One thing I love about festivals is how they attract people who have made their careers out of ridiculously awesome pursuits, and often you get to pick their brains about how they came up with the ideas that led to their jobs. This fest has some stellar conversations with writers and entrepreneurs who have seriously great careers.
1) Vince Gilligan - Breaking Bad (Additional event, Thurs May 1, 9:30-10:30pm, Syd Town Hall- original sold out). – I am only just getting started on a Breaking Bad binge, but reckon it's safe to say writers and TV viewers everywhere are pretty impressed with it. I make it my mission to ask anyone who calls themselves a screenwriter how they got that job, so Benjamin Law's conversation with creator/executive producer Gilligan should be good fuel for fans and aspiring TV creators alike.
2) Jessica Jackley: Founder of Kiva and Profounder, in conversation with Whitney Fitzsimmons (May 22, 1:30-2:30, Wharf Theatre 2). – Jessica Jackley is the founder of micro lending site Kiva http://www.kiva.org/, which lets users lend funds to assist entrepreneurs in the developing world. She's also writing her first book. Looks like an interesting conversation about social responsibility and coming up with awesome ideas.
3) Michael Luhn: Telling Stories with Pixar (22 May, 4:30-5:30pm, Pier 2/3 Bloomberg Stage). – OH COME ON. Working at Pixar, isn't that the most amazing that there is??? Luhn is an animator and storyboard artist who's worked on Toy Story, Monsters Inc, Nemo, and used to be an animator on The freaking Simpsons. Storytelling isn't just about putting words on a page, and I'm super jealous of anyone who gets to hear Luhn's thoughts about what Pixar has taught him about telling a good yarn.
Sam van Zweden, Online Editor:
Publication, here we come!
Watching writers you admire is very inspiring, but it helps to have something available at the festival so that you can action all that enthusiasm.
1) Forest For the Trees: Writers and Publishing in 2014: Knowing the lay of the land can give you a huge boost when you're looking for a market for your work. This six-hour seminar promises to give you all sides of the story (heh), and make sure know what to expect when it comes to finding a home for your words – and then what happens when you're famous.
2) Getting Published with Sam Cooney: Editor of The Lifted Brow, Sam Cooney has stacks of experience publishing people and being published. In this seminar, Sam takes you through practical skills you'll need to make it happen.
3) Summer Land: Path to Publication: A second workshop has been opened for this session, because the first was so great. You don't need to tell us – we already know how great Summer is! In this seminar, Summer offers tips for just what you need to do now that you've completed your manuscript.
What will you be attending at the Sydney Writers' Festival?
samvanz
Sam van Zweden was Writers Bloc's Online Editor from 2013 - 2015. A Melbourne-based writer and blogger, her work has appeared in The Big Issue, Voiceworks, Tincture Journal, Page seventeen, and others. She's passionate about creative nonfiction and cross stitch. She tweets @samvanzweden.