Mini-series
Each Monday this month, we've been hearing from young writers. Today the young writers theme wraps up with Kahli Scott's thoughts on young writers' love of travel.
--
In his recent personal essay, 'How Not to Write Your First Novel', bestselling writer Lev Grossman details a season spent solo in a small town in Maine, seeking glorious literary isolation. I've always found Grossman brilliant on an accessible level (he writes about contemporary wizards being reckless and saving kingdoms and other fun stuff) but I felt that this essay particularly hit the nail on the head. The conclusion Grossman reaches is that he was totally wrong about a lot of things back at the green age of 22, particularly the idea that isolation = inspiration. "You don't learn about yourself by being alone," he writes, "You learn about yourself from other people."
I'm a hundred worlds away from Lev Grossman in terms of literary status, but I have had to learn a similar lesson recently. My big mistake, I've come to realise, wasn't that I was overemphasising the importance of solitude in nurturing that inner creative genius. It's that I was overemphasising the importance of place.
As teenagers, we're overly concerned with who we are, but it seems that when we hit our twenties, we start to worry about where we are. Post-graduation, the idea of travel becomes an itch that demands to be scratched. We understand that we've learnt all we can from books and lecturers and part-time employers, and now it's time to learn from the world.
This is fine. But if you're like me and you obsess about the positive and negative impacts your environment has on your creative output, you might put a dangerous reliance on this idea of travel. I'd always been fixated on making sure everything around me felt perfect before I could write—room clean, weather appropriate, ambient lighting, whatever. If I hit a creative slump, I blamed my backdrop. Something external must be wrong, because I couldn't face the fact that it might be something internal.
So when I graduated from a creative writing degree back in 2010 and still found myself failing to produce any stories I felt proud of, I naturally came to the conclusion that Brisbane must be the wrong place for me. I struggled to believe that I could write my magnum opus filled with bold characters and bright settings and brilliant truths when I was settled in the same city I had always known. I had to sit in different chairs and look out different windows and spend different currencies on hardback notebooks and smooth pens. That would be the ticket.
I wasn't really ready to set out on super exotic adventures, so I opted for migrating to the safest international city I could—Vancouver, in Canada's British Columbia, around which most of my father's family were already scattered as a safety net. Leading up to my departure, I entertained numerous daydreamed images of the places where I would sit and write great things— the deck of my aunt's house on Galiano Island overlooking the glassy waters of Active Pass; the shell-specked sands of English Bay; a hotel room in Whistler as snow fell on the cobblestones outside. I'd write in nature and in coffee shops and on the steps of the Art Gallery and when people asked, "What brought you to Vancouver?" I'd say, "This. Exactly this."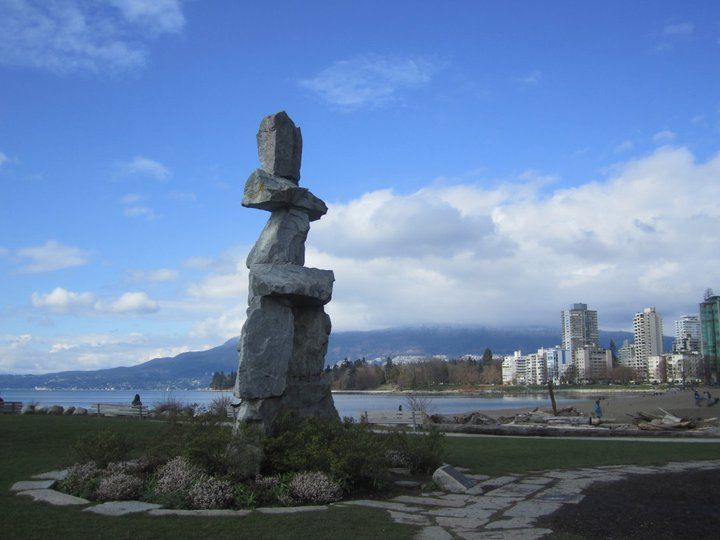 And that's basically what happened at the start. It wasn't difficult to settle into Vancouver—I rented a big apartment with my cousin a few blocks away from the famous Stanley Park, I secured a full-time job, and I found myself memorising the beautifully simple city grid with ease. True to my fantasies, I bought a hardback notebook etched with an illustration by a local artist, and I started to write in it all the time, in all these perfect places. One morning, a few months in, a trio of Italian men in a coffee shop I frequented referred to me familiarly as "the girl with the notebook." That's when I knew this was it. These were the settings I would become nostalgic for when people asked how I wrote my debut novel.
But I couldn't quite sit still, and as I moved around the city, my stories failed to move with me. Every time something changed—my job, the weather, my favourite lunch spot, the book I was reading—I changed what I wanted to write. Frustrated, I took some time off work to spend on Galiano Island, writing in the arbutus and oak forest and in front of my aunt's crackling fireplace. I initially felt refreshed, vindicated by a wad of scribbled papers. But then I went back to the city and moved into a share-house off colourful Commercial Drive, which brought with it a brand new whirl of creative stimuli. I started more stories. They faded, like my love of the city was starting to do. Soon, as even the bustling share-house grew stale, I stopped writing altogether.
It had happened again, the same as it had in Brisbane. Place had stopped being an inspiration, and started being an excuse. As a result, I had dozens of beginnings of stories, very few middles, and absolutely no endings. Two years into my adventure abroad, I was no better off creatively than when I left.
Except maybe I was. Because it was when I finally crumpled and abandoned this romantic idea of writing that I was able to focus on the act of it. I found myself writing because I felt like it, not because I thought I should. I began to write short pieces about things that were important to me, instead of this grand novel that I thought might be important to other people. I stopped stressing about being a writer, and settled into being a person who likes to write.
By this point, my Vancouver venture was coming to a close—I had one last winter left in me before I returned home. But in the end, it didn't matter where I was. I still don't have a great deal of writing credits, but the ones I do have come from humble environments. I finished writing a children's novel during that final slow Vancouver winter in a tiny studio suite I was sharing with a boyfriend. The manuscript later got shortlisted for a prize. When I surrendered and returned to Brisbane, relegated to my childhood room, I wrote a short story that won a competition. The serial story I'm currently writing for an American magazine has been written entirely in bed. As I write this now, I'm sitting on a pile of laundry and my desk needs dusting.
If I could do my time in Vancouver again, I'd worry less about writing. I'd focus more on appreciating my beautiful surroundings for what they were, without trying to leech creative juices from them that they didn't even owe me. I'd focus more on the person I was becoming and the real-life tales that were happening around me. I still might not have ended up writing any good stories, but I'd have lived a better one.
--
Kahli Scott is a Brisbane-based writer. She studied creative writing at Queensland University of Technology, and was the recipient of the 2013 State Library of Queensland Young Writers Award. She is currently curating a flash fiction collection with local publisher Tiny Owl Workshop. You can follow her @KahliScott.
samvanz
Sam van Zweden was Writers Bloc's Online Editor from 2013 - 2015. A Melbourne-based writer and blogger, her work has appeared in The Big Issue, Voiceworks, Tincture Journal, Page seventeen, and others. She's passionate about creative nonfiction and cross stitch. She tweets @samvanzweden.