Events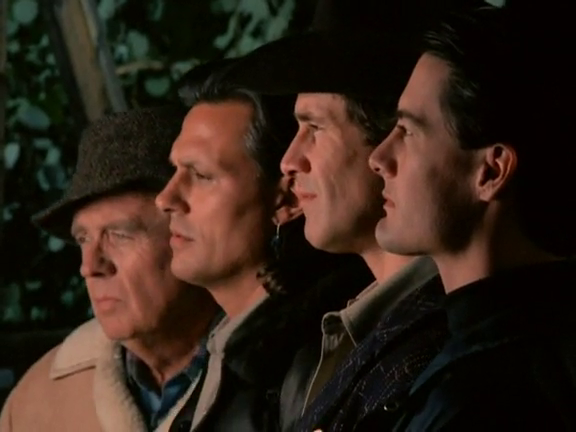 For the past Tuesday nights, as part of TV Bloc Club, we've been catching up with the 90s classic Twin Peaks. Recently, we have seen, screamed, live-tweeted #blocclub and Facebook-discussed Episode 3 ("Rest in Pain"), 4 ("The One-Armed Man") and 5 ("Cooper's Dreams").
In our upcoming recaps, we'll be inviting two Bloc Club members, one who is new to the show and one who is rewatching the series, to share their thoughts about the episodes we've watched so far. Check out last week's recap with Twin Peaks newbie Greg McIntyre. This week features Hell Yeah Writers Bloc editor and avid Twin Peaks fan Amy Maynard:
From the past 3 episodes,
Give us a quick rundown of what has happened so far
Okay, so here are the three main things that you have to understand about Twin Peaks:
Everybody is related to each other.
Everyone is screwing each other.
Everyone secretly (and sometimes openly) hates each other.
So basically it's like every other small town that ever was and ever will be, except for the fact that there's a dead girl who was like, OMG, BEST PERSON EV-ERRR, and some Canucks are carting some cuck-aine into the wee logging 'burb.
Cooper's dream turned out to be a bit of a fizzler, as he couldn't remember the name of Laura's killer. The police department of Twin Peaks are still very calm around this psychic stranger for some reason, even when he goes a bit Patrick Bateman in target practice.
And don't worry about arresting the wrong one armed man, Coops! Good old LOG LADY is on the scene to save the day, revealing a majorly convenient murder clue over tea and biscuits. So basically Log Lady is to Lynch what the giant eagles were to Tolkien. "Ah, gee, how are they gonna get out of this mess…? I know! Insert a mystical side character to be the perfect deux a machina!'
Also, the police department happen to have a Native American tracker that every now and then espouses spiritual wisdom, is stoic, and can tell EXACTLY who parked their car in a motel parking lot thanks to tire tread in the dew. Oh, and his nickname is 'Hawk'. I'll just leave that there.
Audrey Horne is still being saucy, teaming up with Bland Donna to try look for clues to who murdered Laura Palmer. Bland Donna and Bland James, aka the poor man's Donnie Wahlberg, are still persisting with their bland love story. When Bobby isn't being lectured by his insanely boring father he's hanging out with crooks, slutty waitresses, his mate Ratchet Ron Weasley, and starting beef with Bland James. The beef comes to a head at Laura's funeral, aka the most awkward and sad event ever.
Leland Palmer is basically the reason for everything awkward and sad in Twin Peaks. Somebody just shoot him with a tranquiliser gun the next time he starts crying and dancing, make it stop.
The Hornes are still dysfunctional, and Ben Horne and Catherine Martell are planning to burn down the mill because they're horrible people who do horrible things. Josie knows more than she lets on, and makes Pete a turkey sandwich. Dr Jacoby wears the worst glasses in the world, and is unfortunately the only shrink in town, which explains a lot about the population of Twin Peaks. Obnoxious Albert finds some vital clues on Laura's corpse, and gets a punch in the nose courtesy of Sheriff Harry. Big Ed wants to leave crazy Nadine for Norma, except Norma's crazy ex just got out of the slammer. Shelly learns all about the Chekhov's Gun theory, as does Leo. Jerry still dresses like trash, loves to gift people with food. NOBODY SEEMS TO EAT IN TWIN PEAKS EXCEPT COOPER AND I FIND THIS UNACCEPTABLE. Even more unacceptable is the fact that Andy and Lucy might be on the rocks, and that is really worrying. Because let's face it, Andy and Lucy are the best and they deserve happiness.
The thing I loved the most (e.g. a character, the soundtrack)
Watching Jack Nance in Twin Peaks is rather bittersweet, because he was gone too soon, and he was such a wonderfully quirky character actor. Pete Martell, his character, doesn't really have much of a storyline, but it's always a delight when Nance is onscreen. In lesser hands, Pete could have been something darker – a henpecked husband that happens to be friends with a gorgeous younger woman. But Nance fills the character with a quiet dignity. Whether it's his eye rolls, nose crinkles, or defiant-yet-nasally vocal delivery, Nance turns Pete into someone who is less depressed and more droll about his lot in life. And it's genuinely touching and rare to see a friendship like Pete and Josie's onscreen. They're pals, equals. They can comfortably sit and chat over a turkey sandwich without uncomfortable overtones. Because as much as I love Cooper and Audrey… she's like, half his age. Don't touch that teen, Coops!
The thing that bugged me the most
TOO. MANY. STORYLINES. Seriously. Until episode three, we had something taut and logical. We had a dead girl, a town full of suspects, and a quirky agent who also happened to have clairvoyant gifts. It was a murder mystery. Now it's becoming a soap opera.
The thing is, it's okay to have a town full of weird and interesting people. Recommended, in fact! One or two subplots, great. But only one or two, or else things start to spin off the axis. You see, earlier we had two main compelling subplots which linked back to the Laura Palmer mystery – the Bobby/James/Donna/Laura love mess, and the devious Hornes involved in the seedy One Eyed Jack's.
The mystery itself had plenty to work with. The necklace. The creepy shrink. The utterly wrecked Palmers. 'Fire, Walk with Me'. Coopers dream. Mike and Bob. Laura's double life.
Now there's just so much damn clutter. Who really cares about the whole Norma/Big Ed/Nadine/Hank subplot? Cousin Maddy? Bobby and Shelly? Josie and Harry? The Catherine/Ben arson plot is interesting, but feels like it belongs in a different series. In particular the inclusion of Hank and Maddy frustrated me the most, as they're so unnecessary. Especially when you've got fringe characters such as Uncle Jerry, Johnny Horne, Mrs Palmer, and Log Lady who might have had more of a chance to add something into the mix.
I think the problem is that Twin Peaks is trying to do so much with such little time, when it could have been such a stronger show if it had a clear narrative arc. The pilot opens with Laura's murder, and in eight episodes Cooper and the Twin Peaks PD have to race against the clock to find out who killed her and why before someone else ends up wrapped in plastic. Huckleberry pie seems delicious, and the quirky humour is great, but seriously, less soap and more suspense.
Something I never noticed before (e.g. since it's your first time watching Twin Peaks, has your pre-conception of 90s TV been altered in any way?)
This is a difficult question, because it's not only a show set in the early 90s, but it's also so distinctively Lynch. Lynch is such a strong auteur that it becomes hard to separate his work from the time period. In particular with time periods, Lynch has an obsession with 1950s Americana, so Twin Peaks is a curious mix of modern and vintage. Aside from hideous baggy pants, mullets (business at the front, party at the back), and perms, Twin Peaks could have been set in the rockin' Fifties.
A bit of a side track but man, could you imagine J. Edgar Hoover meeting Dale Cooper? Heh, it would rule.
Anyway, I suppose what strikes me about this show is its ambition. I can and do grouch about the amount of subplots, but Twin Peaks really was ahead of its time. It had a sprawling cast, a mix of genres (drama/crime/black comedy/horror), and to me, it was this homage to pulp novels. Femme fatales, good girls gone bad, a tall dark detective that likes coffee and pie, corrupt business kingpins… it's all there.
Your favourite quote
All my favourite quotes come courtesy of The Log.
"…"
"…"
"…"
Huge thanks to Amy for helping out with this week's recap! Here's some of our favourite moments from our live-tweeting:
Join us for our next TV Bloc Club viewing party this Tuesday, September 2, 7.30pm AEST. We'll be watching Episode 6 ("Relization Time").
P.S. Keep the night of September 9 free — stay tuned for an exciting announcement regarding the episode finale!
havesomepatty
A blurb about you