Guides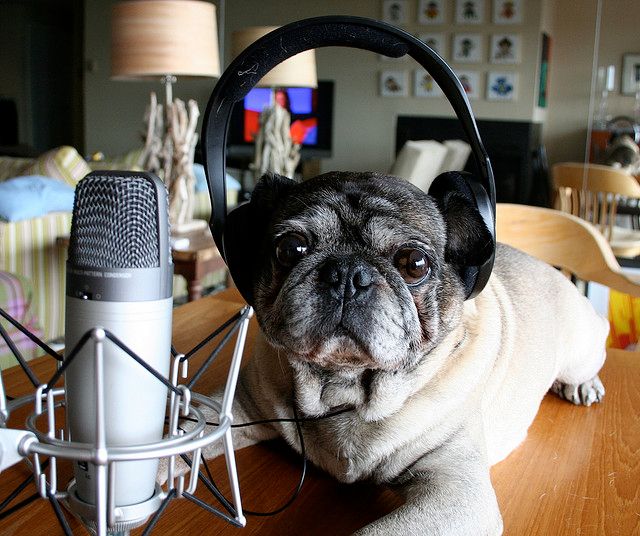 Image source: Flickr / Zoomar
PODCASTS! They can solve all kinds of problems. What to do with your brain while washing dishes? Podcast! How to get the recommended daily intake of cultural whatnot? Podcast! Got a problem? Chuck a podcast at it!
We've asked a bunch of our favourite podcasters what they enjoy listening to, and their recommendations are fantastic. Not only do they offer a really broad selection of podcasts, but we love how much they love each other, too - none of them were told who else was contributing to this guide.
---
Sam Twyford-Moore:
Sam Twyford-Moore is the founding host of The Rereaders podcast and director of the Emerging Writers' Festival.
Slate Culture Gabfest
The Rereaders has always been clearly inspired by the awesome Slate Culture Gabfest - but the entire Slate catalogue of podcasts are just incredible in their breadth, diversity and quality. The DoubleX podcast - a space for conversation, argument and wit about feminism, gender, sexuality, health, politics, Beyonce and other issues of interest to women and their friends - seems to me to be, in particular, calling for an Australian equivalent.
JOMAD I Heard You Like Books?
The only other podcast I regularly listen to outside of the Slate suite is the Jomad Podcast. Really, truly the unsung heroes of Australian literary podcasts - they've interviewed and profiled so many incredible Australian writers over the year's that they have a really terrific archive of Aus lit behind them now. I'm so proud to call them colleagues in the Australian podcasting landscape.
Heidi Pett and Jess O'Callaghan:
Heidi Pett and Jess O'Callaghan are the Features Executive Producers of All the Best, a weekly storytelling and documentary radio program made by FBi Radio, SYN, 3RRR and 4ZZZ and broadcast around Australia via the Community Radio Network.
Why Oh Why
On the surface Why Oh Why seems to be a show about dating, but, as producer and host Andrea Silenzi explains, it's actually about the ways we can be awful to each other. The people in Andrea's life become reoccurring characters and almost experts on topics that range from having a boyfriend to the economics of Tinder to contraception to what a gangbang smells like.
Longform Podcast
Every week the guys at Longform sit down with a writer or editor of non-fiction for an hour to talk about the craft, recent stories they've been working on and how they got to where they are in their career. Highlights include Gay Talese on curiosity and not-writing, Ann Friedman on supporting other writers, Molly Young on having a day job and Leslie Jamison on why you should be a massive Leslie Jamison fan. An antidote to a bad writing day/terrible mood.
Paper Radio
Paper Radio are Australia based, always sound incredible, and tell compelling stories. You can download their stories online, at both the FM (Fiction) and AM (Non Fiction) channels and hear things like Cosmic Frequency, the story of a ham radio operator who befriended Russian cosmoneaughts from rural Australia or this surreal pop reinvention of The Sound of Music. These days you can hear them quite a bit on Radiotonic and Soundproof, ABC RN's excellent new creative audio programs.
And as a postscript, we know it's not actually a podcast but there is an excellent collection of radio storytelling work (sometimes with original music by Sufjan Stevens) called Long Haul. You can subscribe here.
Phill English:
Phill English is a scientist,writer, and gamer from Perth, Western Australia. You can catch his gaming podcast 'Tim And Phill Talk About Games' on iTunes, Facebook, or YouTube
While everyone probably knows about the juggernaut podcasts such as Radiolab, This American Life, Freakonomics, etc. and so on, there are some great smaller podcasts that host some really interesting discussions. Here are a few of my faves.
JOMAD: I Heard You Like Books?
When Johannes Jacob and Madeleine Crofts combine, they form JOMAD, a lovely podcast that interviews writers and editors and peeps from the general creative industry melting pot to talk about books and things that make them happy. I only wish their busy schedules let them record more often.
Necessary & Sufficient
Each week, Evan Forman invites a guest to open an envelope live (that he has sent them in the weeks prior) and riff off the two related words he's written on the index cards inside.
The Rereaders
Sam Twyford-Moore, Dion Kagan and Stephanie van Schilt talk culture in all its forms in what can only be described (in the best possible way) as the Australian version of the Slate Culture Gabfest.
Farz Edraki:
Farz Edraki is the Writers Bloc podcast editor and the creator of our Writers' Workspaces podcast.
Every so often, someone will ask me what my favourite podcast is. At this point, I typically try and resist the urge to go into full-on radio nerd mode and reel off suggestions ("Everyone's listened to This American Life, but have you tried Radiolab? Oh, and Snap Judgement. Oh, The Moth. And Welcome to Nightvale. And, and, and..." etc.)
Now, my go-to recommendation is simple and something that was once recommended to me by a friend, Yen Eriksen: PRX Remix. It's an app. It's hand-curated public radio by Roman Mars, the guy behind 99% Invisible. Turn that bad boy on in your phone and you have an endless (well, nearly endless) stream of podcasts and segments. God speed.
Johannes Jakob:
Johannes Jakob was the publisher and editor at Hologram, a project by Express Media publishing novellas by writers under 30. He's the fiction editor at The Lifted Brow and a co-host of the podcast JOMAD I Heard You Like Books?
The Rereaders
Australia's version of the also tremendous Slate Culture Gabfest. Three smart cookies talking about popular culture: everything from Transformers to restaurants, reality TV to shopping centres. It's a brilliant place to find out about new things to love (and hate) and a great primer to start thinking about them critically. Or, really, just a good kick in the butt to engage with the world around you fully.
Back to Work
Sharp insights into work and life and work life. Helps you attack your neuroses and get smart about productivity. Delivered at a rapid pace, this podcast is full of obscure references and continuity but, like all in-jokes, if you stick around long enough to understand what's happening, there's good payoff. This podcast covers everything from motivation, creativity and managing email to parenting, comics canon and how to most-effectively sanitise a public bathroom. In Masterchef terms, Merlin Mann is the hero of this podcast dish, as he was in the fantastic and sadly defunct You Look Nice Today.
My Brother, My Brother and Me
How good are comedy podcasts where the hosts are not retrograde dickheads?! This is three brothers attempting to give advice to questions from listeners and Yahoo Answers, but mainly just goofing and improvising. As well as chuckles, it's full of heart, which makes it killer. Probably the highlight of the Maximum Fun podcast network, which also includes Judge John Hodgman, Throwing Shade and other good 'uns.
---
Many thanks to Sam, Heidi and Jess, Phill, Farz and Jojo for their suggestions.
What have we missed? What's your favourite podcast?
samvanz
Sam van Zweden was Writers Bloc's Online Editor from 2013 - 2015. A Melbourne-based writer and blogger, her work has appeared in The Big Issue, Voiceworks, Tincture Journal, Page seventeen, and others. She's passionate about creative nonfiction and cross stitch. She tweets @samvanzweden.