Ideas
This is Scarlett Harris, with her Obligatory Leaving New York Essay.
---
It all started with Joan Didion's seminal "Goodbye to All That" essay in 1967 about leaving New York City. Since then countless diatribes from writers who've been chewed up and spat out by the Big Apple have been published, from Meghan Daum's My Misspent Youth to the collection edited by Sari Botton which drew inspiration from Didion not just for its title.
Though I wouldn't include myself in the company of these writers (not yet, anyway!), it is now my turn to pen the obligatory leaving New York essay.
I've spent the past three months in Gotham, taking a break from my day job and real life to just write and be, like so many writers before me. At least that was my plan before the 8th of November, when Donald Trump was elected 45th President of the United States, sending me, much of my extended network and the city I came to call home for 90 days into a tailspin.
As a straight, white, cisgender Australian woman, I have had the luxury of somewhat returning to normalcy since then, especially now that I've journeyed back to Australia and can resume my life as it was New York B.C. But being in perhaps the most fast-paced and culturally pulsing city in the world kept me hyper-aware of the people whose lives will be detrimentally affected by America's new political climate and how important writing and art—which remain the only reliable mediums that speaks truth to power as the rest of the media moves steadily right—is now, more than ever in my lifetime.
Again, selfishly, I feel kind of lucky to have been in New York while all this was occurring. It afforded me the opportunity to volunteer for Hillary Clinton in the lead up to her campaign, to watch the anti-Trump protests unfold in real time in my city, and to wind up my sojourn by attending the presidential inauguration (which I'd planned when I thought it would be that of someone else) and the Women's March on Washington the following day.
But it was also a very painful time. The week preceding Clinton's defeat, I stayed mostly in bed in my Lower East Side apartment, suffering homesickness something fierce and crying every time I let my mind wander back home. The week following Clinton's defeat, still I stayed mostly in bed, devouring thinkpieces on how it all went wrong and crying into my Twitter feed. By staying connected on social media to the world that I was missing outside my apartment, I realised that people who weren't as #blessed were already getting to work strategising their next steps, planning the protests that have come to define modern America as it descends into fascism and white supremacy. And even though I could only really get involved in agitating against Trumpism by donating and volunteering at food pantries (which I had already planned to do and is always a way to help those less fortunate), having those small acts of charity and resistance helped me to see some semblance of a silver lining and enjoy my time in the city that never sleeps.
Many of my friends who've been to New York haven't enjoyed it, at least not to the extent that I have. In fact, I didn't like New York on my first visit either, I think because of the lofty expectations I held from a quarter-century of devouring movies, TV shows and essays that largely romanticised it. But once I actually started exploring it away from the stifling tourist trap of Times Square and surrounds, which I've found most visitors mistakenly revolve around, I began to understand why many consider it to be the best city in the world, myself included. (Melbourne—the NYC of Australia—is a close second, of course!)
New York is full of quirks that many travellers are blind to by the bright lights and glass facades of Midtown. They might not be aware of the community gardens dotted throughout the city. Have they stopped to notice the old brownstones and tenement buildings still standing next to modern skyscrapers? And even amidst the more touristy locales, there are architectural delights to behold if you glance towards the heavens for Gothic Revival, Tudor and Arc Deco design elements.
In fact, that was my favourite thing to do in New York, especially when I was feeling down personally or about the state of the world more generally: get out of the house, walk around and take in a New York that resembles what its locals love about it rather than what they hate. I feel like I almost became an honorary New Yorker myself...
In the heady days following the election, I didn't think I would ever return to New York, or the U.S. for that matter. I resented it for not so much chewing me up and spitting me out, but for Fifth Avenue prevailing over upstate and Brooklyn, where Clinton resides and had her campaign headquarters, respectively.
But in the weeks and months following, I dismounted from my high horse to remember that America has a long and not always pleasant history and understand that that was just one, poorly lit snapshot of it. I would survive, but would there be an America as I knew it to return to?
I departed New York, excited if only to know that I was safely returning home to my "real life", two days after Trump's inauguration. In the less than two weeks since, America has devolved into the fascist dictatorship many feared it would, with asylum seekers, tourists from Muslim countries and even some green card holders being detained unconstitutionally, deported and denied entry, to name but the most newsworthy political atrocity to occur in that time.
Despite the protesters, immigrants, and good-hearted people that have always made America great before Trump turned it into a political slogan, New York—and the country as a whole—is no longer the place I remember it to be. I won't be writing the obligatory returning to New York essay until it is.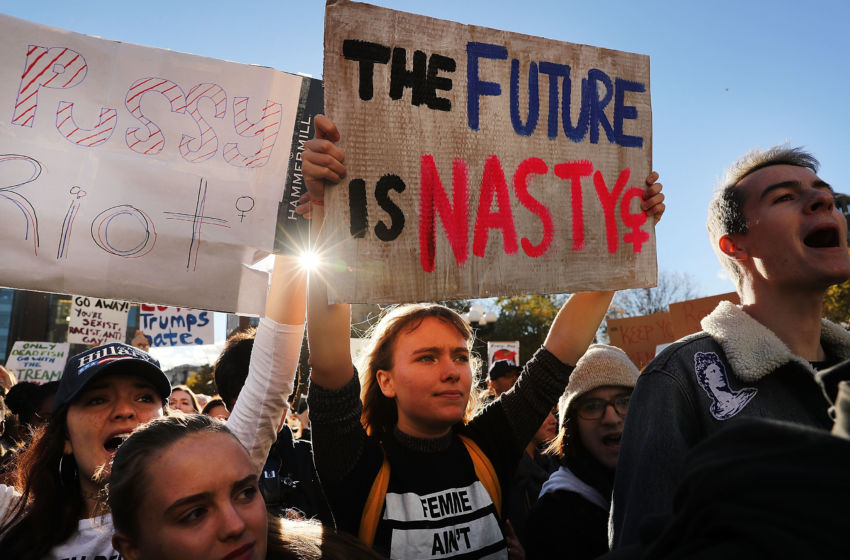 ---
Scarlett Harris
Scarlett Harris is a regional Victoria-based freelance writer, musing about femin- and other -isms.