What is She Doing?
This is an Interview with Bri Lee, discussing 'What is She Doing?' her new video series with Writers Bloc.
---
Bri Lee is a Brisbane-based freelance writer and the founder of the feminist interview series Hot Chicks with Big Brains (HCwBB). She's also a Judge's Associate who's on the cusp of giving up her legal career to chase her dreams of being a writer. She recently wrote a piece about her decision for us, which you can read by clicking here.
We were impressed by Bri's eloquence, as well as her bravery in pursuing a decision which could end in total creative fulfillment/spiritual and financial cataclysm/some fun mixture of the two, and we asked her to document what happens next.
She will be producing 'What is She Doing?' a series of videos documenting the launch of her career as a freelance writer. The first video will launch on Writers Bloc this Thursday, and in the lead-up, we spoke to Bri about her ambitions, her publication HCwBB, and what we can expect from her new series.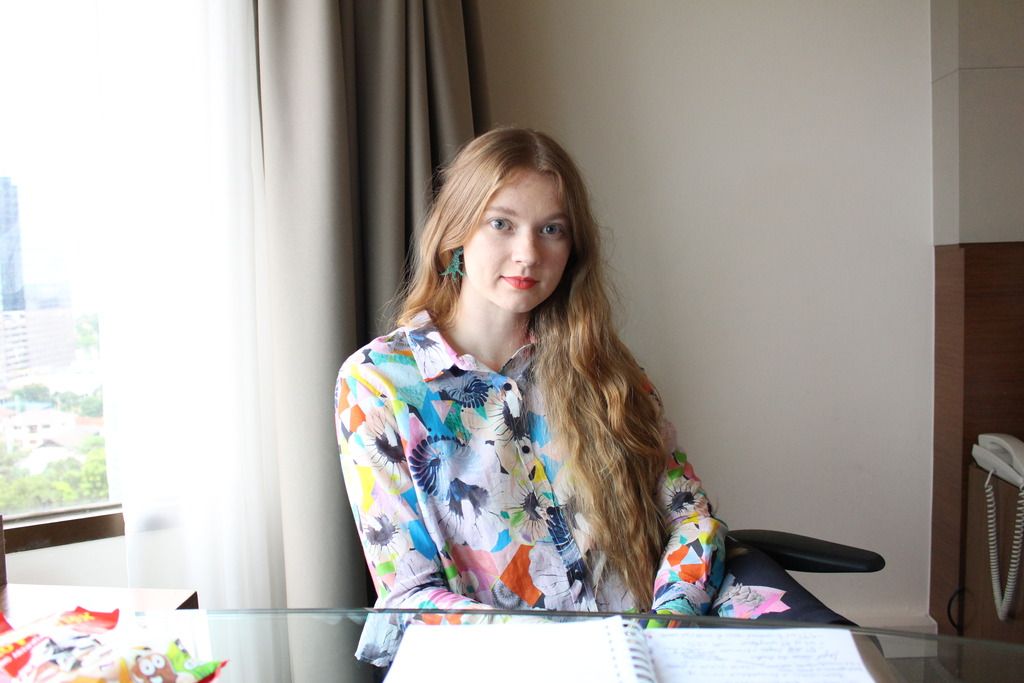 Writers Bloc
So! You recently wrote a piece for us detailing your decision to leave the career track of practicing law in order to pursue a life of writing. The piece was lovely and eloquent, but it does not detract from the line of questioning many would pursue adjunct to your decision which is: Are you sure? And by which we mean, are you nuts?
Bri Lee
Yes - I am sure, and probably - I am also nuts. Honestly, it doesn't even feel like a choice anymore. I've been going to my normal job at 8am then finishing at 6pm and jumping into a phone box to transform into my "real true self". Except I definitely don't have any super powers so I'm just burning out. Also (and this is something I'll ramble about more in my videos) I can see the future 50-year-old Bri if I keep trundling down that track of "making the right choice" and it doesn't interest me. I can see it so clearly. Why would you skip to the last page of a choose-your-own-adventure book? The world is colossal and I'd rather see it all and write all over it.
Writers Bloc
You're going to be producing a video series for Writers Bloc about your jump into the deep end of the freelance rockstar lifestyle. Can you tell us a little about it? What will it look like? What will you cover? What can we expect?
Bri Lee
I'll be making a short video every two weeks for the next 4 months so that we can all come together to chronicle my maniacal downward spiral. I'm learning all the freelance stuff from the very beginning, so if you're interested in doing more writing yourself, I'm officially offering myself up as public sacrifice so that you may learn from my mistakes. You'll meet my parents (briefly) in the first video and hear about how excited they are that I'm throwing away my law degree.
Writers Bloc
Well, that all sounds very exciting. What's the single most valuable crushing lesson you've learned thus far about the writing life?
Bri Lee
Exciting is DEFINITELY how I'd describe it! Single most crushing lesson already = getting an unexpected utilities bill that is more than the last THREE invoices I sent off and haven't even been paid for yet. It's like getting an unexpected period. Totally ruins my day.
So why don't I just keep track of such regular occurrences and put them in my diary? I'll tell you why, because of an absurd and continuous optimism that if I don't write it in, it might never happen again. This is a small insight into the dumb stuff I'll have to very quickly grow up and wrap my dumb baby head around.
Writers Bloc
OK, so you've decided to pursue writing, and to start by going freelance/starting your own publication (HCwBB). Did you consider going a more traditional route? Going for a cadetship or interning at Buzzfeed or tearing your still-beating heart out of your chest and offering it to Buzzfeed or whatever it is the kids do to break into journalism these days?
Bri Lee
I'm not a trust fund baby, so I'll be looking out for a part-time job in the industry. I don't have a journalism or writing degree though, so I don't think I'd be a competitive applicant for those fresh-faced "internship"-style gigs anyways. (Also often they are unpaid/questionable? I've done so many of those. If I'm just getting coffees and tidying as an "intern", I'll just get an actual paying job as a tidy barista, thanks.)
I also feel HCwBB is taking off so I need a day or two a week (at least) to give that baby the time it needs to grow and flourish.
Writers Bloc
Tell us about HCwBB. Where did the inspiration come from? Where do you hope to go with it?
Bri Lee
HCwBB is a feminist interview series I started about a year ago. It came out of my personal experience floundering with the unspoken rules of what women in the corporate legal sector are supposed to look like, but now it's a lot broader than that. We talk to successful women from all kinds of professions about how their work effects, and is effected by, their style and sense of self.
Writers Bloc
Can you elaborate a little on these unspoken rules in the corporate sector?
Bri Lee
I've written a little about this before - that women in those tall buildings have to spend a ton of time and money on their appearance, but they're not allowed to actually draw attention to it. Eg. they've gotta have perfect hair but it can't be worn out over their shoulders in natural curls. Gotta wear a full face (of makeup) on top of their face, but it has to "look natural" not "showy". Basically, they have to look good, but not too good, and in a non-threatening, homogenised way. It's like a secret set of uniform rules. It's costly and exhausting.
At HCwBB, our logo is a Venn diagram overlapping, and we're also trying to challenge the way women are so often pigeonholed. It's a celebration of the complexities of women and has kind of started growing into a really nice community. So far we've been totally online, but we are going to launch a hard-copy HCwBB issue #1 in March 2016 and I am getting so damn excited.
Writers Bloc
That is exciting! But speaking of costly and exhausting, a HCwBB hard-copy publication sounds amazing, but March 1 is practically tomorrow.
Bri Lee
Why are you frightening me like that!? It's gonna be fiiiiiiiiine. It'll be a limited run and we're about to start some fun fundraising projects like Tshirts and tote bags. Look out! I have a list of contributors in mind, but don't want to ask them until I know how much money I can offer to pay them. It's a catch-22 though, because deciding what it's physically made of and how big it is depends a lot on what's going to be inside it... These are things I'm legitimately enjoying grappling with. Watch the videos in February and i might have changed my mind though.
Bri Lee's series 'What is She Doing?' will start this Thursday, December 3, and will follow her adventures over the next few months as she tackles life as a freelance writer and the lead up to HCwBB's first birthday and launch as an IRL magazine.
Will she hit the ground running? Will she implode under the weight of tardy invoices and our collective schadenfreude? Will HCwBB destroy the tyrannical dresscode of the corporate sphere? We don't know, but we suspect it's going to be good. Tune in on Thursday for the first episode.
Writers Bloc Community
The Writers Bloc is a community for writers. We provide free anonymous workshopping, advice, events, opportunities, and a paid publishing platform.